Earl Thomas could have done the thumbs-up, thank-the-crowd thing as he was carted off the field on Sunday with an injury that, in all likelihood, will end his season.
But... nah. F that.
He flipped his NFL franchise—the Seattle Seahawks—the bird. And we shouldn't forget it.
Thomas has been one of the best defensive players in the league for quite some time. Heading into the final year of his contract, Thomas—set to make $8.5 million this year, only two-thirds of which was guaranteed—held out in an effort to get more money and better contract. Considering he's long been one of the best defenders in the league, it was not an unreasonable request.
Seattle refused.
Things got ugly. Righteously so.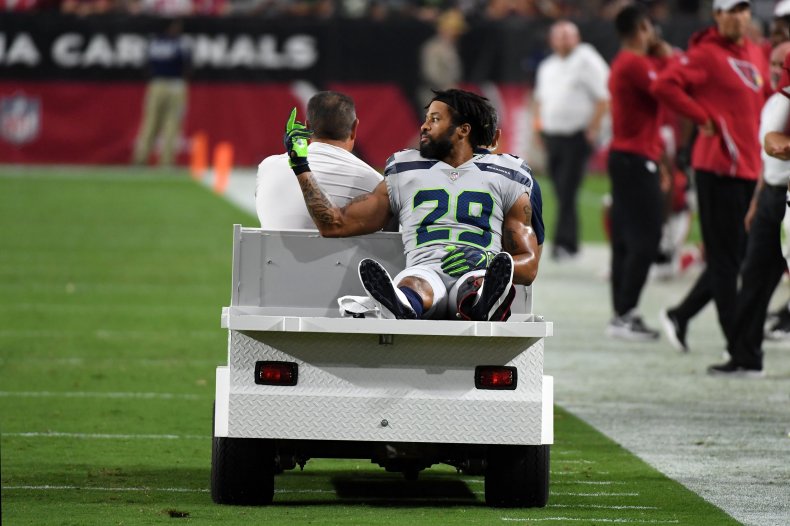 Thomas is a missile across the field—and, by necessity, any non-quarterback NFL-player (perhaps especially the greats) are always an inch away from calamity. Injuries aren't possible. They're certain. It's a matter of when.
And an NFL team can cut a player whenever they choose—they often do. Thomas knows it. It's a business, they say, but that axiom should cut both ways. The franchise shouldn't get to sell players on taking a pay cut, or not knowing their worth, or some all-for-one nonsense that holds up only under convenience but snaps at the slightest discomfort for the guys not in pads.
So, with what little leverage Thomas had, he asked to be let out of Seattle. Teams flirted with a trade and Thomas did his best to rest his body during the week, skipping out on some practices.
"I need to make sure my body is 100 [percent]. I'm investing in myself," he told the Seattle Times. "If they were invested in me, I would be out there practicing ... But if I feel like if I have anything, even if it's something small, if I got a headache, I'm not practicing."
But Thomas showed up to games and played great. Seattle never relented. And now, because the NFL is the NFL, because violence is part and parcel with the product, Thomas has injured his leg and is probably out for the year.
There's been a revolution of sorts in the NBA—it's the age of unabashed player empowerment, with nearly every basketball superstar switching teams and getting capital-P Paid. They demand their highly valuable services actually be... valued. And the league's been better off for it. But the NFL, more than any other pro sports league, has held onto the tough-guy machismo of sacrifice for sacrifice's sake.
As I've broken down in detail before, NBA contracts dwarf NFL contracts for a number of reasons. But consider for a second that Sacramento Kings center Kosta Koufos is set to make just a skosh more than Thomas in base salary this season.
If you're Earl Freaking Thomas—and you're making a hair less than Kosta Koufos (no shots to Kosta, but...)—wouldn't you want some assurances that your stellar play will be rewarded with at least a modicum of long-term assurances.
Seattle balked and huffed and puffed and spent its money elsewhere and Thomas got called a bad teammate and selfish and then—because the world is cruel and dumb—he got hurt.
The NFL churns through bodies and then, unsatisfied, a few years down the road it sometimes comes for the mind. The league doesn't particularly care about that. It's proven it doesn't particularly care about domestic violence and bent over backwards in its attempt to acquiesce to a president angry at players protesting the oppression of black people in America.
It sure cares about making money though. Hell, NFL commissioner Roger Goodell has publicly stated he wants the league to pull in $25 billion in revenues by 2027.
Thomas is great at what he does and is risking a whole lot each time he takes the field. He wants a just-sized piece of the pie—scratch that: not even just-sized, merely market-rate.
But as he knows, and as Seattle proved, employers are in the business of turning as much profit as possible. Corporations do not care about you. As a rule, they want to give you as little as possible. (Do you think your company—not a person therein, but the bigger machine—really cares about you? Yes is the wrong answer.)
So, OK, NFL players make a hell of a living—far more than a writer, for instance—but the truth holds.
The NFL, and lots of other places, will bleed you dry if you let them. Thomas fought for what he felt he was owed. In the end, he was screwed. And you could say, "Oh, but there are no winners here." Seattle lost a star player! But the Seattle Seahawks and the NFL, they'll keep on chugging. Each NFL team raked in more than $250 million in revenue sharing last year. They'll be fine. Even if Seattle lost every game this season, they'd be fine.
But now Thomas has a long road back and an uncertain path to that contract he was fighting for. Good on him for getting one last jab—in the form of a middle finger—as he was taken out of sight. It's a small moment in Thomas's fight against the NFL's culture of churning through its stars. But it's one we should remember.