Earl Thomas Trade Rumors: Seahawks Safety Connected to Cowboys, Chiefs, More
Seattle Seahawks safety Earl Thomas is one of the best to ever do it. It's not often you get a chance to add a player of the caliber but he's apparently on the trading block after clashing with the franchise over his salary.
Thomas skipped a couple of practices this week and doesn't seem to want to put his career on the line, if the team won't pay up.
"I need to make sure my body is 100 [percent]. I'm investing in myself," he said this week, according to the Seattle Times. "If they were invested in me, I would be out there practicing ... But if I feel like if I have anything, even if it's something small, if I got a headache, I'm not practicing."
There have been reports connecting him to a number of teams. Here's a quick rundown of where folks are reporting he might end up.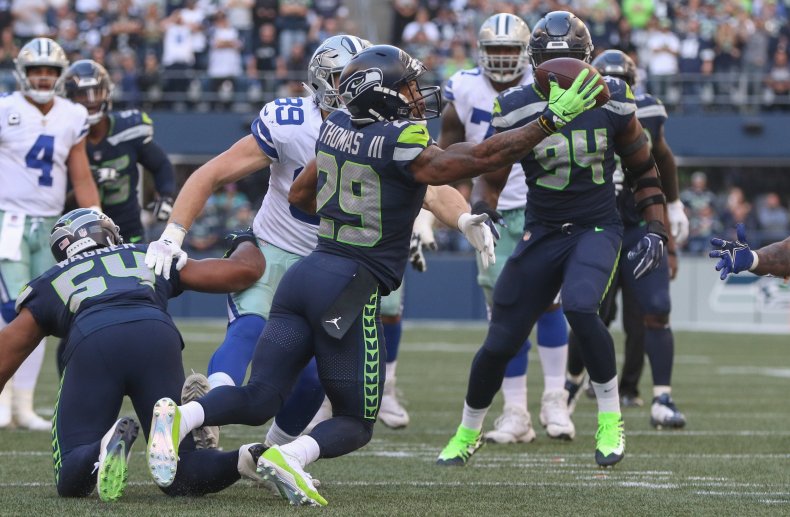 Kansas City Chiefs:
ESPN's Chris Mortensen reported that the Chiefs—playing great football under the stewardship of breakout star Patrick Mahomes—have emerged as a suitor for Thomas.
He tweeted in a series of posts on Sunday: "The Seahawks are considering a significant fine to Earl Thomas for conduct detrimental for twice missing practice. No final decision made. He's expected to play vs. Cowboys AND the Chiefs have emerged as a possible trade partner if Thomas is dealt this year, per sources. Thomas' unhappiness is simple: Seahawks have taken hard-line stance on new deal since Feb. The franchise has prioritized contracts for DE Frank Clark & WR/KR Tyler Lockett (done). Thomas in last season of 4-year $40 million deal, his second contract since he was a 1st rd pick."
Dallas Cowboys:
Thomas was heard last season telling Cowboys brass to come get him and that has long been his rumored landing spot. Funnily enough, he faced the franchise on Sunday and hauled in two interceptions and made seven tackles.
Offseason trade talks between Seattle and Dallas reportedly stalled after the Seahawks rejected an offer of a second-round pick. But NFL Network's Ian Rapoport reported Sunday that Dallas hoped to restart talks after the game. Thomas said in a post-game press conference that Dallas coaches even joked with him about forthcoming trade.
"Yeah, of course, I heard chatter, people were coming up to me and saying a trade might happen," Thomas said, via Pro Football Talk. "Even pregame, a couple Cowboys coaches came up to me, I don't know if they were playing psychological games, but they were like, 'You ready for the trade tomorrow?'"
Others:
There's always the chance of a surprise trade partner emerging. Yahoo Sports' Terez Paylor floated the Oakland Raiders and Atlanta Falcons as potential landing sports, even if they aren't as likely as Dallas or Kansas City.