Early Childhood Educators are Essential to Our Economy and Our Future | Opinion
Early childhood educators are exhausted. From keeping up with health and safety protocols, to cleaning and disinfecting, all the while doing everything in their power to not get sick themselves—this is not the job that they signed up for when choosing to teach 2 to 5-year-olds.
As public schools went virtual or hybrid, most early childhood care programs have remained open for daily in-person care. These programs are vital. We need them for the development of our children, to allow parents and guardians to work, and in turn, for our economy to be successful.
Yet providing quality care to young children is more difficult now than ever before. Many teachers left the field before this school year began, concerned for their own personal health or to be at home with their own children in virtual or hybrid learning situations. Many child care programs were able to fill the gap by hiring young staff who had just graduated college or others in need of work. These hires are often untrained, and potentially, temporary.
Now, mid-way through the school year, early childhood centers are continuing to experience a significant staffing crisis. Teachers are frequently quarantining due to COVID exposure. This results in a need for long-term substitutes who can work consistently for two week blocks. Finding qualified professionals who are available and willing to work at a moment's notice for minimal pay is near impossible. If centers are unable to find a substitute, the class has to close and parents have to navigate work and child care for an undetermined amount of time.
The field of early childhood needs significant economic support to recruit and train talented individuals to be educators, as well as deep investment in retaining our current educators, who have less incentive than ever to remain in the workforce. Educators see benefits of remote and flexible work from their families and peers. Remote employees are able to support their children in virtual learning, safely care for high-risk family members and are not susceptible to the same health risks as early childhood educators. Many early childhood care employees are not even granted health insurance by their employer despite working in-person with children during a pandemic. Since this work cannot be remote, other financial benefits such as increased salaries, health care and retention bonus, are needed to incentivize educators to stay in the field.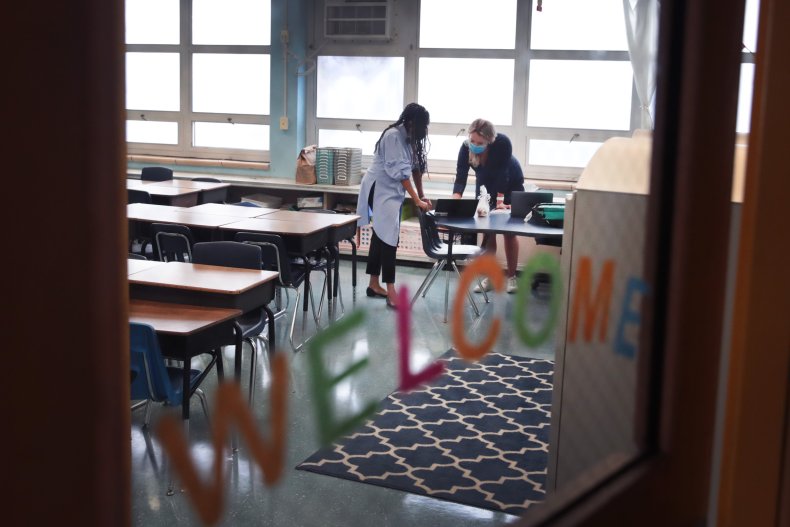 The challenges of child care are not new. In 2018, child care workers were making an average of $10.72 per hour and one in 10 child care workers lived under the poverty line. During COVID, many child care centers have received limited funds to pay for additional staff while operating at a lower capacity. By July, the child care workforce was only 79 percent as large as it was in February. As we begin 2021, and the distribution of COVID vaccines, we expect an increase in families sending children to early childhood and care centers. However, many schools and centers have closed, and teachers who have left the field will choose not to return. The staffing shortage will limit how many young children will be able to receive quality care, leaving parents with limited options.
Unfortunately, the recent allocation of $10 billion toward child care is not enough to sustain the field and support our families. In fact, we know we need at least $9.6 billion per month for child care to survive this crisis. Stabilization of the field is not enough; in order for the field to thrive, we need to invest deeply in retention and recruitment of our educators. Early childhood care needs to be treated as the backbone of the economy that we know it is. We need to hire recruiters to attract talented individuals to the field, and to create a culture of hiring bonuses and retention bonuses, 401(k) contributions and most importantly, higher competitive salaries.
These are not unattainable goals, but rather industry standards for so many other fields of work. Why shouldn't we invest as much in early childhood care as major corporations do for their employees when we know the infrastructure of early childhood care is essential to our economy? Beyond this, we know effective early childhood care is the foundation for children's cognitive and social development. The recent film "No Small Matter" shares that "Today there is consensus amongst the fields of neuroscience, education and developmental psychology that a child's experiences between ages 0 and 5 have an enormous impact on her opportunity to thrive for the rest of her life — from academic achievement, to health, to her future earnings as an adult."
Whether in full-day day care centers, part-time public and private early childhood programs, or public Head Start programs for young children from low-income families, our country is better with a thriving early childhood care sector. Through government subsidies, investment from major foundations and a cultural shift toward recognizing the benefit of investing in early childhood, we can help transform the field. This transformation will help to ensure that children are nurtured and that their parents are able to return fully to the workforce. The future of our economy depends on quality early childhood centers being open, and that can only happen if we deeply invest in retaining and recruiting qualified educators.
Sasha Kopp is a community early childhood and family engagement consultant for The Jewish Education Project and an adjunct professor at American Jewish University. Additionally, Sasha advocates with Shma Koleinu (Hebrew for Hear Our Voices), to elevate the voices of early childhood educators, children and families.
The views expressed in this article are the writer's own.