Early Humans: 13,500-Year-Old Bison Bone With Mysterious Carvings Discovered at Bottom of the North Sea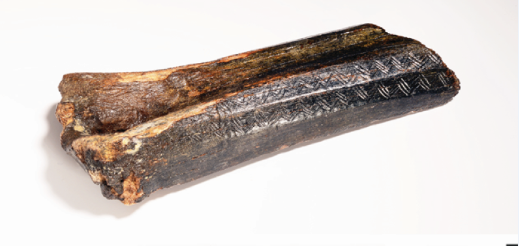 Updated I A 13,500-year-old engraved bison bone found in the North Sea bed has recently been named the oldest piece of Dutch art, in a new study published in Antiquity last week. The bone was engraved by early modern humans in the Netherlands and is one of only four pieces like this ever found.
After lying hidden for millennia, the bison bone was accidentally discovered in 2005 in the North Sea during a fishing expedition. The artifact is around 13,500 years old, dating back to a time when the North sea was not a sea at all but rather a large plain.
Dr. Luc Amkreutz, study author and researcher at the National Museum of Antiquities in the Netherlands (Rijksmuseum van Oudheden) told Newsweek that the artifact is from a "new" group of ancient Ice Age hunter-gatherers known as the Federmesser culture, a term referring to the appearance of these people's arrowheads. Amkreutz and his team aren't sure what the newly discovered artifact was used for, but hypothesize that it was likely part of an ancient ritual.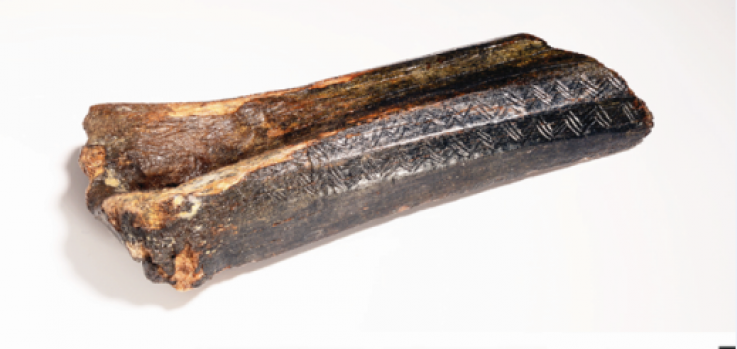 "I think these objects were used in ceremonies," Amkreutz told Newsweek. The artifact has a zigzag pattern on it, hinting that it may have been used as something other than a tool. "Maybe they were handled by a Shaman. Their design is difficult to understand, but represents rhythm, movement, performance, water perhaps."
The bison bone, along with a 13,000-year-old human skull fragment, were both dated with radiocarbon dating. This process measures the total amount of carbon in a small fragment of the bone. When living organisms die, the carbon in their body is unaffected by conditions such as the weather or other chemicals. In addition, the amount of carbon in living organisms decays at a consistent rate. That means carbon can be used as a clock to measure how old an organism actually is. According to Amkreutz, results dated the bison bone to between 13,480 and 13,285 years ago. Homo sapiens arrived in Europe approximately 45,000 years ago.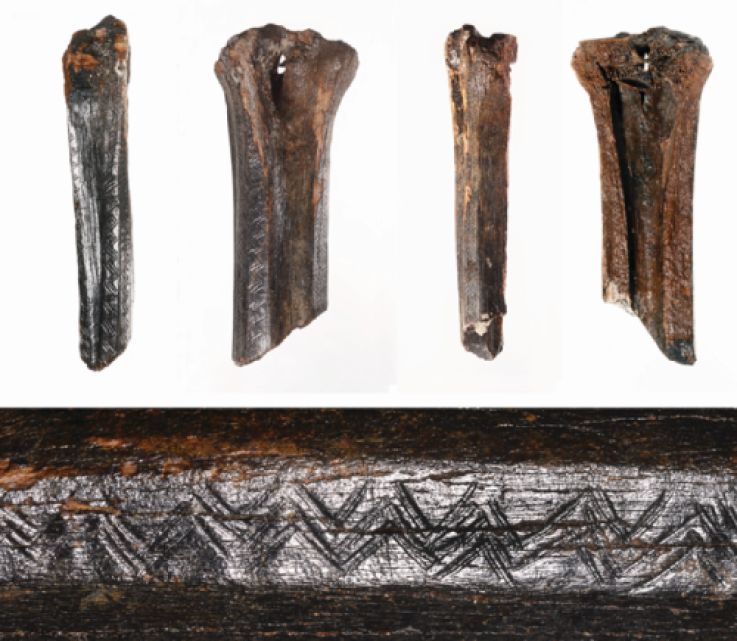 While we don't know exactly how these individuals would have looked, Amkreutz told Newsweek that they likely had dark skin, dark hair, and blue eyes, similar to the British Cheddar Man, named after the gorge he was found in, who made headlines recently for his surprisingly dark skin.
"One of the theories is that a lighter skin only arrives thousands of years later with farming groups, who because of their less varied menu (of wheat) lacked vitamin D, which may have caused a lighter skin, to increase vitamin D uptake from the sunlight," said Amkreutz.
Little is known about this group of ancient people, but finds such as this engraved bone help to shed light on their culture.
Correction: This article has been corrected to show that this bison bone is one of only 4 similar artifacts ever found, not 3. In addition, it has been corrected to show that the similarly aged human skull was not engraved or decorated.
Early Humans: 13,500-Year-Old Bison Bone With Mysterious Carvings Discovered at Bottom of the North Sea | Tech & Science