Early Caribbeans Were Not 'Savage Cannibals,' Say Colonial Myth-busting Archeologists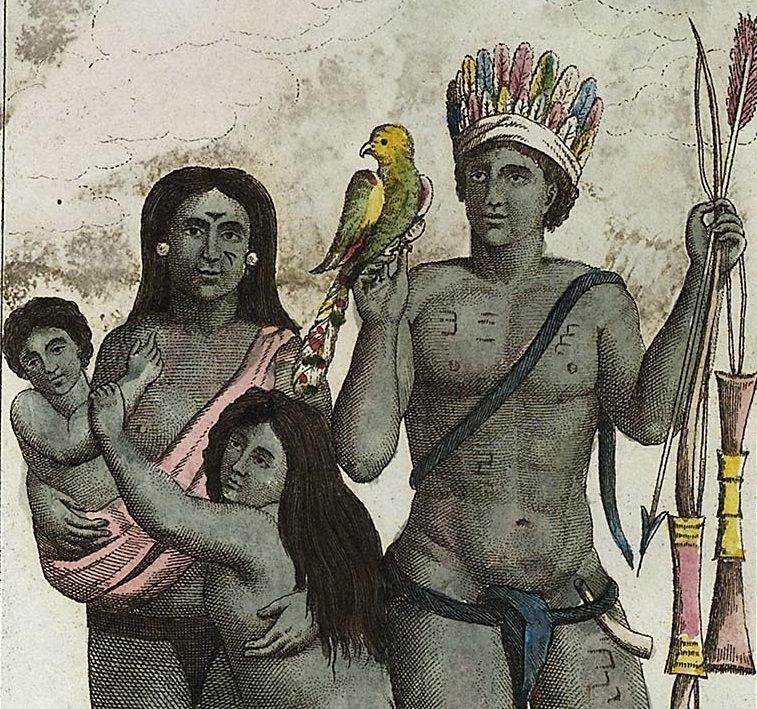 The Caribs have long been described as violent cannibals who brutally wiped out the peaceful Arawaks from what came to be known as the Caribbean—or so the story goes. But archeologists excavating a site on the island of Antigua believe they have discovered evidence that suggests the Caribs didn't have a taste for human flesh after all.
With the help of a team of researchers from the U.S., archeologist Dr. Reg Murphy has been excavating Indian Creek—a dry, infertile, 12-acre plot of land positioned around 1 kilometer inland from the ocean—since 2013. Carbon dating suggests that humans inhabited the arid site between 200 B.C. and 1300 A.D.
Researchers discovered flint tools and clay bowls dating as far back as 200 B.C., as well as pieces of blue and white Delftware and British Wedgwood china left behind by European colonists in the 18th century, The Guardian reported.
Murphy's team of researchers from the University of Texas, the National Parks Antigua and CUNY Brooklyn College have also tested bones, pollen and microflakes found in Indian Creek.
"We have learned that far from being cannibals, [the Caribs] largely lived on shell animals and fish," Carlyn Valmond, Murphy's assistant and a descendant of the Caribs, told TheGuardian. Valmond said she was inspired to study the history of the Caribs because she "couldn't believe the history I was reading" and felt she had an obligation to tell the stories of those who lived on Antigua for almost 2,000 years.
According to Murphy, the theory that Caribs were savage cannibals is solely based on accounts by European colonialists.
"The indigenous populations of the Caribbean that were there before the arrival of Europeans and Africans after 1492 have tended to be marginalized and stereotyped in the historical narrative," Professor David Lambert, a historian at the University of Warwick who was not involved in the research, told Newsweek.
"Typically, they were divided up into 'peaceful' Arawaks and 'warlike' Caribs. The latter who supposedly inhabited the smaller islands like Antigua and Dominica were often portrayed as darker skinned and cannibalistic, preying on the 'peaceful' Arawaks and resisting the European colonists." This distinction appeared in the very earliest European accounts of the Caribbean region produced by Christopher Columbus, and has been "endlessly repeated," Lambert said.
"Indeed, the word 'cannibal' itself emerges from the European narrative about this part of the world. Humans eating humans does happen, but as this research confirms there is no evidence that the indigenous populations of Antigua [or elsewhere] did so."
Indian Creek was first excavated by Yale University archeologists in the early 1970s, and is described on Murphy's Archeology Antigua website as "an exceptional site with archeological deposits representing the entire Ceramic Age on Antigua Barbuda." The artifacts unearthed in the 1970s are being kept at Yale's Peabody Museum of Natural History.
Murphy hopes further research will uncover why American Indians, who are understood to be migratory, stayed at Indian Creek for over 1,500 years, despite its distance from the ocean on which they were dependent.
Dr. Murphy's work is part of a growing understanding of pre-1492 history of the Caribbean, which has seen researchers supplementing written accounts with excavated artifacts. "The growth of Caribbean archeology is changing that and producing new knowledge of these often forgotten peoples," said Professor Lambert.
"The indigenous peoples of the Caribbean, whose descendants still live in the region, have been hugely marginalized both under colonialism and, to some extent, since decolonization," he argued. "Stereotypes that they were savage cannibals are both inaccurate and damaging, and they deserve to have their complex histories properly understood, rather than becoming fodder for frankly racist Hollywood depictions like Pirates of the Caribbean: Dead Man's Chest."
Asked what the public should take away from Dr. Murphy's research, Professor Lambert added: "Not to confuse racist, self-serving colonial stereotypes with the real complexities of past human societies."