Early Signs Tuesday Night: West Virginia and Illinois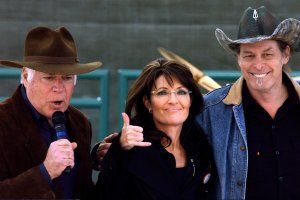 Republicans almost certainly have to win the West Virginia Senate race to take control of the Senate. So its results, which could come back early, will be a leading indicator of how the night will play out. West Virginia is an Eastern time zone state with a dead-heat race for a long-held but now open Democratic seat. West Virginia's polls close at 7:30 p.m. ET. Half an hour later, the race for President Obama's former seat ends in Illinois, when the polls close at 8 p.m. ET. Currently, West Virginia is rated as leaning Democratic by polling data maven Nate Silver, while Illinois leans Republican.
So if you're watching the returns tonight, keep an eye on those races. If Democrats win both, despite West Virginia's conservative politics, there is virtually no way Republicans will be taking control of the Senate. That is simply because they need those states to reach the magic number of a net increase of 10 seats. In addition to all the seats that are leaning toward the GOP, they would need an unlikely pickup in Washington and an even more unlikely one in California. A Democratic win in West Virginia might also imply that this will not be as bad a night for the Democrats as predicted, if tight races in states in which the polls close later, such as Nevada and Colorado, follow suit. That would likely mean the Democrats' losses in the Senate would be held to a minimum, perhaps as few as five seats.
Alternatively, if Republicans pick up West Virginia, Illinois and presumably Pennsylvania--a bluish swing state where the Republican Senate nominee, Pat Toomey, has held a small but generally consistent lead and is favored to win, it could spell trouble for the Democrats. A string of losses in more Democratic states, like Illinois and Pennsylvania, and by their better candidates, such as West Viriginia's Joe Manchin, will augur poorly for not only Sen. Harry Reid in Nevada and Sen. Michael Bennet in Colorado, but possibly even Sen. Patty Murray, who holds a slim lead in Washington. And losses in all of those states get Republicans into the majority. If Gallup's final polling results Monday, which show a 55–40 Republican lead in the congressional generic ballot, are to be believed, such an outcome may be possible. But most polls to date have shown the national race to be much closer, and there is also the possibility that polls calling only landlines favor Republicans by under-sampling Democratic-leaning constituencies, such as young people.
More likely, of course, is that the state results follow their respective polling trends: wins for Republicans in Pennsylvania and Illinois, and for Democrats in West Virginia. That will mean a likely large loss for Democrats in the Senate, but not enough to put the GOP over the top. A look at the margins of victory in those states, and overall vote turnout numbers, will also provide some early insight into how much enthusiasm there is on each side, and how effective the two parties' voter turnout operations were. DNC Chair Tim Kaine claims there are morning turnout reports in Pennsylvania that are "positive, but preliminary and anecdotal." We'll believe it when we see it.
Early Signs Tuesday Night: West Virginia and Illinois | U.S.