As Early Voting Begins in Georgia, Videos Show Hundreds Standing in Long Lines
Videos posted on social media show hundreds of voters standing in long polling lines across Georgia, where early voting began on Monday.
Since before voting sites opened this morning, people have been seen waiting in lines that wrap around buildings. At one site, the High Museum of Art in Atlanta, at least 130 voters were in line when polls opened at 8 a.m., according to the Atlanta Journal-Constitution.
Election officials have been working hard to avoid the kind of chaos Georgia faced during the primary elections in June, when poll workers scrambled to accommodate the high voter turnout and solve technical issues with voting equipment.
This morning, the Georgia Secretary of State's office said it has not received alerts or calls to technical staff about problems with voting machines as of yet, according to WSB-TV.
However, Republican Secretary of State Brad Raffensperger said there had also been no alerts to the office of equipment issues during the primaries, despite media reports that some polling places had no working machines.
Raffensperger and Georgia governor Brian Kemp have previously been accused by Democrats of voter suppression after encouraging polling places to consolidate.
The in-person early voters casting their ballots today will join the nearly 440,000 voters in Georgia who have already returned their absentee ballots. Early voting goes until October 30 in the state and will include a Saturday on October 24.
Hours before early voting began, a federal judge upheld the state's new $104 million voting system, which uses touchscreens to print out voters' choices on a paper ballot, against an effort from election security advocates demanding to switch the system entirely to handwritten paper ballots.
This year, voters are being asked to keep six feet apart due to the coronavirus pandemic. Poll workers are also being separated from voters by plexiglass shields.
Observing the voter turnout in other states, like Ohio, where early voting has already begun, Georgia election officials were anticipating high voter turnout on the first day of the state's early voting.
In a text message sent to Newsweek, Walter Jones, spokesperson for the Georgia Secretary of State, wrote, "Georgia is seeing record turnout for early voting because of excitement and enthusiasm of the upcoming election. Long lines are to be expected—voters need to be aware of all of their options including three weeks of early voting, no excuse absentee and in person voting day of the election."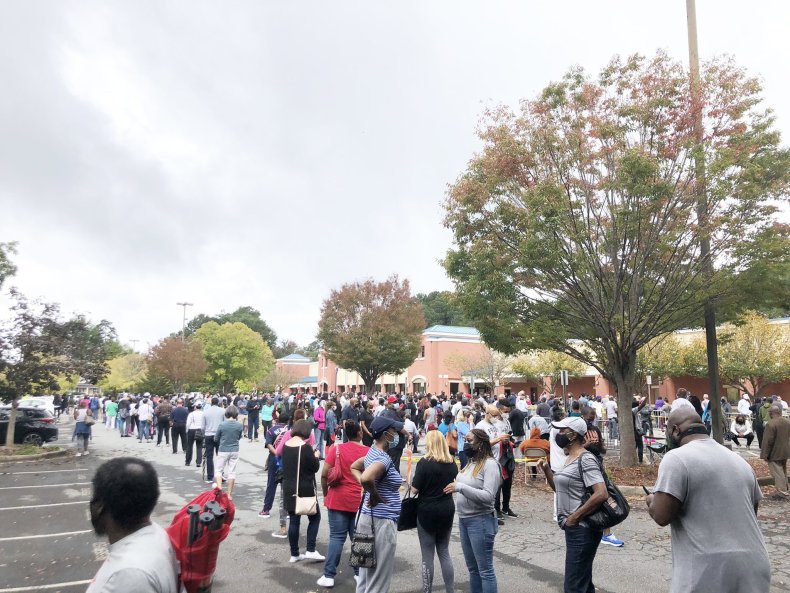 It has been 28 years since Georgia has voted for a Democrat in the presidential election, but this year polls showing shrinking margins for the GOP.
According to Real Clear Politics poll averages, President Donald Trump currently leads by 0.4 percentage points, but had a much larger advantage this time in 2016 with a 5.3 point lead over Democrat Hillary Clinton.
Both of Georgia's U.S. Senate seats are also on the ballot this year, with Republicans David Perdue and Kelly Loeffler facing re-election.