Early Voting 'Bonkers' in Texas as Dems Aim to Win State for First Time in 44 Years
Texas is shattering voter turnout records ahead of November's election as Democrats aim to win the Lone Star State for the first time in over four decades.
The state is leading the nation in early voting with over 4 million ballots already cast, according to the United States Election Project. Following closely behind are California, with over 3 million votes in, and Florida, with more than 2.5 million ballots already cast.
Texas' early votes account for nearly 14 percent of all the votes already cast nationally and roughly 45 percent of the 9 million total votes counted in Texas during the 2016 presidential election.
As long poll lines persist even a week after early voting began in the state, Texans are still showing up in, what has been described by Texas Monthly as "bonkers," numbers to cast their ballots for the next president.
Counties across the state are seeing massive growth in voter turnout. North of Dallas, Denton County's votes have jumped 86 percent over that of the 2016 total. South of Dallas, Harris County, the state's biggest, is on track to reach half of the county's 2016 voter turnout by Monday evening, according to the county clerk.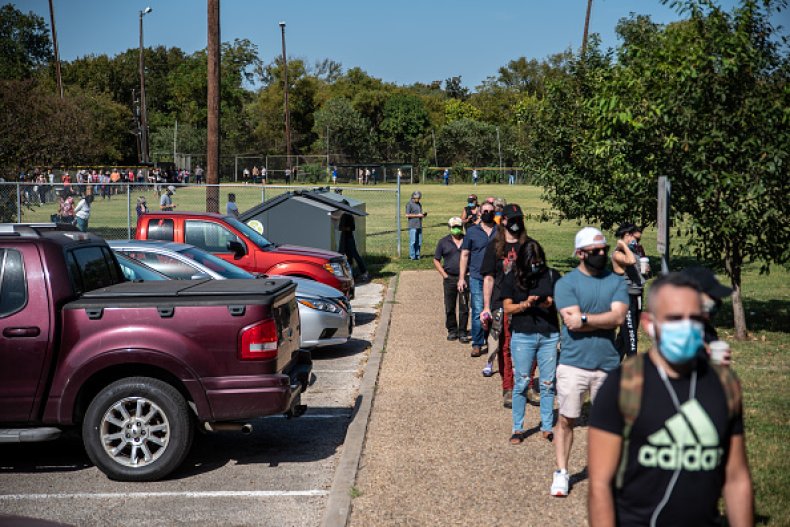 With such a high voter turnout this year, Democrats are hoping to win Texas, which has historically shown low voter participation, for the first time in 44 years.
Since Jimmy Carter won the state in 1976, no Democratic presidential candidate has won Texas. President Donald Trump won four years ago with a nine-point victory, the thinnest margin in recent years, over Democrat Hillary Clinton.
"Texas has never been a red state, it's a nonvoting state, and we feel when people get out to vote, Democrats tend to do better," Abhi Rahman, the communications director of the Texas Democratic Party, told Newsweek.
If Biden can secure Texas' 38 electoral votes, Republicans will struggle to secure a path to the White House.
"Thirty-eight electoral votes, mathematically, it is impossible then for Donald Trump to claim victory and this country can move on and get past Trump," former Democratic congressman Beto O'Rourke told MSNBC on Friday. "That's how important Texas is."
O'Rourke says not only would the state win Biden the presidency, it would prevent Trump from any attempt of delegitimizing the results of the election.
"I believe because of this president's willingness to operate above the law and outside of the constitution—that he's warned all of us that he may not accept the results of this election, he may not guarantee a peaceful transition of power—it is imperative that these 38 electoral votes come in for Joe Biden so no question is left open and no opportunity for the president to sow chaos and confusion about the results," O'Rourke told CBS News earlier this month.
Trump hasn't held a campaign rally in the state since July, but Democratic nominee Joe Biden's wife Jill made an appearance last week, making stops in both El Paso and Houston.
The race is narrowing in Texas with a number or Republicans facing reelection this year, including Republican Senator John Cornyn, whose opponent, Democrat MJ Hegar, has raised nearly double Cornyn's campaign in the latest fundraising period.
"At the end of the day, Texans are creating a movement and that movement is going to vote out Donald Trump and it's going to elect Texas Democrats up and down the ballot," Rahman said.
"If we are able to take Texas, it has reverberations for the rest of the country for the next four years," he added.
But Rahman cautioned that voters will need continue to show up to the polls in order for Democrats to win the state.
"We know there's still a lot to be done," he said. "Nobody should be resting on their laurels because it's going to take all hands on deck to turn Texas blue."