Early Voting Starts Next Month in Battlegrounds Fla., Mich., N.C. and Pa.—And Biden Leads Trump in All 4
Absentee and mail-in-voting will begin in the key battleground states of Florida, Michigan, North Carolina and Pennsylvania next month, and President Donald Trump trails presumptive Democratic presidential nominee Joe Biden in each state, according to recent polls.
Florida, Michigan and Pennsylvania—swing states that voted for former Democratic President Barack Obama in 2008 and 2012 before turning red for Trump in 2016—will begin sending out mail-in ballots before the end of September. In North Carolina, ballots will start being mailed out as early as September 4.
Meanwhile, the current polling averages by RealClearPolitics shows Biden ahead of Trump by more than 4 points in each state. Trump trails his Democratic rival by an average of 6.2 points in Florida, 7.8 points in Michigan, 4.5 points in North Carolina and 6 points in Pennsylvania.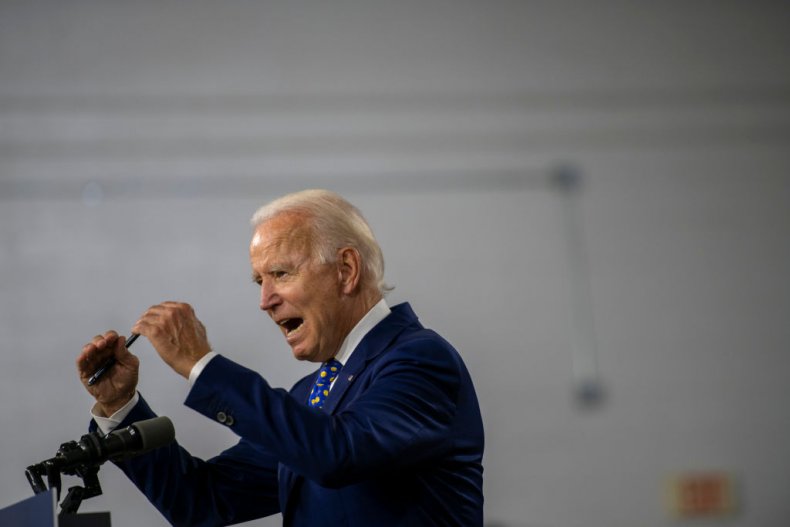 A mid-July poll by Quinnipiac showed Biden ahead of Trump by 13 percent in Florida, with the backing of 51 percent of voters compared to Trump's support from 38 percent. But a separate survey conducted by CNBC/Change Research from July 24 to 26 showed a closer race, with Biden supported by 48 percent of voters while 45 percent backed Trump.
In Michigan, a CNN poll carried out from July 18 to 24 had Biden ahead of Trump by 12 points, with the backing of 52 percent of voters compared with 40 percent who supported Trump. But a CNBC/Change Research poll again showed a narrower divide, with Trump down just 4 percent—with 42 percent support compared to Biden's 46 percent.
Polling results have been similar in Pennsylvania. A Fox News poll conducted there from July 18 to 20 showed Biden ahead by 11 points, with 50 percent as opposed to Trump's 39 percent. But the CNBC/Change Research survey had Trump trailing by just 2 points, with 46 percent to Biden's 48 percent.
North Carolina has historically been more reliably Republican in presidential elections, with the recent exception of 2008 when it went for Obama. But July polling by NBC News/Marist showed Trump down by 7 points, with Biden backed by 51 percent of voters while just 44 percent supported the incumbent president. A CBS News/YouGov poll showed Biden ahead by just 4 percent, however, with 48 percent supporting the Democrat compared to 44 percent for Trump.
Notably, if Biden managed to win just three of the battleground states while maintaining all the states won by former Democratic presidential candidate Hillary Clinton in 2016, he would be the victor in the Electoral College. Trump won the Electoral College by a significant margin in 2016, despite Clinton garnering nearly 3 million more individual votes.
Trump and campaign officials for the president have consistently dismissed public polling. They have argued that public polls are biased against the president and Republicans, while pointing to 2016 when most pollsters believed Clinton would win the election. But polls have shown a significant drop in support for Trump as the novel coronavirus pandemic continues to surge across the country. Most Americans, according to surveys, disapprove of Trump's response to the pandemic.