9 Ways to Celebrate Earth Day Without Leaving Your House
Wednesday, April 22 is the fiftieth Earth Day, which the Earth Day Network is commemorating with climate action, in hopes of inspiring a historic moment, "when citizens of the world rise up in a united call for the creativity, innovation, ambition, and bravery that we need to meet our climate crisis and seize the enormous opportunities of a zero-carbon future."
Originally proposed in 1969 by peace activist John McConnell, Earth Day started with a simple resolution submitted to members of the San Francisco Board of Supervisors.
"As Earthians we need a day to celebrate our global unity and destiny," McConnell's resolution opened, calling for San Francisco to inaugurate March 21 "a special day to remember Earth's tender seedlings of life and people; a day for planting trees and grass and flowers, for cleaning streams and wooded glens."
The concept went national in 1970, when Wisconsin's junior senator Gaylord Nelson proposed a national "teach-in" on college campuses, drawing attention to pollution and other environmental issues using a model popular in the anti-Vietnam War movement. Nelson recruited grad student activist Denis Hayes, who coordinated Earth Day events—set for April 22, 1970—at thousands of schools and universities across the country.
More than 20 million people were believed to have participated in the first Earth Day. Since then, Earth Day has gone international (with the help of Hayes' Earth Day Network), and is now the most widely observed secular holiday in the world. The first Earth Day led to the establishment of the Environmental Protection Agency and inspired legislation like the Clean Air Act, the Clean Water Act and the Endangered Species Act.
But while Earth Day is a day of mass action, originally centered around demonstrations and other outdoor actions, it's still possible to honor the holiday during the ongoing pandemic.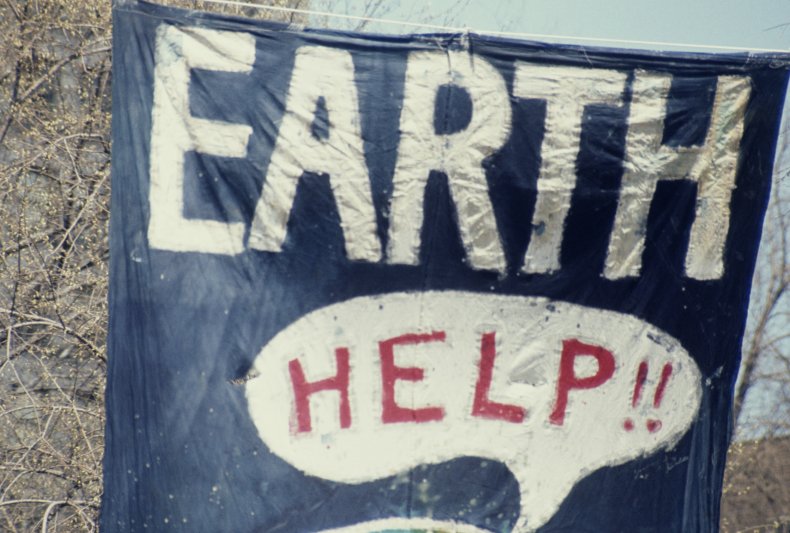 The Earth Day Network has proposed five major initiatives surrounding the fiftieth anniversary of Earth Day. Both climate action marches and the Great Global Cleanup have been substantially postponed in compliance with coronavirus mitigation efforts. But you can still sign up for a cleanup, or register one of your own for the months ahead.
Download the Earth Challenge 2020 App
Billed as the "largest-ever global citizen science initiative" by the Earth Day Network, the Earth Challenge 2020 app (available for iOS and Android) lets users submit data regarding plastics pollution and air quality, which will be aggregated into a massive data set for use by researchers. Additional digital tools are on the way as well, which may give us a better collective understanding of water quality, food security and the status of insect populations worldwide.
Try Out New Recipes
Agriculture, meat and other aspects of our food system account for more than a quarter of all greenhouse gas emissions. While industry-scale changes will be needed to reach net-zero emissions, the U.N.'s Intergovernmental Panel on Climate Change sees transitioning plant-based diets as a crucial component in averting catastrophic climate change.
The Earth Day Network has lots of resources for those looking to change their household habits, including a PDF "EcoFood Guide" and climate friendly recipes.
Participate in Earth Day Online
All day on April 22, social media initiatives, streaming videos and digital events will work to flood the discourse with a renewed call to action against pollution and climate change. You can participate via the hashtag #EarthDay2020 and check out the Earth Day Network's social media toolkit for graphics, posters and other ways to participate.
There's also a map of digital Earth Day events around the world.
Watch Earth Day Live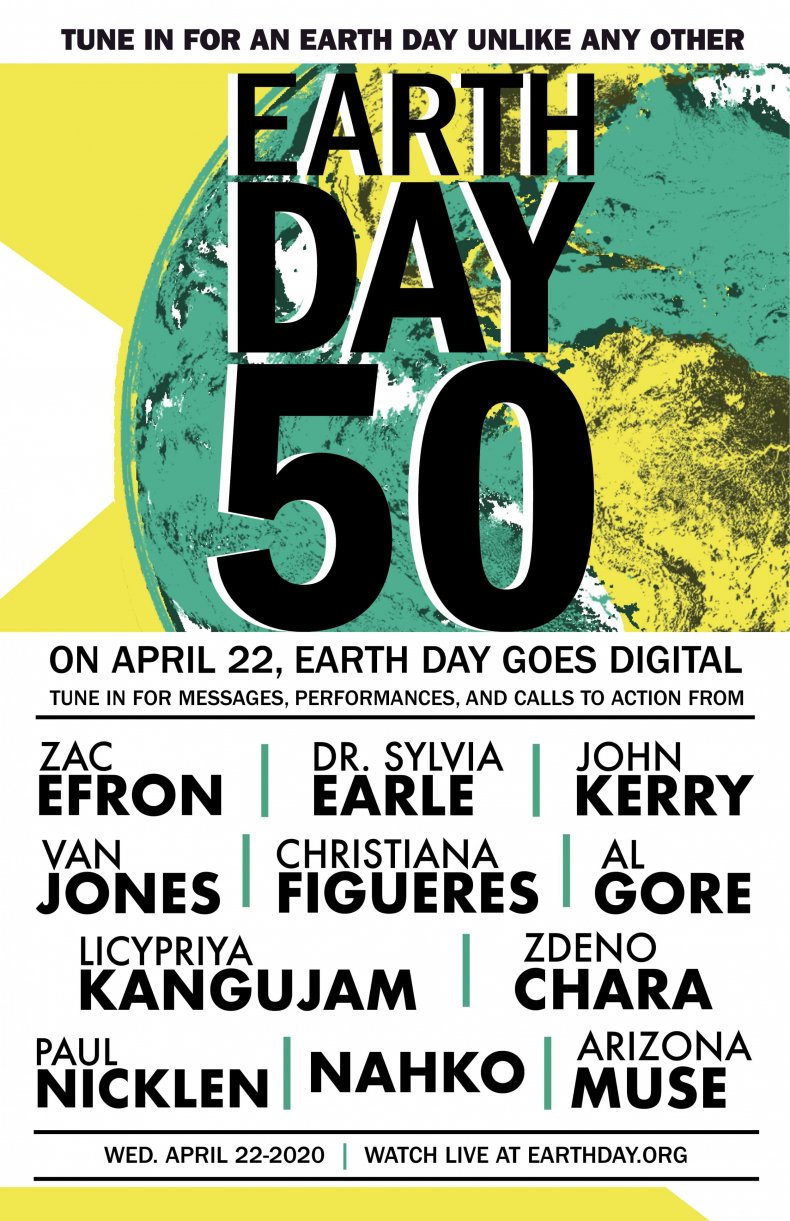 As part of the social media blitz, the Earth Day Network will be streaming performances and putting out calls to action all day on April 22. Announced speakers include Zac Efron, Al Gore, John Kerry, Van Jones and many more.
You can watch live at EarthDay.org.
"A Silent Hour For Peace"
While McConnell's original Earth Day proposal called for planting and cleaning—tricky in the context of the shelter-in-place lockdown aimed at slowing the transmission of the COVID-19 coronavirus—it also called for two concrete activities that can be done inside your home.
McConnell originally proposed "a time for quiet reflection or prayer," to be observed at 11:00 a.m. Pacific time (2 p.m. Eastern). With its emphasis on "Earthians" and global unity, the original Earth Day was as much about internationalism and peace as it was about pollution or other specifically environmental issues.
"Earth Day is to remind each person of his right, and the equal right of every other person, to the use of htis global home and at the same time the equal responsibility of each person to preserve and improve the Earth and the quality of life thereon," McConnell wrote.
Fly the Earth Day Flag
In November of 1969, after proposing Earth Day to Earth Day to the city of San Francisco, members of McConnells Earth Day Committee presented the concept to the UNESCO National Conference, along with an Earth Flag, which was to "be flown to encourage mutual respect for Earth and all its people."
A simple design, with Earth (as seen from space) suspended in a blue field, flying the Earth Flag is an easy way to show your solidarity with ongoing efforts to undo environmental damage and turn society away from its current global warming trajectory.
Donate
Environmental organizations need funding, particularly if they're to challenge the entrenched power of energy and extraction industries contributing most to global warming emissions. In 2019, Vox identified charities that will maximize your donation and most effectively reduce emissions, protect ecosystems, encourage clean energy research and more. Here are five of the best:
Read The Santa Barbara Declaration of Environmental Rights
Several other events precipitated what we now celebrate annually as Earth Day, including a devastating 1969 oil spill that dumped more than 80,000 barrels of crude oil offshore from the California city of Santa Barbara, killing thousands of sea birds, plus dolphins, seals and sea lions (it would later be dwarfed by the Exxon Valdez in 1989 and the Deepwater Horizon disaster in 2010, which pumped more than 4.9 million barrels of oil into the Gulf of Mexico). It was a galvanizing moment for the young environmental movement, inspiring the publication of The Santa Barbara Declaration of Environmental Rights on the one-year anniversary of the spill, in January 1970.
"It is manifest that centuries of careless neglect of the environment have brought mankind to a final crossroads," early environmentalist Rod Nash wrote in the Declaration. "We propose a revolution in conduct toward an environment which is rising in revolt against us."
You can read the whole Declaration, in PDF form, courtesy of the University of California Santa Barbara.
It remains a powerful and radical document, outlining the terrible damage humans have wreaked on the planet's soil, water, air and animals. It also contains a call to action, with principles for communities and governments to implement, including expanding ethics to include consideration of all lifeforms and reforming urban environments.
While there are many ways to celebrate Earth Day, it is less a single day of action and more a reminder of the work we still have ahead and a declaration of hope that we can build a better future for humanity and for the species we share our planet with. If we can make the 50th anniversary of Earth Day the beginning of world-scale change, rather than just a holiday for planting a tree or watching a nature documentary, then we're more likely to ensure that the 100th Earth Day will be day worth celebrating.
"Granted that ideas and institutions long established are not easily changed; yet today is the first day of the rest of our life on this planet," the Declaration concludes. "We will begin anew."