San Francisco Earthquake: Bay Area Rocked by 4.5 Magnitude Quake
San Francisco was struck by a magnitude 4.5 earthquake at 10.33 p.m. PST on Monday⁠—the largest quake to hit the Bay Area in more than five years, according to data collected by Earthquake Track.
The epicenter of last night's quake was felt 0.7 miles northwest of Pleasant Hill and three miles west of the Concord fault, the LA Times reports. According to the U.S. Geological Survey (USGS), moderate shaking was experienced in the areas around Pleasant Hill, Walnut Creek and Concord, while weaker shaking was experienced in San Francisco, Oakland and Napa.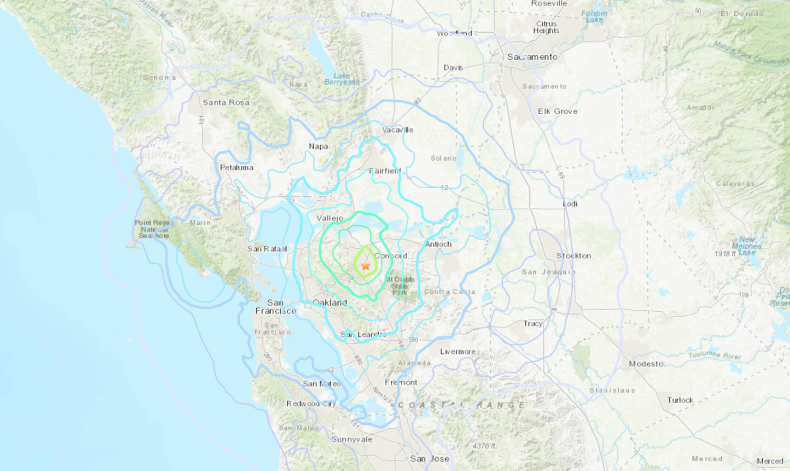 One local resident writing on a volcano forum page described the event as "short and noisy." Another recalls "Tables were sliding and suspended objects were swaying about a foot in each direction."
An earthquake of magnitude 4.5 on the Richter Scale is considered light, although felt it won't cause any major damage. The LA Times report that based on the shaking intensity data collected by the USGS, scientists do not expect there to be structural damage but in regions close to the epicenter, there was enough force to knock books and CDs off shelves.
Data collected by USGS suggests the earthquake had a depth of approximately 9 miles underneath the surface—which is thought to be quite deep, said Keith Knudsen, USGS geologist and deputy director of the agency's Earthquake Science Center, the LA Times reports. This depth explains why it would have been felt in a across a relatively wide area but at low intensities on the surface.
The aftershock forecasts by the USGS say residents should prepare for aftershocks in the coming weeks but there is just a 2 percent chance of any exceeding a magnitude of 4.5. Instead, it is likely there will be less intense earthquakes with 0 to 4 magnitudes level 3 or higher aftershocks. These are aftershocks large enough to be felt near the center but should not cause serious damage.
According to earthquake tracking site Earthquake Track, there have at the time of writing been 10 earthquakes of 1.5 magnitude or higher in the San Francisco Bay Area over the last 24 hours. There have been 15 in the past 7 days, 70 in the past 30 days and 404 in the last year.
The last time there was a quake of any magnitude higher than 4.5 was in 2014, when a 6.0 magnitude earthquake hit South Napa. The last time an earthquake exceeded 7.0 was the infamous 1906 San Francisco earthquake, where devastating fires caused by the severe quake led to up to 3,000 people dying and over 80 percent of the city being destroyed.
"For major events, with magnitudes of seven or greater, California is actually in an earthquake drought," said Richard Aster, an American seismologist and professor in the department of geosciences at Colorado State University, writing for Newsweek earlier year.