An earthquake in southern Alaska Friday was strong enough to knock items from shelves and cause pipes to break across the state. The quake struck around 8:45 a.m. local time, and early reports from the United States Geological Survey said it was a 7 magnitude quake.
A tsunami warning was issued following the earthquake for the Cook Inlet and the southern Kenai Peninsula. Those in the area were urged to stay away from the beaches and oceans in the warning area. That warning was expected to stay active for at least two hours after it was issued.
"A tsunami warning is issued when a tsunami with the potential to generate widespread inundation is imminent, expected, or occurring," according to the United States Tsunami Warning System.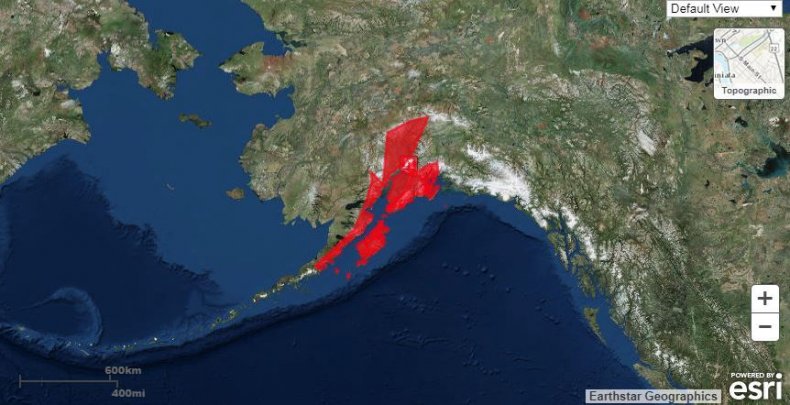 The warning was canceled shortly after 10 a.m. local time in Alaska for both the Cook Inlet and the southern Kenai Peninsula. But, for local residents, there remained extensive damage.
The Anchorage Police Department was sharing information on Twitter and reminding residents to check for gas leaks in their homes from possibly burst lines and to look out for downed power lines. The department shared that it was operational following the earthquake but urged people to only call in case the case of an emergency.
Aftershocks in the area remained ongoing, with the Alaska Earthquake Center working on creating a forecast of the expected aftershocks. Those will be available on the center's website. Some users were said to be having a hard time getting through to the site, likely due to a high volume of visitors.
Roads in the Anchorage area were hit hard by the quake and many were knocked out with the pavement shattered and cracked. Additionally, buildings, homes, schools and more all suffered damage in the area as well.
It was unclear Friday if there were injuries or fatalities associated with the earthquake.
This is a developing story and will be updated as more information becomes available.