Seattle Earthquake: 4.6 Magnitude Tremor Strikes One Week After California Quake
An earthquake measuring 4.6 on the Richter Scale hit Washington state in the early hours of Friday morning, just days after a much larger quake shook southern California.
The U.S. Geological Survey said the earthquake hit the Three Lakes area of Washington. According to the Seattle Weather blog, the quake "woke up an entire region" when it struck at 2.51 a.m.
It was followed minutes later by a 3.5 magnitude aftershock near the city of Monroe, some 30 miles northeast of Seattle. There were no immediate reports of damage or injuries, The Associated Press reported.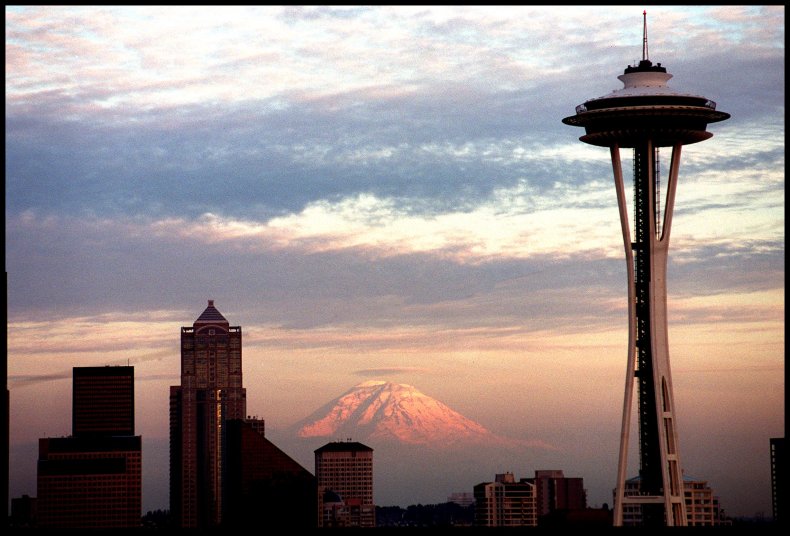 One woman tweeted "we just had an earthquake here in Seattle. Our bed was shaking and hitting the wall," adding that it "felt so strong."
West Seattle Blog said that the quake "isn't huge but certainly the strongest in the region in quite some time," pointing out that it was the first quake "of at least 4 magnitude since February 2017."
Only last week, Southern California was rattled by a magnitude 7.1 earthquake, which left buildings cracked and many people injured.
The tremor was felt from Sacramento down the west coast to Mexico and was the most powerful earthquake in California for two decades.
Also last week, three earthquakes registering between 4.5 and 5.6 magnitude were detected off the coast of British Colombia, Canada, CBC reported.
The tremors, classified as aftershocks to quake two days before, struck within minutes of each other to the south of Haida Gwaii on Friday—one at 5:51 a.m. PT, another 5:58 a.m. and the third at 6:02 a.m.
After the California quake, seismologists warned that Washington state should ready itself for a big tremor as well.
Harold Tobin, director of the Pacific Northwest Seismic Network at the University of Washington, warned that "something similar could happen in Seattle."
"Let's say one on the coast. A big one on the Cascadia fault will be felt strongly in Seattle and will be amplified," he told Komo News.
"Our fault that we worry about the most for the really big one for the Pacific Northwest is this offshore fault called the Cascadia Fault or Cascade Subjection Zone," he added.
"That's the one that could give us the magnitude 9. The big tsunami."