High-energy electrons in the Earth's plasma may be contributing to the formation of water on the surface of the moon, a study found.
The findings were published by a team of researchers, led by a scientist at the University of Hawai'i (UH) at Mānoa, in Nature Astronomy, using data from Chandrayaan-1—an Indian lunar probe launched from October 2008, until August 2009.
The data showed that the Earth's electrons may be contributing to the moon's weathering processes, the study reported.
Earth is surrounded by a force field called the magnetosphere, which protects it from the damaging radiation of the sun. This force field is pushed outward and reshaped by solar wind, which is a gust of charged particles. This makes a long tail on Earth's night side. The tail is composed of high-energy electrons and ions, sourced from the solar wind and the planet.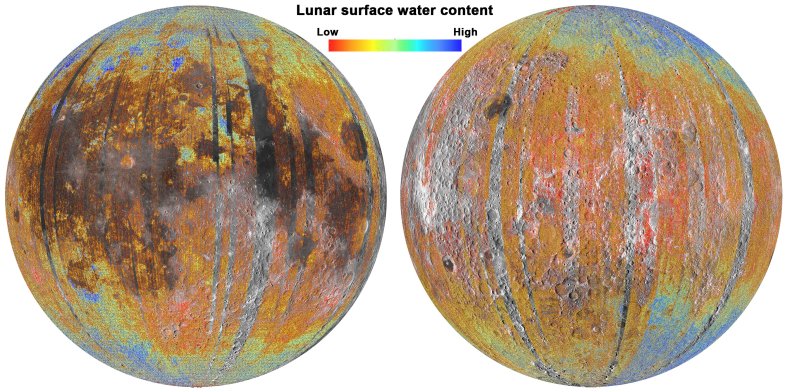 This solar wind then travels to the lunar surface and surrounds it. Scientists believe the electrons carried here by the wind is one of the initial ways water on the moon forms.
"This provides a natural laboratory for studying the formation processes of lunar surface water," Shuai Li, lead author and assistant researcher in the UH Mānoa School of Ocean and Earth Science and Technology (SOEST) said in a release detailing the findings.
"When the moon is outside of the magnetotail, the lunar surface is bombarded with solar wind. Inside the magnetotail, there are almost no solar wind protons and water formation was expected to drop to nearly zero."
Understanding how much water is on the lunar surface helps astronomers gauge how the moon evolved, and formed.
Water could also be a valuable resource for future missions, as it could sustain them for a long period of time. It could make the moon habitable for humans at some point in the future.
This new discovery could help explain the origin of water ice previously found in areas of the dark side of the moon.
"To my surprise, the remote sensing observations showed that the water formation in Earth's magnetotail is almost identical to the time when the Moon was outside of the Earth's magnetotail," Li said in the release, explaining that the way water is formed on the moon is not that different from Earth.
Do you have a tip on a science story that Newsweek should be covering? Do you have a question about the moon? Let us know via science@newsweek.com.