East Coast Floods: Flash Floods Reported in Schuylkill County, Pennsylvania
Over the weekend and into Monday, August 13, areas of the East Coast, from Massachusetts to Pennsylvania, experienced flash flooding, and watches have remained in place for at least seven states along the East Coast as heavy rains are expected to continue.
Lynn, Massachusetts, located north of Boston, had upward of 8 inches of rainfall over the weekend, according to ABC News. Lynn resident Gene Richards told WHDH he thought the flooding was going to force his family from their home. Drivers were also trapped in their cars, and in some areas vehicles were seen floating down the street.
In New Jersey, Cedar Grove Police Lieutenant Frank Pumphrey told NJ.com that he hadn't experienced such flooding since 1999, during Hurricane Floyd. The floodwaters even caused a pileup of cars at a car dealership in Passaic County, New Jersey.
On Monday, the National Weather Service (NWS) Mount Holly issued a flash flood warning for areas along the New Jersey coast, as far north as Asbury Park and as far south as Tuckerton.
On Saturday, the Bogota Police Department rescued a bride whose car got stuck in floodwaters. A video posted on Facebook shows the bride, in her wedding dress, climbing out of the car's sunroof as an officer helps her climb into his vehicle.
"Obviously their day has not gone as planned, so let's congratulate them on their wedding and give them best wishes for a lifetime of love and adventure, starting now," the Facebook post said.
Rain fell at about 3 inches per hour in Schuylkill County, Pennsylvania, on Monday, according to The Weather Channel, prompting water rescues and evacuations. Sonestown was evacuated, while water rescues were taking place in Watsontown and parts of Montgomery County.
There were at least a dozen reports of vehicle rescues in Montgomery County, according to WCAU, and WPVI reported that in Delaware, emergency responders rescued two children and an adult from a car that was stuck in floodwaters. The Upper Darby Police Department tweeted that vehicle rescues were underway, and implored drivers to stay off the roads.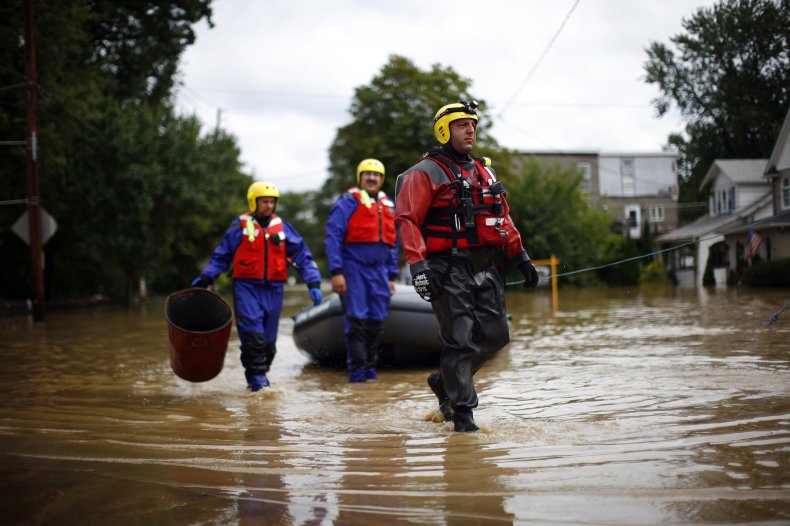 The rain caused parts of the Pennsylvania Turnpike to be closed, leading to major traffic jams on local roads, which also experienced flooding, according to the Montco Department of Public Safety. A flash flood warning was put in place for Philadelphia, Allentown and Bethlehem. The NWS Mount Holly encouraged Pennsylvania residents to use "extreme caution" when traveling on Monday, adding, "Do not drive through flooded roads."
Flash flood warnings were also issued for Virginia, West Virginia, Maryland, Delaware and New York, according to ABC News. From Pennsylvania into western New York, more than 4 inches of rain is possible.
The heavy rainfall comes as parts of Pennsylvania are still dealing with damages from flooding in July, which caused Hersheypark and ZooAmerica to close for several days.