East Coast Storm: How Much Snow Will Ohio, Michigan, New York Get Today?
A winter storm is expected to affect parts of the East Coast on Monday and in the days after, with possible snowfall expected in parts of Michigan, Ohio and New York.
According to the Weather Channel, which named the event Winter Storm Dane, the storm is driven by a growing low pressure system moving up toward the Northeast United States.
On Monday morning, rain began changing to snowfall in parts of Southeast Michigan, Tennessee, Kentucky and Indiana, and AccuWeather meteorologists expect this change to continue as the storm moves East, in parts of Ohio, Georgia, North Carolina, West Virginia and Virginia.
As the day progresses on Monday, the transition from rain to snow will also make its way North, affecting areas in New York and Pennsylvania.
AccuWeather forecasters are predicting snowfall of six to 12 inches in areas from northern Ohio to northwestern Pennsylvania and western New York.
Winter weather advisories were issued by the National Weather Service in several parts of Ohio and Michigan on Sunday and Monday.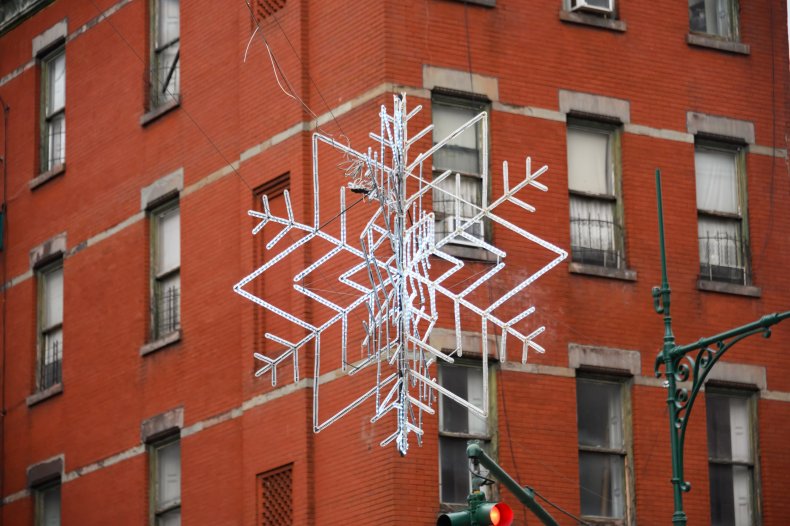 The National Weather Service (NWS) in Wilmington, Ohio, issued a winter weather advisory for Monday, with four to six inches of snowfall expected.
"Rain has spread across the entire region with some snow mixed in for a few locations. The rain will mix with and change to snow generally from west to east through the day. Snow will occur tonight and taper off on Tuesday," NWS Wilmington wrote in a tweet, showing the forecast snow accumulation.
Similarly, NWS Cleveland also issued a winter weather advisory as two to five inches of snow are expected in Western Ohio and three to six inches are expected in central Ohio.
"A large storm system will bring snowfall for everyone followed by #LakeEffectSnow for the primary and secondary #Snowbelt. Storm total snowfall of 8"-12" expected in the #WinterStorm Warning area with isolated higher amounts east of #CLE into NW PA," NWS Cleveland wrote in a tweet.
In Detroit, the NWS announced a winter weather advisory beginning later this afternoon "for a prolonged period of light snowfall," in the eastern half of southeast Michigan.
According to a tweet from NWS Detroit, continued light snowfall in the area is expected to lead to accumulations of two to four inches of snow in the city, while up to five inches of snowfall are possible in the central Michigan region.
In Buffalo, New York, the National Weather Service expects heavy wet snow on Monday night continuing till Wednesday. According to a tweet from NWS Buffalo, "snowfall totals could reach or exceed a foot" in the city and surrounding areas, "which has prompted the issuance of a Winter Storm Watch."
"Rain today will transition to snow across the higher terrain of the S. Tier tonight. Greatest snowfall accumulations across the Chautauqua Ridge and Boston Hills with 8" to 15" through Wednesday," NWS Buffalo said in a tweet showing expected snowfall in these areas.
The NWS Weather Prediction Center's Twitter account also published a tweet stating that, "A storm system is likely to bring heavy snow to the Ohio Valley and Great Lakes through Wednesday."
The tweet added that, "The heaviest snow is forecast south of Lake Erie where lake effect will enhance accumulations."