East Palestine Businesses Slam Train Company Response, Share Housing Fears
Business owners in East Palestine, Ohio, have hit out at rail operator Norfolk Southern over the company's response to one of its trains derailing in the town on February 3, forcing an evacuation for several days as authorities dealt with hazardous chemicals.
On February 6 authorities blew holes in five of the rail carts to drain them of vinyl chloride, a potentially explosive gas, allowing it to be destroyed by controlled burning. During this time around 5,000 people were evacuated from a one by two-mile area for several days on the orders of the Ohio and Pennsylvania state governors.
Norfolk Southern insist they will pay "for all cleanup costs" in the town, with the company's CEO Alan Shaw penning a letter to local residents insisting "we will not walk away, East Palestine."
However speaking to Newsweek local business owners were critical of Norfolk Southern for failing to attend a community meeting on February 15, with East Palestine mayor Trent Conaway claiming they had been "scared for their safety."
One of those who attended the meeting was Clifford Dilling, owner of local drug testing firm DDTA Services which he described as "about a stone's throw from the accident."
Speaking to Newsweek about the meeting Dilling said: "All I know is it was a bad scene. It was very unorganized. There might have been a little bit of shouting but they just didn't answer any of the questions a lot of us were wondering about
"It wasn't dangerous. They [Norfolk Southern] were invited, they were on the list, and they didn't show up. And that really peed a lot of people off. We weren't going to throw anything at them! They had at least 12 highway patrol there, they had the sheriff's department and the local police just in case there was going to be any problem. We just wanted some answers straight from the horse's mouth."
Norfolk Southern released a statement on February 15, explaining their decision not to attend the community meeting.
They said: "We know that many are rightfully angry and frustrated right now. Unfortunately, after consulting with community leaders, we have become increasingly concerned about the growing physical threats to our employees and members of the community around this event stemming from increasing likelihood of the participation of outside parties.
"With that in mind, Norfolk Southern will not be in attendance this evening."
Dilling claimed his company had "lost a lot of business" due to the derailment, adding: "I'm just concerned about the aftermath, what's going to happen months or years down the road.
"I am so close – I can tell you that the real estate in this town, when this happened, has hit rock bottom. Nobody's buying in this town, and you can't even sell anything since the accident."
The business owner said one of his nine employees was suffering from the effects of asthma after the crash until he brought "air filter system portables" for the office which fixed the problem.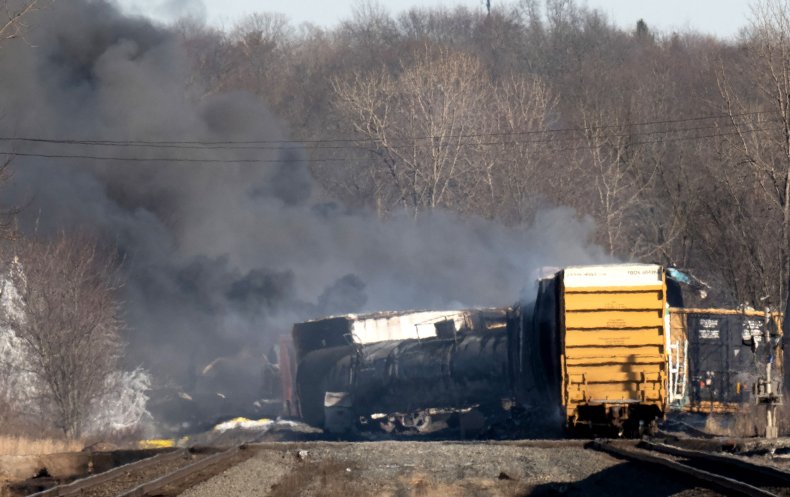 David Royal, who owns the nearby Linsley-Royal Funeral Home said his business was also hit by the derailment, which led to his premises being inaccessible for several days as it was part of the exclusion zone.
Royal added that he approached Norfolk Southern representatives with "questions" and was handed an overly complicated business compensation form.
He said: "Basically they told me they were dealing with individual claims and they handed me a packet, and said if you want to fill in the packet and sent it in you're welcome to do that. But I had more questions than anything.
"The packet was very detailed, they want three years of tax returns, they want profit and loss statements for several years, they want several months worth of copies of your checking account. I wasn't prepared for all that."
Speaking to Newsweek in response to Royal's comments, a spokesperson for Norfolk Southern said: "The packet is designed to assist business owners as they put together the required documentation. It is completely okay to not have that immediately prepared, and there is not a time limit on preparing those materials."
However Royal praised the response of local government in East Palestine, saying they had done "an excellent job for having such a large disaster dropped in their lap."
A similar sentiment was expressed by Dan Shofstahl, who owns Cardinal Welding which is based near the crash site.
During an interview with Newsweek he said: "I'm not too critical of what's been going on so far. I'm not upset. I don't think anybody did a bad job."
While Shofstahl believes "things could have been done better," he said that there is "a lot of Monday morning quarterbacking going on" with people criticizing the response.
Newsweek has contacted Norfolk Southern for comment.
On Thursday the entire Ohio congressional delegation wrote to the Federal Emergency Management Agency (FEMA), asking why their state "apparently does not meet the eligibility threshold" for support from the federal agency.
Shortly after FEMA released a statement saying they would "supplement federal efforts by deploying a Senior Response Official along with a Regional Incident Management Assistance Team (IMAT)."
Update 2/18/23 10:50 a.m. ET: This story has been updated with comment from Norfolk Southern.