East Palestine Mayor's Fiery Row With Ohio Residents
East Palestine Mayor Trent Conaway clashed with some of the town's residents at a public meeting on Thursday, during which he admitted he "tried to keep my cool here" but in the end had "lost it."
On February 3, a Norfolk Southern train, which had been carrying hazardous materials, derailed in the Ohio town.
Days later around 5,000 residents were evacuated while authorities blew holes into five rail cars, which were carrying toxic gas vinyl chloride, so it could be destroyed in a controlled burning.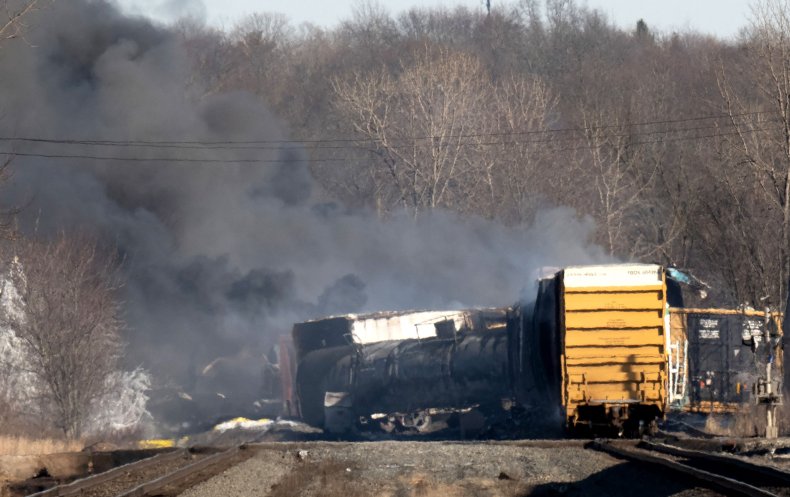 Thursday's public meeting was the first in the town to be attended by representatives from Norfolk Southern, who pulled out of a previous meeting on February 15 citing fears about "a growing physical threat."
Norfolk Southern representative Darrell Wilson did attend Thursday's meeting, where he issued an apology on behalf of the company, though company CEO Alan Shaw was not present.
Following his apology, Wilson faced angry questioning from East Palestine residents, some of whom said they had been suffering from ill health since the accident and asked to be relocated.
According to the New York Post, one resident said: "It's not safe here. I'm begging you, by the grace of God, please get our people out of here."
During the meeting, a regional administrator from the Environmental Protection Agency said the federal agency had done testing in the town, and found the air to be safe.
However, there was also tension between Mayor Conaway and some residents, who claimed he'd not been returning their calls.
A visibly angry Conaway replied: "We're doing the best we can here! And by the way, just so everybody knows, I've tried to keep my cool here and now I've lost it. I'm a part time mayor, I have to feed my family too."
Speaking to NewsNation, he later added: "What makes me emotional is sometimes I don't think people think I really care.
"I usually just run the meetings and go to a couple of special meetings here and there. I don't do that [being mayor] full-time, I have a full-time job other than this... My boss has been gracious where I work, but it's a month now so I have to start easing back into my real job."
Newsweek has contacted Conaway for comment.
Conaway, a registered Republican, was present when former President Donald Trump visited East Palestine on February 22.
The former president praised Conaway, saying he had been "working tirelessly for this community since the beginning."