'I Live in East Palestine. Officials Downplayed the Disaster'
I relocated to East Palestine from northern Kentucky with my two teenage sons four and a half years ago, after a fire destroyed our apartment. I had grown up there and we decided to restart our lives in Ohio. We got our very first house, which was exciting. I love nature and have plants everywhere, so I became known in the town for my floral displays—sometimes people would walk by my house just to see my flowers.
We loved our home and built a really nice life there. My boys were well integrated in the sports; they're both natural athletes and really thrived in East Palestine. They found a lot of great friends; it was a really organic fit for us. Everything was wonderful.
Then the train wreck happened.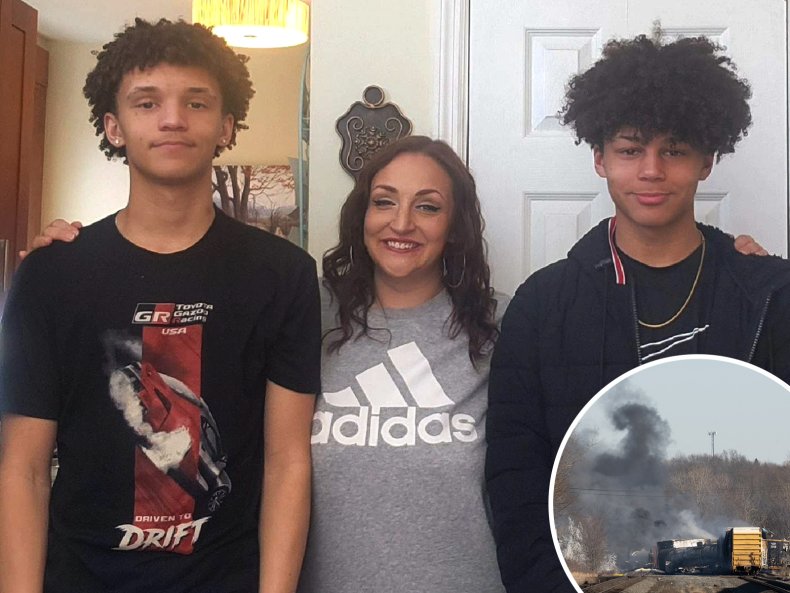 On the evening of February 3, I was in the car with my youngest son after dropping my oldest off at a sleepover. We had just pulled into the driveway when my son showed me a picture on his friend's Snapchat story and said: "Look, there's a fire on the train tracks."
"What are you talking about?" I said. The weather had been so cold, so I had no idea how a fire would have started. I drove down there and see what was going on for myself.
We live within one mile of the train tracks and I had crossed them just ten minutes before but hadn't seen anything. But as we drew closer to the tracks, I saw a wall of flames so large it's difficult to describe. At this point, I could see the fire on the bridge on the other side of town. I've never seen anything of that magnitude in person.
Initially, it didn't smell like chemicals, just like a fire. There were a lot of people watching; we're a small town and I don't think anyone thought something like this would happen here. We knew a freight train had been derailed, which had taken place at around 9 p.m., but it wasn't until the next day we discovered there were chemicals involved.
I received an automated text at around 11:00 p.m. from the city of East Palestine suggesting we evacuate. At that stage, I wasn't aware of why, but we left anyway. We stayed in a hotel, but I didn't have the money to pay for a second night, so at around noon on February 4, we returned home.
We assumed the fire had been contained and there were no more dangers. By this stage, there was a strong smell of chemicals in the town, but we'd had no real explanation about what was going on, so we came home and spent the night at our house.
The following morning, on February 5, we were woken up at 8.30 a.m. by a knock on the door from a sheriff telling us there would be a mandatory evacuation because there was an anticipated explosion. He didn't give me a time frame or any information about the smell, all I knew was there was going to be an explosion.
I woke my kids up and said: "Come on, we got to go." We were in our pajamas so we grabbed a sweatshirt each and we left. It was left up to us to find somewhere to go.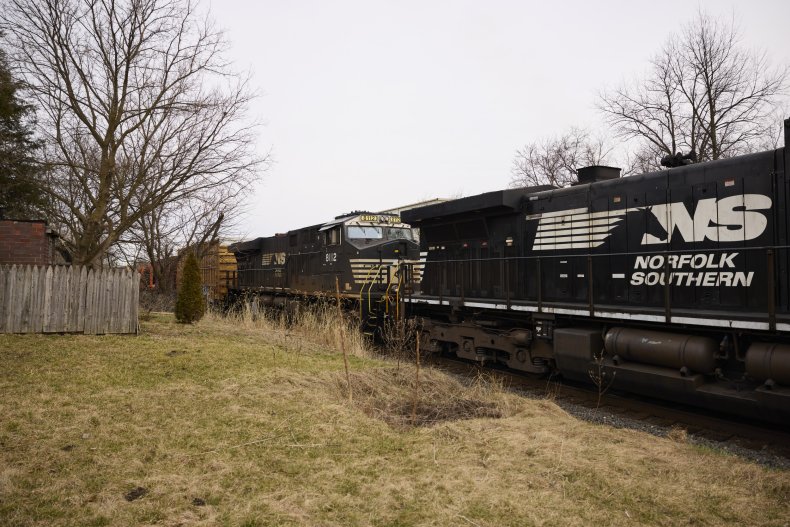 I was really scared. There was a strong smell of chemicals. At the time, we weren't aware that they were planning a contained explosion; I didn't know where or when it was going to take place. As a parent, I was terrified.
During the mandatory evacuation, I was fortunate enough to run into a local police officer who was transparent with me. "There are toxic chemicals on the train," he said. "Grab your sons and leave." I grabbed my babies and I left.
Initially, I went to my aunt's house in Pittsburgh. We arrived in the early afternoon and started seeing things online about the train derailment. I was getting word of the chemicals that were on the trains.
At that point, I was quite literally sick to my stomach. All I could think was my children sleeping in the house that second night. My children have been exposed to something that could potentially hurt them.
In the days since the derailment, there has been a focus on the vinyl chloride and butyl acrylate people have been exposed to, both of which are of huge concern to me—but I feel many people are ignoring the amount of oil that was released during this incident.
Petroleum lube oil was released into our groundwater, into our soil. We're being told that the drinking water is safe, but I feel nobody is talking about the soil and the impact that this oil is going to have on the quality of life for humans that live there. That's a really big concern for me because those oils last for decades.
I'm a nature lover and I'm thinking about the pollinators in the ground, the birds that are going to eat things that are contaminated now. It's really sad and stressful to think about what this could be doing to the environment and the water supplies that so many animals drink from. There are a lot of people that hunt in that area and depend on that meat through the winter. How can they feel confident hunting animals to drink from their waterways?
The evacuation was lifted within 48 hours of the controlled explosion, which was crazy to me. I didn't feel confident that the area was safe to return to. I felt the impact of this incident was being downplayed. I know what I smelled, I know what I saw.
Officials are telling us the area is safe to return to based on what, in my eyes, is very minimal research. Rather than erring on the side of caution, saying: "Hey, we're actually not really sure yet," it feels as though they're giving us answers that aren't certain yet.
I returned to East Palestine on February 14, around a week after the controlled explosion. We were given home air quality tests by the Environmental Protection Agency (EPA), which were supposed to give us peace of mind about returning home.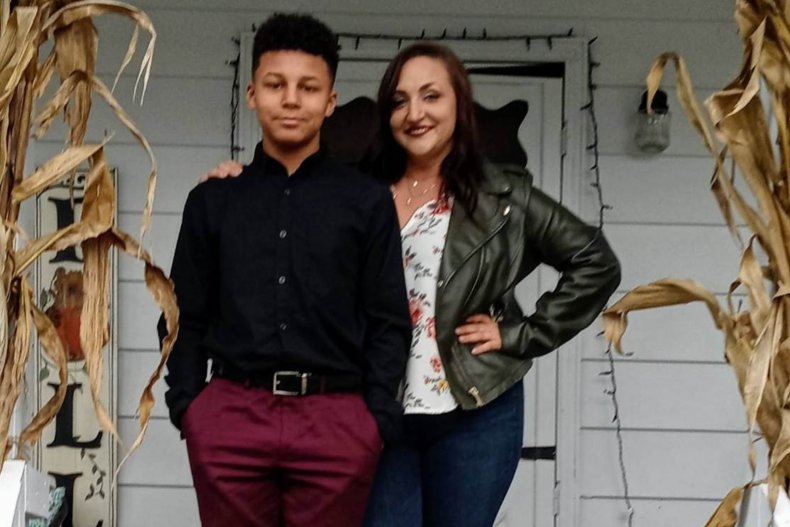 I went home for an hour to set up my air test, and then I went back into town for a further two hours for my son's basketball tournament in the evening. The smell of chemicals was overwhelming.
By the time we got back to our hotel room, my son was crying because his head hurt so much. He threw up twice. I had a headache that was so severe I felt like I was going to pass out. My face almost felt swollen, even though it wasn't. At one stage in the shower, I became really dizzy and I had to get out and sit down because I was worried I was going to fall over and hurt myself. I have a rash on both my arms.
After having my own personal reactions to that environment, it's really hard to believe that what we're being told is accurate. As of February 17, when I went home one more time so I could gather my things and leave the area for good, I could still smell the chemicals. I could smell them in my basement and bathroom.
I don't anticipate going home. My kids have a very long life ahead of them and I cannot feel confident taking them home knowing that the wager is potentially their health. There is no point for me to prove here, except that I want to keep them safe. And the best way for me to do that, the safest option in my opinion, is to make sure they're not present.
I'm temporarily staying with my uncle, who is in his eighties and is gracious enough to let us stay at his house until we figure out what the next step is. I'm a painter and I posted an advert for work where I'm staying, so I'm going to try to save up money and start over again. I did it once and I can do it again.
I honestly can't even begin to express how much of an impact this has had on me mentally and emotionally. For the first week we were just waiting to see if was okay to go home. It's been really exhausting. It's traumatic as a parent when you hear somebody say: "Hey, there's going to be an explosion and anything within the vicinity that you live in, suffers a very high risk of fatality."
There are a lot of people who are committed to that town and love it because they've invested so much of their life there; generations of families. I believe there's a lot of people who will stick it out and go home without certainty that it is safe for them, but their love for their home will keep them there.
I certainly hope that everyone comes out of this just as healthy as they would have before it happened, but I just don't feel we have the facts to know that. I really worry about people that stick around long-term. I worry that some of the chemicals that have been leaked are directly linked to certain cancers.
I hope that this doesn't turn out to be one of those things where 10 years down the road, you're hearing a commercial saying: "If you lived in East Palestine in 2023, call this attorney."
What happened in our town was life-altering for everybody there. It changed everybody's trajectory, whether they decided to stay or they chose, like I did, to leave. Because now we all live with the looming questions of: Is it really safe? Did I do everything I could to protect the people and the things that I love?
Weeks have passed since February 3 and I still have not been told whether or not to clean my possessions, or how to. I've been told to send my kids back to sleeping under their bedcovers and laying on the couch, but I don't know for sure whether those surfaces are safe.
I would like to see people with leadership roles step up and show care and concern. I would like to see compassion and understanding happen before a political playground.
In my opinion, this has really turned into more of a political battle rather than what it is—something very catastrophic that happened to a small town of people who are struggling to find answers that they deserve to have. I want transparency and compassion.
Jessica Lynn is a painter and mother-of-two from East Palestine, Ohio.
All views expressed in this article are the author's own.
As told to Newsweek's My Turn associate editor, Monica Greep.
Do you have a unique experience or personal story to share? Email the My Turn team at myturn@newsweek.com