Alleged Child Molester Sentenced to Death by Show of Hands in Eastern Ukraine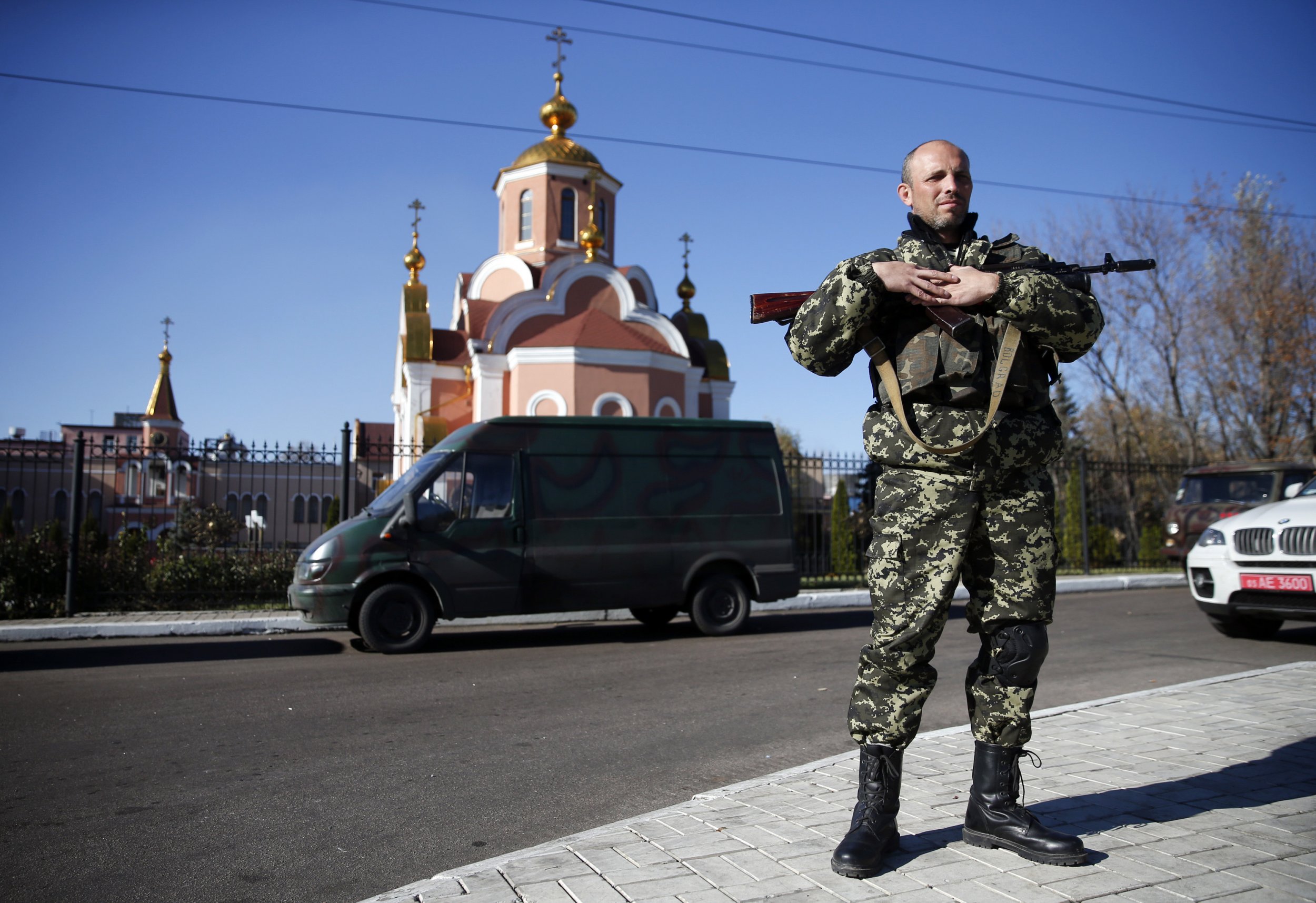 East Ukrainian separatists have released video footage of the first criminal court case held in the self proclaimed republics of Luhansk and Donetsk, where militant rebels sentence a man to death for rape after a show of hands in favour.
The footage shows the proceedings of the self-declared "New Russia First People's Court" that took place on 25 October in the town of Alchevsk in the Luhansk region. In the courtroom, members of the pro-Russian Prizrak (Ghost) battalion press charges against two men who they accuse of sexually abusing minors.
The court case, held in the settings of a run-down Soviet hall, offers a glimpse of the effect the declaration of independent republics has had on the rule of law in eastern Ukraine. Pro-Russian separatists declared the regions of Donetsk and Luhansk independent of the Kiev government in May. The separatists held elections last week that were both won by fighters who had previously declared themselves president, although the votes were not recognised by Kiev, the EU or the United States.
The sentence for both men would have entailed death by firing squad, but after appeals to a 340-person jury the first man narrowly avoided the death penalty and is instead sent to fight for the Prizrak battalion as punishment.
The video showing evidence for charges against the two suspected rapists is presented by a three-member panel of Prizrak battalion fighters acting as judges, with the battalion's leader, Alexey Mozgovoy, officiating the proceedings.
Before the floor is open for attending citizens to share their thoughts and ask questions, the rebel fighter to the right of Mozgovoy addresses the public.
"I would like to make sure you understand why we have called court today," he says.
"Today you have your first chance to act like an active, civil society, with an active position and with the right to have a say."
"Every one of us must understand that building this new society will not depend on only one or two people. Every one of us has to hold themselves accountable."
Mozgovoy then presents the sequence of events which led to the first suspect's capture, all evidence of which has been collected and assessed by his battalion.
Some members of the jury, comprised of both militants and civilians, begin boisterously debating the extent of the suspect's guilt.
"I have a daughter and a granddaughter," one elderly local declares. "If this 'creature' went after my granddaughter, I would shoot him myself. Shoot him!"
Another jumps to the suspect's defence, highlighting that the victim went to the suspect's home and accepted a mobile phone from him as payment. "Is this just any normal girl?" he asks, before answering his own question. "This is a girl involved in prostitution".
One local woman reacts bitterly to this, turning to the suspect and telling him "Did you not know what you were doing? You took advantage of of the situation."
A third, much younger man chimes in, offering his opinion on the matter as "a guest in Luhansk."
"I came to Luhansk to deliver aid to a children's hospital six months ago, so I do not have a say in this vote but I cannot stay silent," he says. "You say you are absolved of guilt because the girl came to you herself, but ask yourself what would you do if your son was in her position," he adds, turning to the suspect.
After a show of hands sentences the first suspect to service on the frontlines he falls to his knees in tears, while Mozgovoy moves on proceedings to the second suspect's case.
Mozgovoy presents a long list of evidence allegedly found by the Prizrak battalion of sexually-based offences by the suspect, including raping a "victim, aged 14, who suffered psychological trauma as a result" of the man's advances.
The suspect is not allowed to speak until after a nearly unanimous show of hands condemns him to death by firing squad, at which point his mother leaps up in tears, begging the court to spare him.
"It is my fault," the woman pleads, "I am the one to blame."
The second suspect is then handed a microphone by a battalion member and, seeming stunned, asks for forgiveness and "a chance to repent" for his "mistakes."
His voice is drowned out by jeers from the crowd and he is taken away by armed battalion militants.
In August, Ukrainian separatist rebels voted to legitimise the death penalty for crimes like desertion and looting. Unconfirmed evidence of capital punishment being used by pro-Russian rebels has been the subject of speculation before. In June, a video appeared online that appeared to show rebel leader Igor Bezler executing two pro-Kiev soldiers by firing squad.
In May, documents signed by former rebel leader Igor Strelkov emerged online ordering the execution of looters, using a Stalin-era Russian law as legal grounds for the execution.