Easter 2019: Honey Baked Ham Instructions, How Long to Cook a Ham
An integral part of many celebrations among family and friends is the food that's being served, and Easter is no different. For many, ham is the centerpiece of this holiday meal and while it will appear on many tables this Sunday, it can be unclear as to how long the hog should be heated before serving.
Why ham for Easter? Well, it's easy, feeds a lot of people and creates little to no mess right before the meal is to be served, not to mention it's delicious. Essentially, ham is a host's dream, as you can look entirely unflustered in the crazed minutes between guests entering your home and sitting down to eat.
How Long to Cook a Ham
For feasibility, it's best to go with roasting as your method of choice for cooking your ham. As per the great Betty Crocker's instructions, preheat the oven to 325 degrees Fahrenheit.
A fully cooked, smoked ham is the most common type people purchase in the grocery store and for a boneless version, cook it in a covered pan with a half of a cup of water. Then, your cooking time will depend on the weight, as outlined by Betty Crocker:
1.5-2 pounds: 29-33 minutes per pound
3-4 pounds: 19-23 minutes per pound
6-8 pounds: 16-20 minutes per pound
9-11 pounds: 12-16 minutes per pound
Grocery stores also often sell bone-in hams, which you'll also want to cook in a covered pan but unlike a boneless ham, do not add water. Again, cooking times depend on the size and should be guided by:
6-8 pounds: 13-17 minutes per pound
14-16 pounds: 11-14 minutes per pound
Another option meal organizers have for their Easter feast is canned ham, although, some people have strong feelings that when you're going for ham, avoid the can. However, others love it and think it can taste just as good as a spiral ham in its traditional form. Per Betty Crocker's instructions, it's best to cook it uncovered with the can juices. Once again, the cooking time depends on the weight and was outlined as:
1.5-2 pounds: 23-25 minutes per pound
3 pounds: 21-23 minutes per pound
5 pounds: 17-20 minutes per pound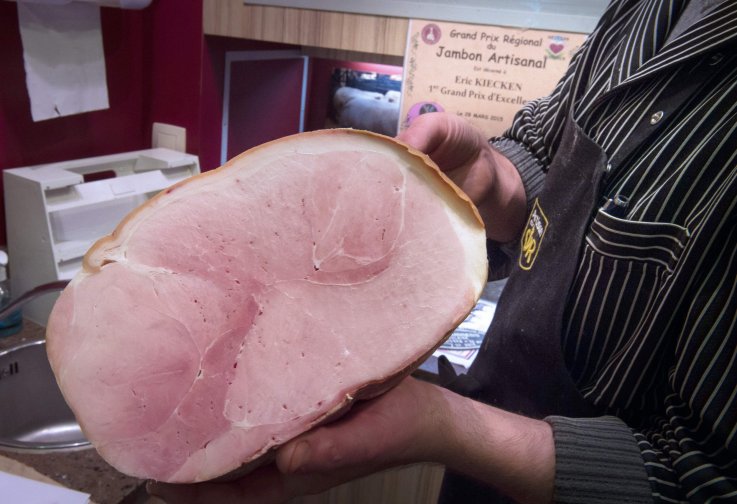 Honey Baked Ham Instructions
While some people think honey baked ham is a catchall phrase for the delicious pork they find on their Easter table, Honey Baked Ham is actually a brand of ham. The ham is fully cooked and ready to eat and the company recommends serving it right from the refrigerator after letting it come to room temperature.
However, if heating is a requirement of your household, Honey Baked Ham advised heating only the slices that will be served and not the entire ham. Wrap the slices in aluminum foil and heat at 275 degrees Fahrenheit for about 10 minutes per pound. Slices can be heated in a skillet as well.
Easter 2019: Honey Baked Ham Instructions, How Long to Cook a Ham | U.S.