Beautiful Bonnets Sashay Down Fifth Avenue in the New York City Easter Parade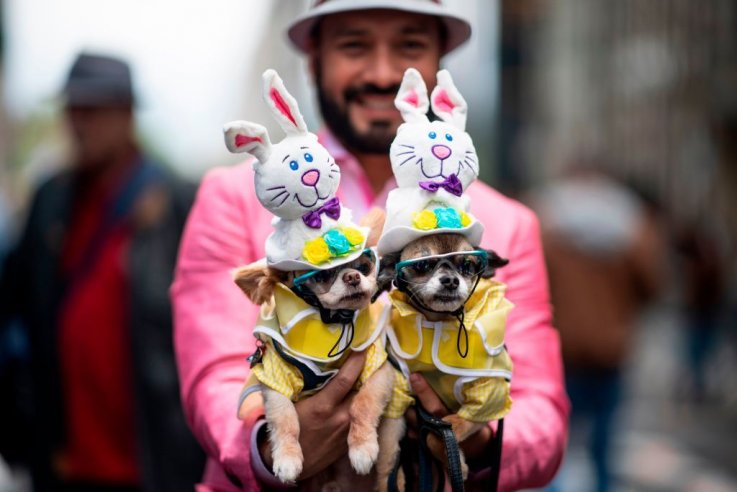 New York City's Easter Parade dates back to at least the 1870s but we can only imagine what Victorian ladies would have to say about the flamboyant costumes and bonnets on view this Sunday. From 10am to 4pm, thousands strolled up Fifth Avenue from 49th to 57th Street, with a hubbub of activity on the steps outside steps of St. Patrick's Cathedral.
The road, as always, was blocked to automobiles—but the festive procession has a much more casual feel than, say, New York's St. Patrick's Day Parade or the Pride March. (There are no barriers separating spectators and participants, for example.)
The iconic haberdashery that's an integral part of the Bonnet Festival ranged from celebrations of spring to pop-cultural nods to political activism. But whether they donned a papier-maché mask of Donald Trump or kept a rabbit in a cage on their head, everyone was there to make a statement.
The tradition was immortalized in Irving Berlin's "Easter Parade" from 1933, the basis for the Judy Garland-Fred Astaire film of the same name that came 15 years later.
In your Easter bonnet, with all the frills upon it,
You'll be the grandest lady in the Easter parade.
I'll be all in clover and when they look you over,
I'll be the proudest fellow in the Easter Parade.
On the avenue, Fifth Avenue, the photographers will snap us,
And you'll find that you're in the rotogravure.
Oh, I could write a sonnet about your Easter bonnet,
And of the girl I'm taking to the Easter Parade.
Originally, fashionable turn-of-the-century ladies would wear their finest finery to Easter Mass and area churches would be festooned with increasingly ornate floral arrangements. The spirit of spectacle became more and more primary, though, until now the event is essentially a secular celebration of fashion, frivolity and extravagance.
Some still wear their (Easter) Sunday best, of course, though they were outnumbered by the participants—couples, drag queens, families and even pets—in outré costumes.
Check out images from the 2019 New York City Easter Parade and Bonnet Festival below.