Watch Pope Francis Easter Mass Live From Vatican
Pope Francis will live stream Easter Sunday services from the Vatican again this year. Scheduled for 10 a.m. in Italy (4 a.m. EDT) on Easter Sunday, the services will be open to anyone to attend. The services will also be replayed throughout the day in case you missed the live stream.
Following Holy Week and a packed schedule of events Pope Francis and other church officials will bring the celebrations and commemorations to a close on Sunday. Lent, the period of time leading up to Easter that begins on Ash Wednesday, officially ended Thursday ahead of the Lord's Supper on Thursday evening.
The Easter Mass was scheduled to take place in St.Peter's Square that can hold up to 80,000 people. The area of the square that has seating does require tickets for the mass but the rest of it where there is standing room only usually doesn't require a ticket, said the Vatican. Tickets can be picked up for free from the Swiss Guards at the Vatican near Bronze Door in St. Peter's Square three days ahead of the mass.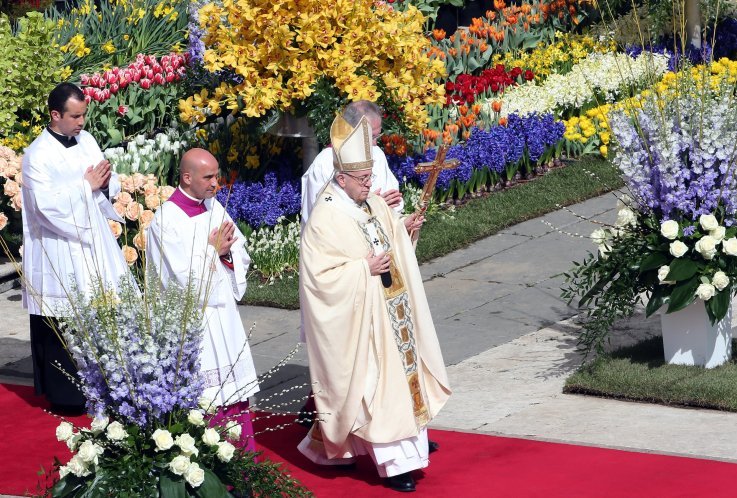 For those who are unable or don't want to try and see the mass or the blessing in person, the whole thing is streamed online. The live stream makes it easy for anyone with an internet-enabled device to celebrate Easter Mass with the pope without being at the Vatican.
The services are streamed from the Vatican on its YouTube channel as well as by the CatholicTV Network for those who have access to it.
Watch Pope Francis Easter Mass from the Vatican:
Easter Sunday Live Stream schedule:
Easter Mass in St. Peter's Square is expected to begin at 10 a.m. in Italy (4 a.m. EDT.) The "Urbi et Orbi" blessing from the Pope is expected at noon in Italy at the conclusion of the mass. The mass will be broadcast again throughout the day both on Catholic TV and likely also on Vatican News.
During last year's liturgy for the Easter Mass Pope Francis gave three things he was inspired to say by the Gospel proclamation, said the Vatican. The first was that God surprises people, the second was that people should respond quickly to those surprises and the third was about the question "What about me?" The pope said that people should ask what surprises from God mean to them and how they were prepared to handle those surprises. He also took time during the mass to call for peace throughout the world highlighting Syria and Venezuela.
Watch Pope Francis Easter Mass Live From Vatican | World