Humans may not be the only species threatened by the novel coronavirus. In the Democratic Republic of the Congo (DRC), a national park is temporarily shutting its doors to protect its population of endangered mountain gorillas from the disease.
Virunga National Park released a statement last week announcing the closure in response to the "rapidly unfolding situation" relating to COVID-19. Mountain gorilla tourism will be closed as of Monday 23, March and officials say no new bookings will be taken before June 1, 2020.
The parks cite World Health Organization (WHO) guidance to minimize movement and social contact, as well as scientific advice from experts warning gorillas may be at risk of the virus.
"For Virunga in particular, it has been taken following advice from scientific experts indicating that primates, including mountain gorillas, are likely susceptible to complications arising from the COVID-19 virus," said Virunga National Park. "As such, we must remain steadfast in safeguarding our population of this endangered species."
Virunga is not the only national park taking these precautions. Associated Press reports three in neighboring Rwanda are adopting similar measures and suspending tourism and research to protect the primates living there.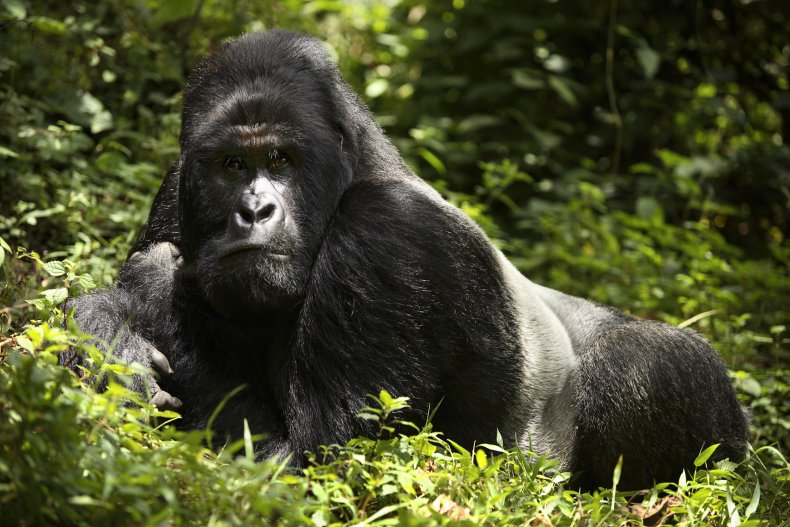 There is a long history of infectious diseases that have spread from primates to humans and vice versa—one of the most common being HIV, which is thought to have originated from Simian Immunodeficiency Virus in chimps. As contact between the two species increases, conservationists are worried about the increasing potential for disease transmission between the two and the strain this will put on already endangered populations of mountain gorillas.
For example, in 2011, an adult female and newborn died after contracting human metapneumovirus (HMPV), a virus known to cause respiratory disease in people. Several other mountain gorillas are known to have been infected with the disease and developed various symptoms, including coughing, eye and nose discharge and lethargy as a result. Other species of primate, namely chimpanzees, have died after catching the common cold.
Chief executive of the Kenya-based conservation group WildlifeDirect, Paula Kahumbu told AP "we know that gorillas are very sensitive to human diseases."
"If anyone has a cold or a flu they are not allowed to go and see the gorillas," she added. "With coronavirus having such a long time of no symptoms in some cases, it means that we could actually put those gorillas at risk."
This is of particular concern due to the low numbers of mountain gorillas, a sub-species of eastern gorillas, left in the wild. According to Virunga National Park, there are thought to be around 1,000 individuals—more than treble the number estimated to be alive in the 1970s. As a result, the IUCN red list upgraded the mountain gorilla from critically endangered to endangered in 2018.
However, despite all the progress that has been made in recent decades, the animals remain at risk from poaching, habitat encroachment and climate change, the World Wildlife Fund reports—as well as disease. According to Frontiers Public Health, respiratory diseases cause 20 percent of sudden deaths in mountain gorillas.