'Homoerotic' Orthodox Calendar Protests Anti-LGBT Attitudes in Eastern Church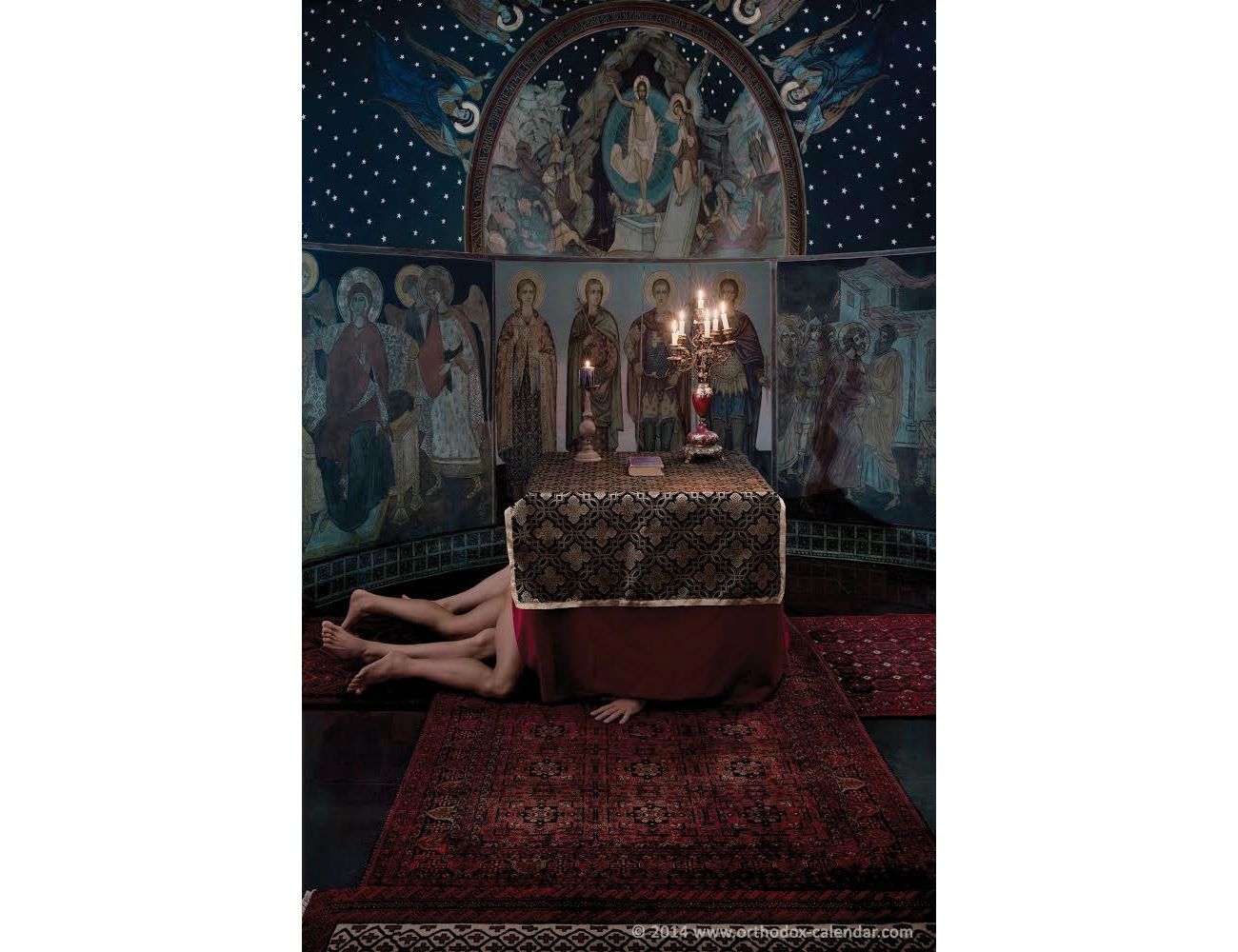 Call them men of very little cloth.
Bodily blessed members of the Eastern Orthodox Church are striking a pose for a "homoerotic" calendar to protest anti-gay attitudes in the religion.
Similar to the first two editions, "Orthodox Calendar 2015," the third installment of the OC series, features pious hunks without clothing. This year, the steamy, tongue-in-cheek photos depict the seven deadly sins—wrath, sloth, greed, pride, envy, gluttony and lust. (The title of OC 2015, SALIGIA, is the Latin acronym for the sins.)
Gluttony, for example, is represented by a naked man in a red blindfold, reposing with a barely eaten apple in his hand.
"These priests set out, in a humorous way, to remind the world that homosexuality is not one of the seven deadly sins," OC creators said in a statement about the calendar.
"The primary goal was to create the very first organized global effort against homophobia in the Orthodox region," calendar creators also explain on the project's website. "At the same time, the calendar takes an ironic approach to the Orthodox Church itself, which in recent years has been embroiled in artist repression, questionable behavior and homophobia."
OC's creative team hails from Romania, but the project is aimed at all countries in which the Orthodox Church is present especially Russia, where Patriarch Kirill described the legalization of gay marriage as a "dangerous, apocalyptic sign." Indeed, Russian religious leaders' homophobic proclamations have exacerbated the persecution of LGBT persons. In June 2013, the Russian parliament passed a law barring gay "propaganda." According to The Guardian, "the law in effect makes it illegal to equate straight and gay relationships, as well as the distribution of material on gay rights. It introduces fines for individuals and media groups found guilty of breaking the law, as well as special fines for foreigners."
For more information on Orthodox Calendar, including where to buy this year's edition, visit www.orthodox-calendar.com.