Eastman Headed for Jail 'if There's Any Justice Left in America': Kirschner
Donald Trump's attorney John Eastman could face time in jail over his alleged plot to overturn the 2020 presidential election results, said legal analyst Glenn Kirschner on Saturday.
Following Trump's defeat in 2020, he and his allies allegedly sought to overturn the election results based on unfounded claims of widespread voter fraud. Eastman then became a key player in backing up the unsubstantiated claims, allegedly working on plans to thwart the electoral college certification.
The select congressional committee investigating January 6, 2021 held another public hearing on Thursday, when several allegations were made against Eastman, who has declined to testify about his alleged role in pushing those types of plans.
In an email sent to Greg Jacob, who was an attorney for former Vice President Mike Pence who advised him against joining efforts to block the certification, Eastman allegedly encouraged Pence to join efforts to block the election results after the riot. His email allegedly included acknowledgement that his plan may be illegal.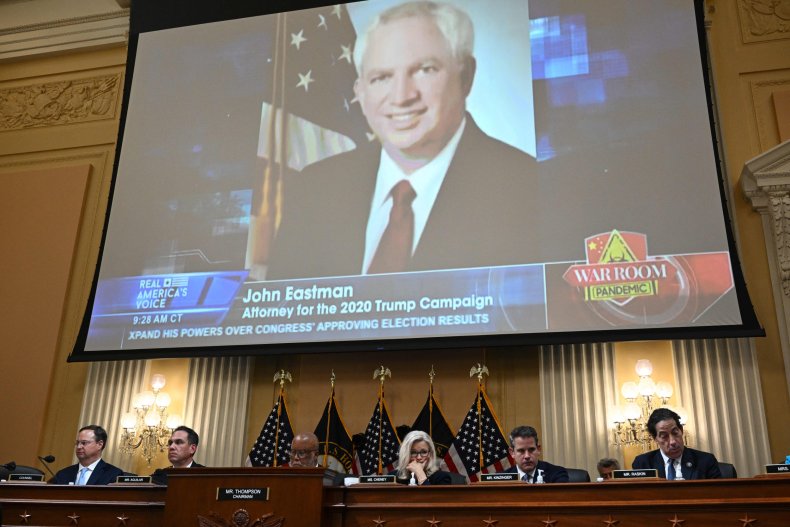 "So now that the precedent has been set that the Electoral Count Act is not so sacrosanct as was previously claimed, I implore you to consider one more relatively minor violation and adjourn for 10 days to allow the legislatures to finish their investigations, as well as to allow full forensic audit of the massive amount of illegal activity that has occurred here," Eastman allegedly wrote.
In a video posted to Twitter Saturday, Kirschner slammed Eastman over the email.
"So John Eastman knew that his coup plan violated the law, emailed something to Pence's team even after the riot saying, 'You know what—in for a penny, in for a pound,'" he said. "We already violated the law, so why don't we violate one little additional provision so we can install Donald Trump unconstitutionally for a second term."
He also condemned the former president's attorney for a second revelation made during the hearing—that he asked Rudy Giuliani to include him on a list of Trump administration officials to be considered for a pardon "knowing he committed crimes."
"All I'm going to say about John Eastman is that if there's any justice left in America, he will very soon be a guest of the Federal Bureau of Prisons," Kirschner said.
During the hearing, Jacob told lawmakers that after he showed the email to the then-vice president, Pence allegedly called Eastman's plot "rubber room stuff," meaning that the plan was "certifiably crazy." Pence, in the days leading up to January 6, also resisted Eastman's efforts to convince him to push back the electoral college certification, and despite becoming a target for some Republicans, has said he does not regret his decision to certify the results.
Newsweek reached out to Eastman for comment.