Trump WH Lawyer Recalls John Eastman Call: 'You Out of Your F***ing Mind?'
A White House lawyer asked Donald Trump's legal adviser John Eastman "Are you out of your f***ing mind?" during a phone call in the aftermath of January 6, according to a deposition for the House Select Committee hearing into the U.S. Capitol insurrection.
Eric Herschmann said Eastman, who allegedly helped push the now ex-president's quest to overturn the 2020 election, called him on January 7, 2021, trying to reach someone in Trump's circle to discuss an issue related to the election.
Trump's allies had claimed without evidence the vote had been undermined by fraud. Eastman is accused of pushing Pence to delay the formal certification of the election or reject some states' Electoral College results. Pence declared on January 6 he had no such power.
Herschmann—part of Trump's legal team during his first impeachment trial—gave Eastman short shrift, according to part of his taped deposition revealed on Tuesday.
"I don't remember why he called me," Herschmann said. "He started asking me something about dealing with Georgia and preserving something potentially for appeal."
"I said to him, 'are you out of your f***ing mind?' right. I said, "I only want to hear two words coming out of your mouth from now on—orderly transition.'"
"I don't want to hear any other f***ing words coming out of your mouth, no matter what, other than 'orderly transition.' Repeat those words to me," he said.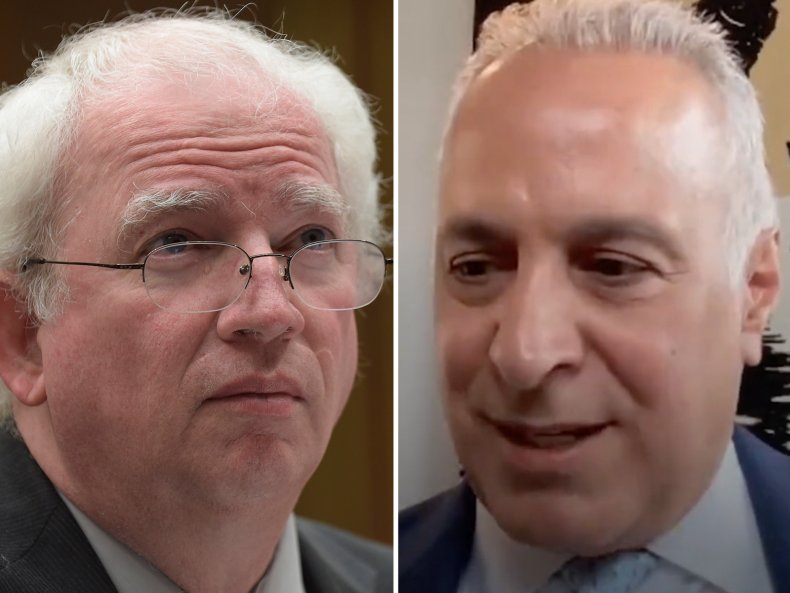 Asked how Eastman replied, Herschmann said that "eventually" he repeated the words.
Herschmann continued describing the conversation, telling the committee he advised Eastman that the "best free legal advice you're ever getting in your life," is to "get a great f***ing criminal defense lawyer, you're going to need it."
"Then I hung up on him," Herschmann added.
Committee vice chair Liz Cheney, a Republican, shared the clip of Herschmann's deposition in a message about the next hearing, scheduled for Thursday.
In the video message, the Wyoming representative said the committee will examine Trump's "relentless efforts" to pressure then-Vice President Mike Pence "to refuse to count lawful electoral votes." She said these "likely violated two federal criminal statutes."
Eastman has long been a focus of the January 6 committee's probe.
Last week, a federal judge ordered Eastman to handover 159 documents related to January 6 and the 2020 election, as requested by the House select committee.
Eastman refused to give up the documents despite a subpoena, claiming the information was protected under attorney-client privilege. He has been contacted for comment.
In his deposition, Herschmann also lambasted the claims of voter corruption put forward by the ex-president's ally Rudy Giuliani and lawyer Sidney Powell.
Herschmann said claims, including how the dead Venezuela dictator Hugo Chavez had manipulated Dominion Voting System machines to affect the vote, were "nuts."
"It was a combination of Italians, the Germans, different things that had been floating around as to who was involved" he said, "just all over their radar."
Trump has criticized Cheney and the committee in multiple posts to his Truth Social platform, calling it a "kangaroo court."