Watch Donald Trump Change His Tune From Easy to Difficult on Repealing Obamacare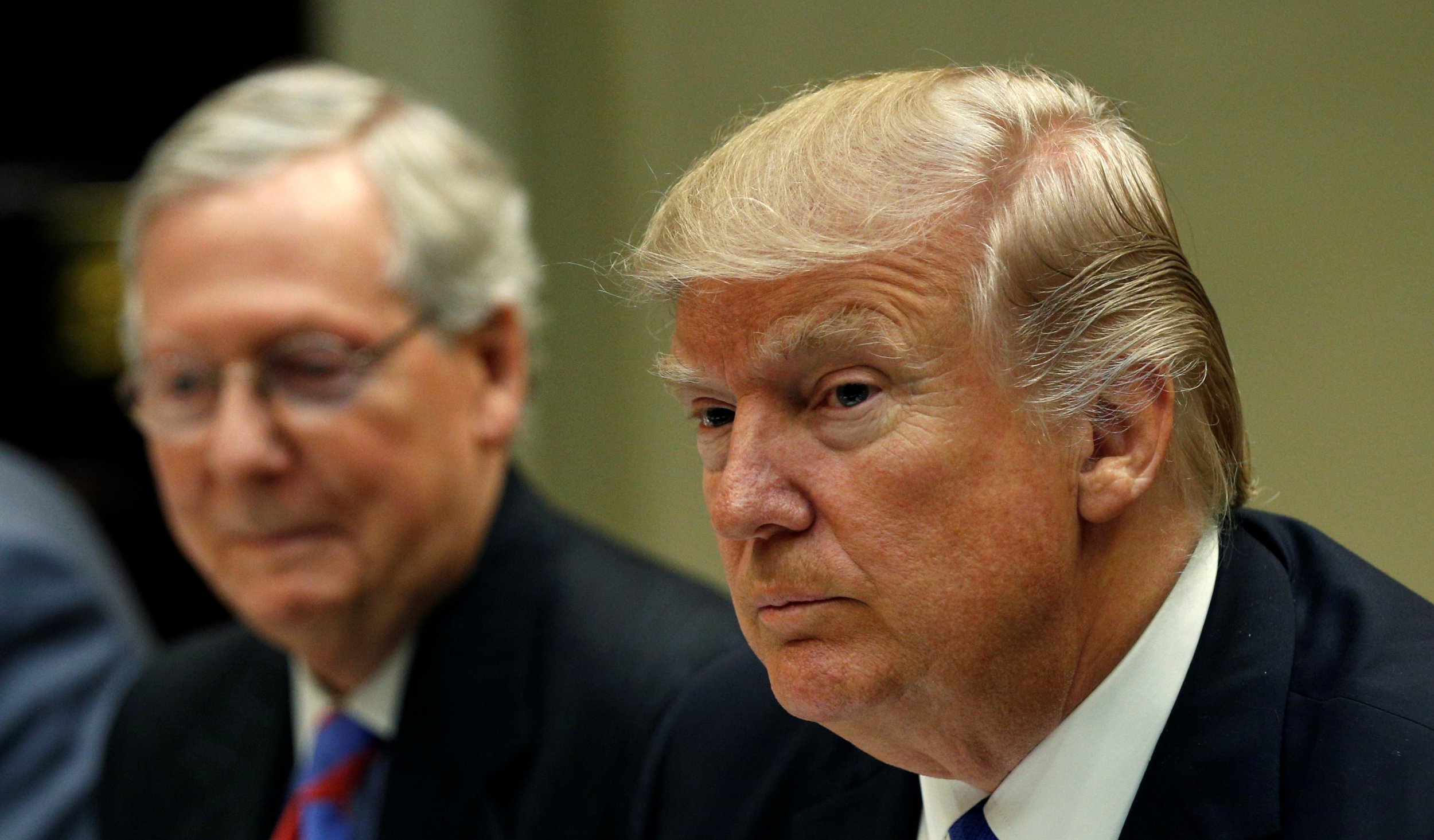 After the Republican health care bill failed early this week, President Donald Trump tried to rally the flagging spirits of GOP senators with a rousing speech and lunch at the White House Wednesday.
"For seven years, you promised the American people that you would repeal Obamacare. People are hurting. Inaction is not an option, and, frankly, I don't think we should leave town unless we have a health insurance plan," the president told the senators during a lunch he held in the White House State Dining Room to cajole their votes.
By holding the lunch, the president put in the work of rallying his troops after the battle within the party to pass the bill appeared to be lost. Republican opposition is split between the hard right and moderate wings of the party, with a nuclear option available of trying to repeal the current Obamacare health care law and give Congress two years to hash out a workable bipartisan bill.
Last October, Trump said it is "going to be so easy" to get a new health care law. But after emerging from a meeting with state governors in February, he complained that "nobody knew health care could be so complicated."
Related: Trump is so rich he thinks health insurance costs $12 per year
Below is a timeline of the president's changing attitude about the deal, which appears to be one of the hardest he's ever had to negotiate in his life.
Trumpcare: A Timeline
September 2016: "On my first day, I am going to ask Congress to immediately send me a bill to repeal and replace Obamacare.
October 2016: "You're going to have such great health care at a tiny fraction of the cost. And it's going to be so easy."
November 2016: "When we win on November 8 and elect a Republican Congress, we will be able to immediately repeal and replace Obamacare."
January 2017: "It will be repeal and replace. It will be essentially simultaneously."
February 2017: "Nobody knew that health care could be so complicated."
March 2017: "With no Democrat support, we couldn't quite get there. Just a very small number of votes short."
March 2017: "I never said repeal and replace Obamacare. You've all heard my speeches. I never said repeal it and replace it within 64 days."
May 2017: "This is a repeal and replace of Obamacare, make no mistake"
June 2017: "The Democrats have let you down, big league."
July 2017: "We'll just let Obamacare fail. We're not going to own it. I'm not going to own it."