Pro-Trump Group Claims Responsibility For Woman's 'Eat Babies' Speech At Alexandria Ocasio-Cortez Event
An economic PAC that supports President Donald Trump claimed responsibility for a woman who told Representative Alexandria Ocasio-Cortez people needed to start eating babies because of climate change.
A video of the woman's comments, which she delivered at a town hall in New York, went viral on Thursday. From the outset, many questioned the validity of the video, speculating that the woman was planted there by a group or was suffering from a mental condition.
"We're not going to be here for much longer because of the climate crisis! We only have a few months left! I love that you support the Green Deal but getting rid of fossil fuel is not going to solve the problem fast enough," the woman said. "I think your next campaign slogan has to be this, we got to start eating babies."
On Thursday night, the Lyndon LaRouchePAC retweeted the video with a message of their own.
"LaRouchePAC trolls AOC, AOC doesn't rule out eating babies," the PAC wrote on Twitter. Newsweek reached out to the LaRouchePAC but did not receive a response in time for publication.
LaRouchePac is an economic PAC that advocates for the policies championed by Lyndon LaRouche, a conspiracy theorist and political activist who ran for president multiple times. The PAC, according to its Twitter account, advocates for economic recovery, a return to former Secretary of State Alexander Hamilton and the implementation of LaRouche's four economic laws.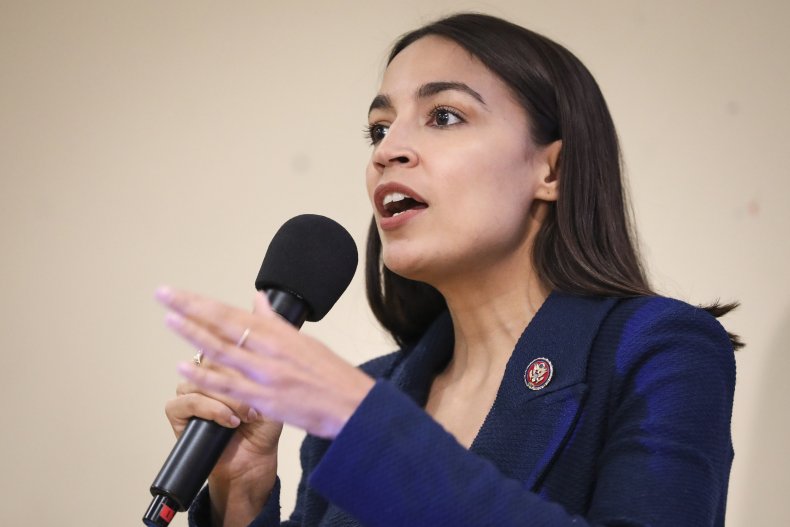 LaRouche's four laws are identified on the group's website as restoring the Glass-Steagall Act, establishing a new national bank, increasing productivity as the metric for credit applications and creating a crash program for fusion power development and space.
LaRouche started out with the now-defunct United States Labor Party and ran for president eight times. In 1987, LaRouche was found guilty of scheming to defraud the Internal Revenue Service and was sentenced to 15 years in prison.
Over the years, LaRouche pushed a number of conspiracy theories, which included that the queen of England was involved in the international drug trade, Henry Kissinger was a "Soviet agent of influence" and that the United Kingdom interfered in the 2016 election, according to NPR.
He also claimed Queen Elizabeth II was plotting to have him fired and the "British Empire" targeted then-President Barack Obama for assassination, according to The New York Times. He later called for Obama to be impeached, accusing him of organizing an "act of war" by orchestrating Turkey shooting down a Russian fighter jet. LaRouche passed away in February.
The group has thrown its support behind Trump, criticizing special counsel Robert Mueller's investigation.