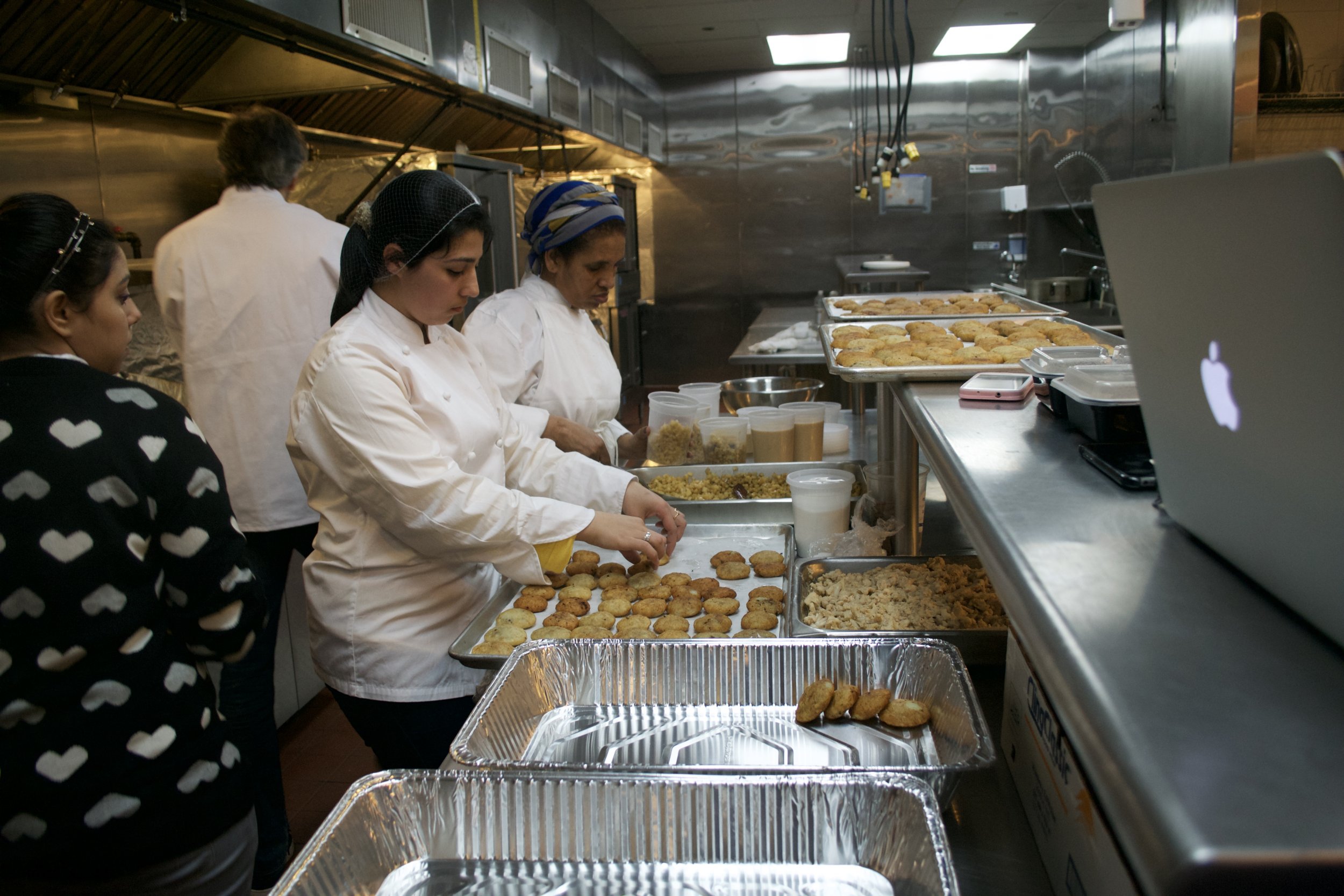 Like so many immigrants to the United States, Manal Kahi missed the familiar taste of recipes from her home country.
But instead of yearning for hard-to-find delicacies or a proper cup of tea, Kahi, who came to the U.S. three years ago for her master's degree, was disappointed in the quality of a food product found in most American supermarkets: hummus. Without singling out any particular brand sold in the U.S., Kahi says she found American hummus tasted too different from the "high-quality, high standard" found in her native Lebanon.
"I started making my own from a very easy recipe I got from my grandma," she tells Newsweek. "Everyone around me loved it, friends were raving about it, and when I mentioned that to my brother he said, 'We should sell it.'"
Kahi and her brother, Wissam, began thinking about who in the U.S. could make hummus that tasted as good as their grandmother's. The siblings came up with an answer: Syrian refugees resettled in metropolitan New York. That's how Eat Offbeat, a food delivery service based around dishes cooked by refugees, was born.
Launched in November, Eat Offbeat employs six women refugees from Syria, Iraq, Eritrea, Tibet and Nepal who have resettled in Queens, the Bronx and New Jersey to tweak their homespun recipes (with the help of a professional chef) for delivery and catering across New York City. The number of Syrian refugees who have been admitted to the U.S. so far this year—841—is tiny compared with the 2.6 million who have fled to Turkey and the more than 1 million who arrived in Lebanon since Syria's war broke out in 2011, according to data from the State Department and the United Nations refugee agency (UNHCR).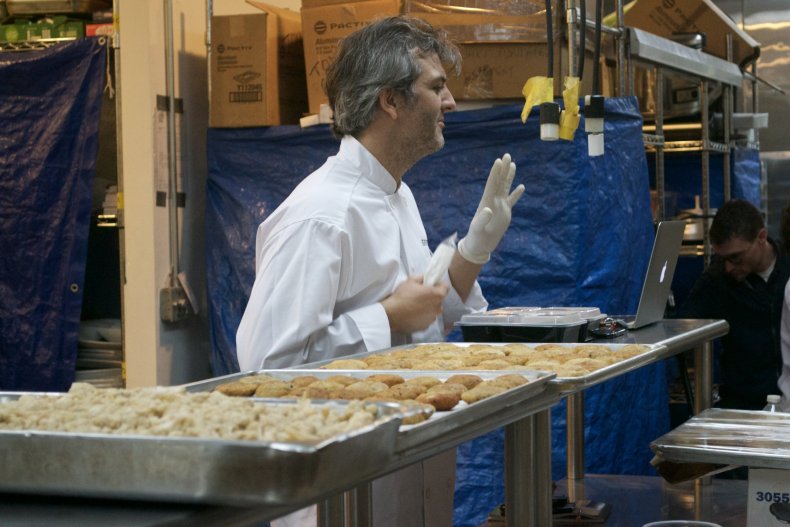 "Coming from Lebanon three years ago, it was the midst of the refugee crisis, and I already had that in the back of my mind. I wanted to do something," Kahi says, standing in the communal kitchen used by Eat Offbeat in Long Island City, Queens. "Back home, there was nothing I could do, and I was feeling kind of hopeless, but this was an opportunity to actually do something."
Between October 1, 2015, and January 31, 2016, New York state received 941 refugees from across the world, one of the largest resettlement totals out of the 18,167 refugees who arrived in the U.S. during that time period, according to the State Department. Neighboring New Jersey has received 76 refugees, and 136 were resettled in Connecticut during that period. While more than half of New York City's resettled refugees originate from China, a 2013 New York City government report on the city's foreign-born population includes Nepal among the top 20 countries of origin for refugees and asylum-seekers.
When Newsweek visited the Eat Offbeat kitchen on Tuesday, the team was wrapping up preparation for a 90-person lunch at a nonprofit organization in Manhattan the following day. Large silver bowls and trays of diced apples and potato kibbeh, a deep-fried potato croquette from Iraq, cover two work stations as a very New York clock—in the shape of a slice of pizza on a paper plate—ticks nearby. Eat Offbeat has fed groups of eight to 125 people, and it is hoping to start an individual delivery service, where people can order meals from its website, within the next few weeks.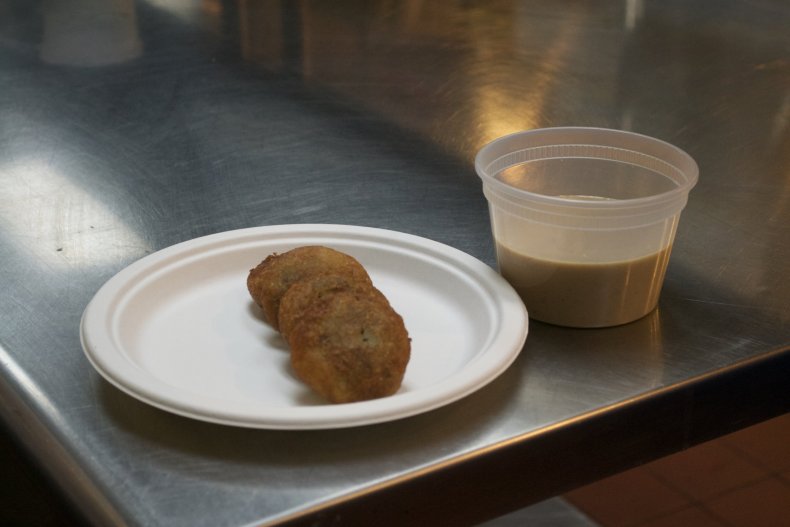 Despite Eat Offbeat's handful of refugee chefs and the use of their inherited recipes, Kahi says she doesn't want the company to be defined as one that employs refugees. The women are referred to Eat Offbeat by the International Rescue Committee (IRC), one of the nine resettlement agencies contracted by the State Department to help refugees begin their lives in the U.S.
"We're not really helping refugees; they are helping us," she explains. "We want New Yorkers to say, 'Wow, we are so lucky that these people are being resettled in New York. This is amazing food. They have so much value to offer.' We just want to showcase that."
The women employed by Eat Offbeat have the benefit of being trained by Juan Suarez de Lezo, the organization's head chef and a veteran of such globally renowned eateries as Per Se and El Bulli. The restaurants where he's worked have 13 Michelin stars between them.
Suarez de Lezo says Eat Offbeat is a "totally different" kitchen from others where he's worked. His job consists of showing the refugee chefs how to adapt their finely tuned home-cooking to a professional environment. With his help, the kitchen has developed nearly 30 recipes since November, including the Nepalese dish Manchurian, a customer and staff favorite of deep-fried steamed cauliflower covered in a spicy sauce.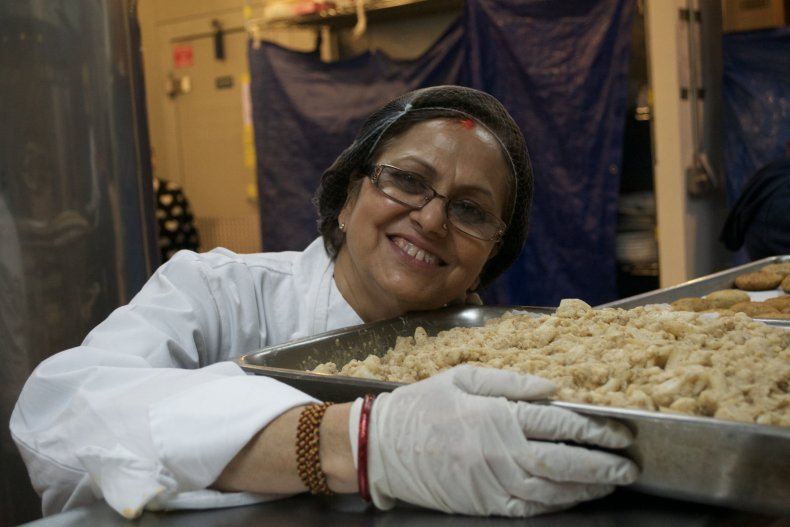 "We get their best recipes, and we work over the flavors. Maybe they use a lot of garlic; even though it's really tasty and really nice, you have to balance all the flavors for people in New York," says Suarez de Lezo. "They know how to cook, but we teach them new techniques, new ideas, and they can use them in those dishes that they cook every single day."
The brain behind the Manchurian dish is Rachana (who declined to give her last name), a refugee from Nepal who has lived in the U.S. for 10 years. Rachana has been at the organization since November and conjured up the recipe for Manchurian through her own testing and research. It's "one of the most amazing things I have tried in my life," says Suarez de Lezo. Rachana also cooks lamb pilau and momos, a type of dumpling from her native Nepal.
"I don't have any professional degree at all, but they like my food and cooking with me," Rachana says, standing next to a giant tray of Manchurian prepared for next-day frying. "I am so happy to work with [Suarez de Lezo]."
"Our motto is 'Where adventurous eaters find refuge,'" says Kahi. "It's really about us helping New Yorkers and not the other way around." As well as providing curious New Yorkers with food they've possibly never tried, Kahi says Eat Offbeat gives refugees the opportunity to receive training, employment and a chance to get out of the house—something that's especially important for those who have been resettled very recently.
For Rachana, who is still smiling in her hairnet, white chef's jacket and apron at the end of the day, Eat Offbeat is a perfect match. "I'm so happy. This is my passion," she says. "I'm fit for here. I'm meant for this kitchen."