Are Eating Contests Dangerous? Wolfing Down Food Poses Choking Hazard, Long-term Cancer Risk
A blur of saliva and bulging cheeks, competitive eating contests are an American institution. But their safety has once again been called into question after a taco-eating competition participant recently died.
Dana Hutchings, 44, choked to death and died in mid-August after entering a competition held at a Fresno Grizzlies game in California. His sister, Mecca Hutchings, told ABC affiliate KSFN-TV: "He told us he was going to a taco eating contest, but we didn't think something like this would happen."
Hutchings was just one of the many hopefuls to enter one of the dozens of amateur and professional competitive eating contests held across the country each year—and he is far from the first to die at an event.
In March 2017, Travis Malouff, 42, choked to death after trying to eat a doughnut weighing half a pound in 80 seconds or less at the Voodoo Doughnut store in Denver, 9News.com reported.
Around the same time, 20-year-old Caitlin Nelson died after taking part in a charity pancake eating contest at Sacred Heart University in Connecticut. Officers at the scene said the pancakes formed a concrete-like obstruction in her airway, Associated Press reported.
Katie Mesner-Hage of Koskoff, Koskoff & Bieder, representing Nelson's family in a lawsuit, said at the time: "These contests are significantly more dangerous than people realize."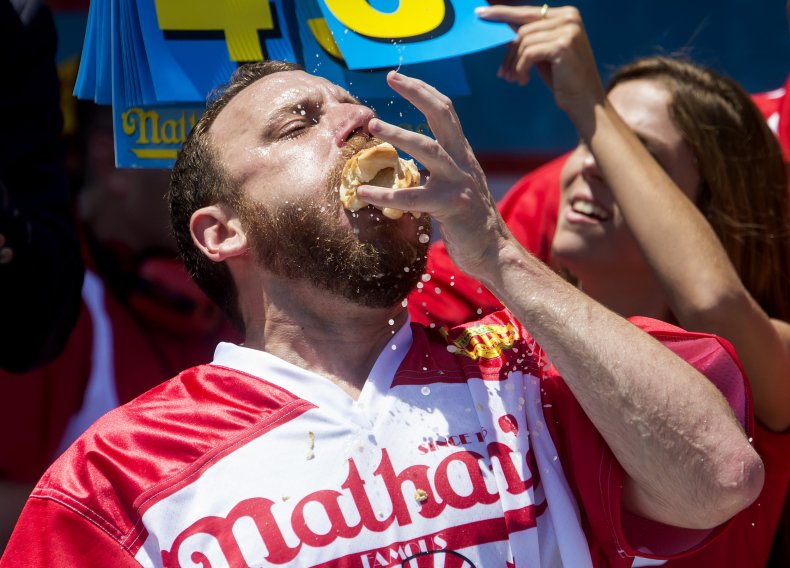 At such contests, contenders are faced with a seemingly insurmountable pile of food and are challenged to eat as much as possible in the allotted time period. The stakes can be high, with winners of top-tier professional Major League Eating contests hurriedly gobbling up anything from hot dogs to chicken wings, cow brains to boiled eggs, in the hope of winning thousands of dollars.
The record-breaking timings and amounts of food consumed are dizzying. At last year's Nathan's Hot Dog Eating Contest, legendary competitive eater Joey Chestnut broke his own record by scoffing 74 hot dogs in ten minutes, to win $10,000. Last February 2018, Carmen Cincotti devoured almost 2.5 gallons of chili in 6 minutes at the Orlando Chili Cookoff. In 2010, Sonya Thomas put away 6.5 pounds of Crawfish at the Rouses World Crawfish Eating Championship in just 10 minutes. The list goes on.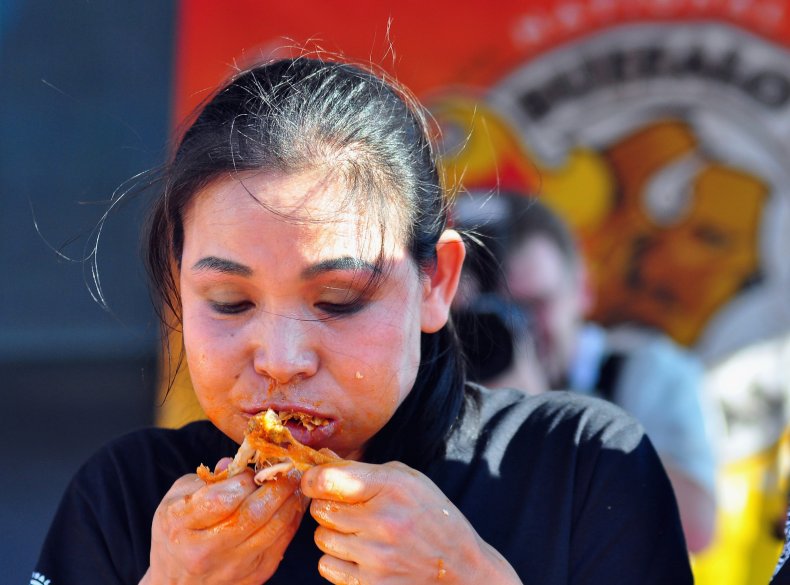 Of course, the overwhelming majority of competitors survive these contests, albeit creaking under the weight of food. But Kirsten Jackson, a qualified dietitian and spokesperson for the British Dietetic Association, told Newsweek that as well as immediate dangers such as choking to death, competitive eating can also carry long-term risks including developing cancer.
The riskiest foods that are those high in fats, which take longer to digest and cause more acid reflux; those which are salty and can lead to increased blood pressure; and spicy foods which can caused diarrhea, Jackson said.
"The risks of competitive eating would mostly be around indigestion, as such large volumes of food will put pressure on the esophageal sphincter," she explained. This collection of muscles is used for bodily functions from eating to breathing, belching and vomiting, as well as stopping stomach acid and contents from coming back up from the stomach.
"This means that it will no longer be able to keep stomach acid in," said Jackson. "Instead, it will push up through the esophagus causing heart burn. In the long-term, repeat acid exposure could lead to scarring and inflammation in the oesophagus. This may then lead on to cancer. Although it would really depend on how regularly this occurrence was happening.
"The other issue would be calorie, salt and saturated fat intake that typically come with large volumes of food. These elements of nutrition can lead to heart disease, high blood pressure and weight gain," said Jackson.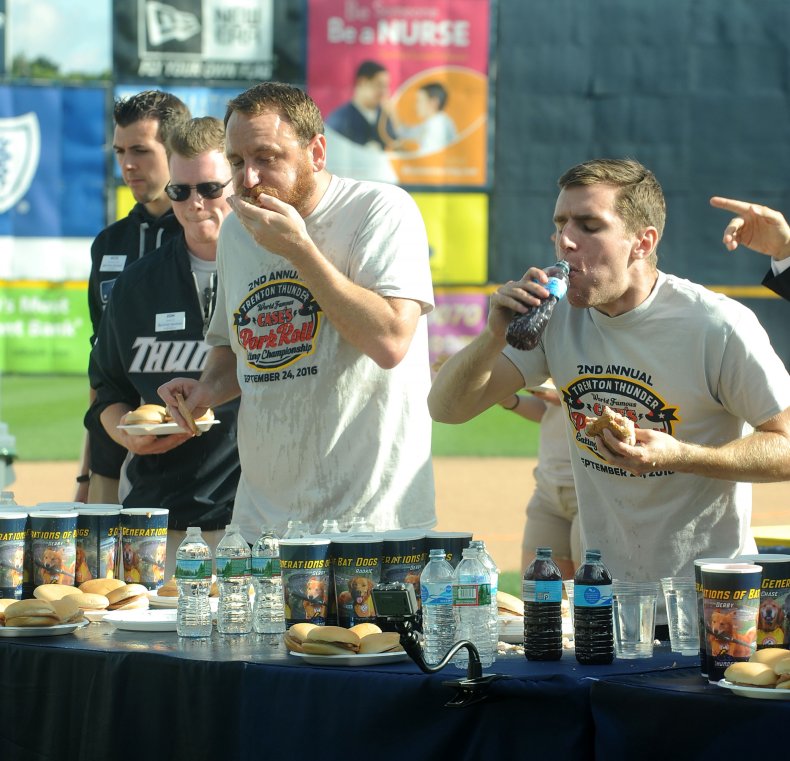 Her concerns echo the findings of a 2007 study published in the American Journal of Roentgenology which compared the stomachs of world-class speed-eating champions to regular people during a contest in a lab setting. They found speed eaters expand their stomachs to "form an enormous flaccid sac capable of accommodating huge amounts of food."
As well as the risk of becoming morbidly obese, pro speed eaters risk developing gastroparesis, where nerve damage makes the stomach unable to empty food in the normal way. The condition, usually seen in those with diabetes, can cause a person to vomit up undigested food, as well as experience bloating and heartburn. The body can also struggle to control blood sugar levels.
Competitive eating can also lead to vomiting and nausea which is hard to control, the researchers said, and could even lead to the partial or total removal of the stomach.
They warned: "Despite its growing popularity, competitive speed eating is a potentially self-destructive form of behavior."