Eating This Many Nuts Could Make Men More Fertile, Study Suggests
Eating nuts could boost a man's fertility, according to a study. Scientists believe regularly eating nuts could significantly improve the quality of sperm and how well the reproductive cells function.
The findings come as scientists attempt to answer why sperm counts have halved in the past four decades. The decline has been linked to factors including pollution, smoking, and unhealthy aspects of the Western-style diet, the study authors said.
Researchers based in Spain arrived at their conclusion by recruiting 119 healthy young men aged between 18 to 35. In the randomized trial, researchers asked the men to either add 60 grams per day of walnuts, almonds, or hazelnuts to their diets, or continue as they were.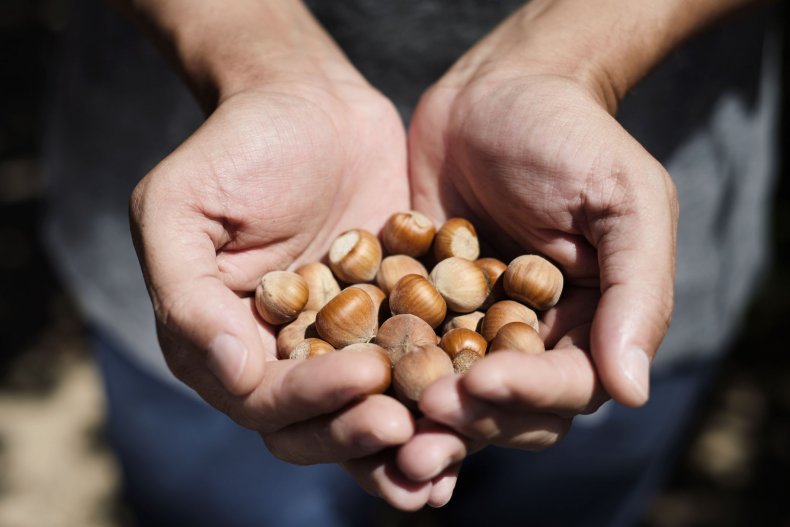 The quality and function of their sperm—including changes on a molecular level—were measured at the start and end of a 14-week period.
The men who ate nuts saw a 16 percent spike in their sperm count on average, as well as improvements in the overall health of the reproductive cells. All of these factors help with male fertility, study author Dr. Albert Salas-Huetos of the Human Nutrition Unit of the Universitat Rovira i Virgil in Reus said in a statement.
These factors were likely due to lower levels of sperm DNA fragmentation, which is linked with infertility.
The team believe that could be because nuts are rich in omega-3, folate and antioxidants such as selenium, vitamin C and E, and zinc.
The results of the study were presented at the annual meeting of the European Society of Human Reproduction and Embryology on 4 July. Scientists from Rovira i Virgili University and the Autonomous University of Barcelona took part in the study, which was funded by the International Nut and Dried Food Council. The research is set to be published in the peer-reviewed American Journal of Clinical Nutrition, according to The Guardian.
So, should men who want children add nuts to their diets? Not yet, said Salas-Huetos.
"I believe that we have enough evidence to say that improving lifestyle factors, such as diet, could be important to improve sperm quality parameters. Nuts are important because they are a key food for healthier life," he told Newsweek, pointing to the Mediterranean diet as a good option.
And men who don't eat nuts shouldn't be worried their sperm will suffer, he said. "They can adopt healthier nutrition and overall lifestyles that should also have an impact on sperm quality. The key message is that [by] adopting a healthier lifestyle, [and] eating better, you can improve your sperm quality parameters."
Nicholas Macklon, medical director at the U.K.-based London Women's Clinic fertility treatment center, who was not involved in the study, told The Guardian: "The changes are notable and likely to be beneficial for fertility." But as many factors contribute to fertility, the impact might be limited, he said.
Professor Allan Pacey, chief editor of the journal Human Fertility and professor of andrology at the University of Sheffield, told Newsweek the study is strong because it was a randomized controlled trial. However, it was not a blind study, as the participants who ate nuts likely knew they were not in the control group.
In addition, there is a difference between improvements in semen quality and the probability of making a partner pregnant, he said.
As for diet, Pacey advised: "Men should be eating a balanced diet anyway, of which nuts can be a part. It's wrong to just focus on one food."
This article has been updated with comment from Dr. Albert Salas-Huetos, Professor Allan Pacey, and to clarify the timeframe of nut consumption.