Eating This Much Chocolate Could Cut Heart Disease Risk by 13 Percent
Eating a moderate amount of chocolate could cut the risk of heart disease, a study has suggested.
Researchers assessed five studies involving 575,000 individuals to conclude eating three bars of chocolate a month could lower the risk of heart disease by 13 percent from the baseline, The Telegraph reported.
But the study presented at the European Society of Cardiology conference in Munich isn't a green light to eat chocolate in excess, as indulging every day appeared to raise the risk of heart failure by 17 percent.
Every year around 610,000 people die of heart disease in the U.S., accounting for one in every four deaths.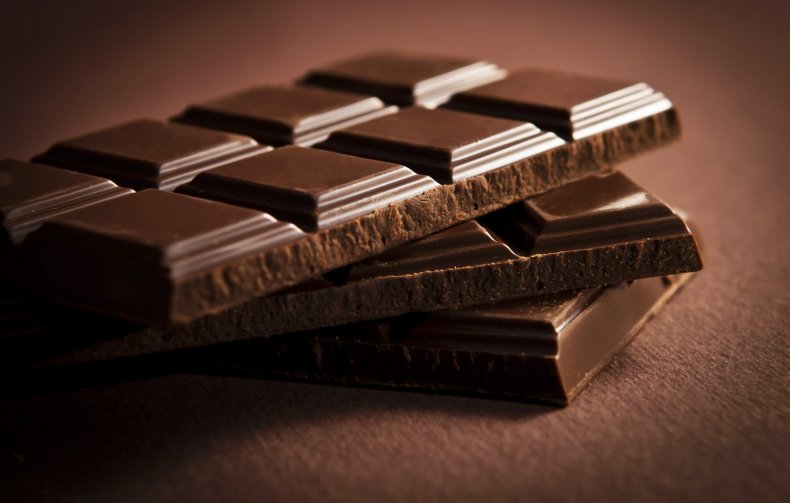 Dr. Chayakrit Krittanawong of the Icahn School of Medicine at Mount Sinai in New York, who led the research, told Newsweek: "The result is different from my hypothesis. I thought chocolate consumption might be proportionally associated with increased risk of heart failure."
"Moderate chocolate consumption is associated with lower risk of heart failure. That means certain amount of chocolate consumption may benefit heart health."
Krittanawong also commeneted, according to The Daily Mail: "I believe that chocolate is an important dietary source of flavonoids which are associated with reducing inflammation and increasing good cholesterol.
"Flavonoids can increase levels of nitric oxide in the body, which widens the blood vessels and can improve circulation, he explained.
But he warned many chocolate products are high in saturated fats. "Therefore, moderate consumption is recommended at this moment," he said.
Next, a randomized clinical trial is needed to definitively answer whether chocolate can boost heart health, as well as which forms of chocolate are most beneficial.
Read more: Forget sports drinks: Chocolate milk may be best for exercise recovery
Victoria Taylor, senior dietitian at the U.K.-based charity the British Heart Foundation, said in a statement: "Chocolate, or rather, the cocoa it contains, has previously been linked to a variety of cardiovascular benefits."
"This large-scale analysis suggests that enjoying a moderate amount of chocolate might protect you against heart failure, but [eating] too much can be detrimental. The analysis is based on observational data, so other factors could also be responsible for the effects seen and we can't directly translate the findings into recommendations."
She advised those with a sweet tooth to make chocolate an occasional treat, and to opt for dark chocolate, which has the highest levels of cocoa content.
The study follows research published in the journal Heart in 2017 which suggested eating chocolate in moderation can lower the risk of developing atrial fibrillation, where the heart beats irregularly. 55,502 men and women took part in the study.
Elizabeth Mostofsky, lead author and an instructor in the Department of Epidemiology at the Harvard T.H. Chan School of Public Health, said in a statement at the time: "Our study adds to the accumulating evidence on the health benefits of moderate chocolate intake and highlights the importance of behavioral factors for potentially lowering the risk of arrhythmias."
This article has been updated with comment from Chayakrit Krittanawong​.