EBay Joins Amazon in Removing Proud Boys Merchandise
EBay said on Thursday that it is taking steps to remove Proud Boys merchandise for sale in its marketplace.
The company's announcement came one day after Amazon said it too is in the process of removing the controversial items from its online stores.
"We are in the process of reviewing and removing the Proud Boys items under our policy that prohibits offensive materials," an eBay spokesperson told Newsweek.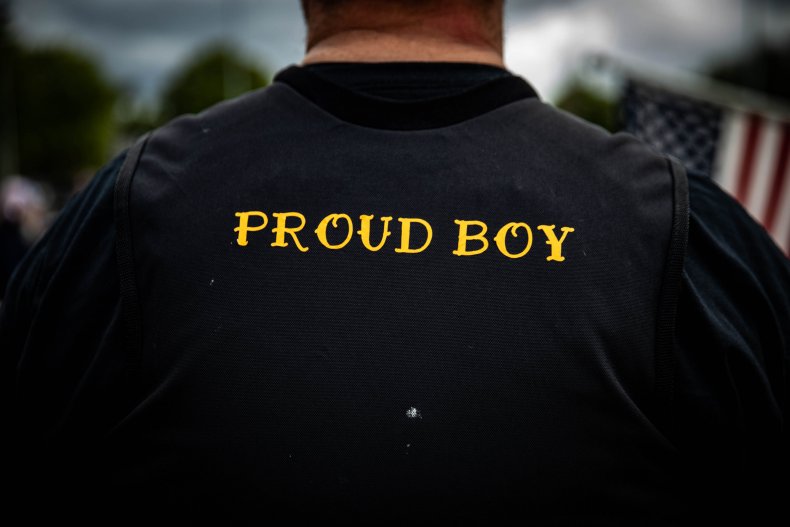 According to eBay's policy, item listings are in violation if they "promote, perpetuate or glorify hatred, violence, or discrimination, including on the grounds of race, ethnicity, color, religion, gender or sexual orientation." Any item listing that is found to be in violation could be removed, hidden or demoted, and accounts posting such items could also be suspended, according to the company's policy.
The company said it was reviewing the items after Twitter users pointed out active listings of T-shirts emblazoned with messages like "Stand back stand by," "Proud Boys standing by" and "Team Proud Boys."
Searches for those items on the site Thursday afternoon revealed that many were marked with messages that read: "This listing was ended by the seller because there was an error in the listing."
The Proud Boys is a far-right group that has been connected to counterprotests at Black Lives Matter events in recent months. The FBI identified the Proud Boys in 2018 as an "extremist group" with ties to white nationalism, and the Anti-Defamation League has also identified the Proud Boys as a "misogynistic, Islamophobic, transphobic and anti-immigration" group with some members known to "engage with white supremacist groups."
The Proud Boys received extensive media attention this past Tuesday during the first presidential debate. Moderator Chris Wallace of Fox News introduced the topic by asking Trump if he would be willing to condemn white nationalists and other militant groups. Trump initially responded by saying most of the violence he has seen during the protests over the summer was caused by left-wing groups. When Wallace pressed him on the question, Trump asked, "What do you want to call them? Give me a name. Give me a name."
Wallace then said "white supremacists" and Democratic presidential nominee Joe Biden added, "Proud Boys."
"Proud Boys, stand back and stand by," Trump said. "But I'll tell you what. I'll tell you what. Somebody's got to do something about antifa and the left. Because this is not a right-wing problem."
Trump was widely criticized for his comments and told reporters on Wednesday that he did not know who the Proud Boys were. But members of the Proud Boys community celebrated the president's mention on the conservative social media site Parler and suggested that "stand back and stand by" might soon become a new motto for the group.
As discussions about the Proud Boys continued on Wednesday, Amazon told Newsweek that it was removing Proud Boys items for sale in its marketplace that did not follow its selling guidelines, which say the company "does not allow products that promote, incite or glorify hatred, violence, racial, sexual or religious intolerance or promote organizations with such views." Teespring told CBS MoneyWatch that it too was in the process of removing Proud Boys merchandise from its platform, and eBay became the latest online marketplace to take similar steps on Thursday.
This story has been updated with additional information and background.