As Russian President Vladimir Putin's invasion continues, many have sought to show their support for Ukraine, causing eBay's sales of pro-Ukraine-themed merchandise to jump 10,534 percent in the U.S. since the war began.
As the invasion of Ukraine enters its 41st day, an eBay spokesperson shared with Newsweek that Ukrainian flag sales experienced a 17,889 percent increase since the start of the invasion on February 24, compared to the previous three months combined.
According to the spokesperson, eBay has recorded 20,328 Ukrainian flags sold in the U.S. since February 24, as opposed to the 113 total that were sold in the previous three months combined.
Other pro-Ukrainian items, like t-shirts or stickers, experienced a 6,456 percent increase on eBay since the invasion compared to the previous three months combined. In total, that's 12,849 items sold, in contrast to the 199 items sold in the months leading up to the invasion.
Since the beginning of the war, the U.S. has offered its support to Ukraine, as leadership has condemned Russia's actions, and citizens have boycotted brands and companies that have continued to do business in Russia.
The purchasing of flags and other Ukrainian merchandise has become another symbol of solidarity with the country.
One independent gift shop in Belmont, California, told KRON news that they keep running out of Ukrainian flags, as they are being bought so quickly.
Judy Shelton, owner of Judy's Flag City, told the outlet that she gets a new shipment delivered every other day to accommodate sales. Some independent flag companies have even made their own Ukraine flags to sell.
Maine Stitching Specialties, a flag company in Skowhegan, Maine, told WGME that "We've seen a pretty strong outpouring of support for these flags."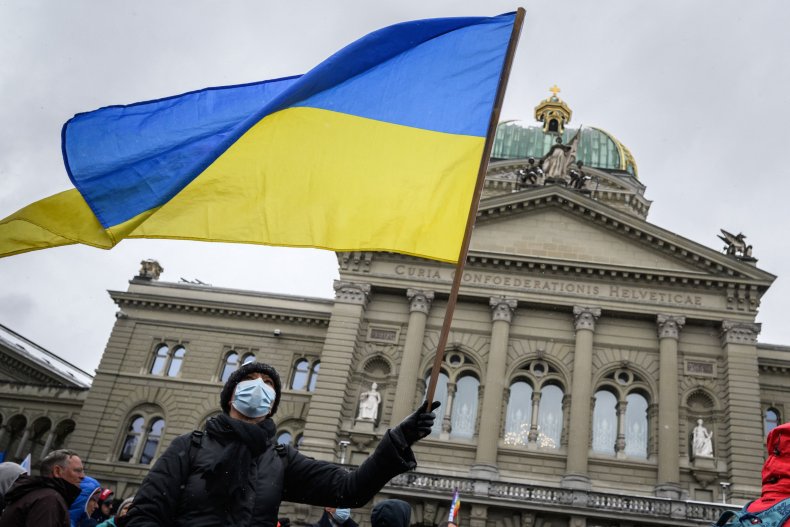 Internationally, one flag factory in France told AFP that they had seen a spike in the demand of Ukraine flags recently. "Usually we make four or five Ukrainian flags each year. But we've made 1,000 flags in 10 days," Eric Borney, the president of a flag manufacturer in Normandy, said last month.
Besides the typical Ukrainian blue and yellow-themed merchandise, an influx of sales in the U.S. has also been caused by the high demand for Ukrainian President Volodymyr Zelensky's iconic olive green shirt.
Sported by Zelensky on numerous occasions, the olive green shirt with the Ukrainian Armed Forces symbol is now sold on Amazon, eBay and Etsy. In a previous report, one retailer on Etsy told Newsweek that he made a profit of around $3,000 in one week on the shirts.
Newsweek reached out to Amazon and Etsy for comment.