Ebola Experimental Vaccine Provides 'Substantial Protection' Against Virus
An experimental vaccine against the Ebola virus, which has killed more than 11,000 people in West Africa since 2014, has shown great promise in protecting against the deadly disease.
In a trial led by the World Health Organization (WHO), almost 6,000 people in Guinea—where the recent outbreak began in 2014—received the rVSV-ZEBOV vaccine, along with an equal-sized group that were not vaccinated.
After 10 days, none of the vaccinated group had developed the virus. In the non-vaccinated group, 23 people later developed Ebola.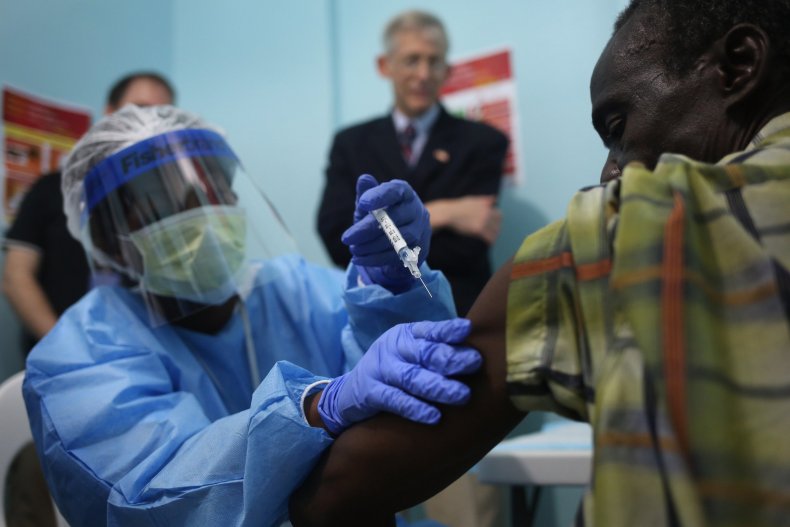 There is currently no vaccine available for the virus, which has a fatality rate of around 50 percent, according to the WHO. The virus is transmitted through contact with other infected animals or humans and unsafe burial practices with victims are thought to have played a major role in propagating the virus through Guinea, Liberia and Sierra Leone.
The results of the trial were published in British medical journal The Lancet. The researchers wrote that the results showed that the vaccine offers "substantial protection" against the virus.
Jeremy Farrar, the director of U.K. medical research institute, the Wellcome Trust, said the results were "simply remarkable." He added: "Had a vaccine been available earlier in the Ebola epidemic, thousands of lives might have been saved."
The WHO has declared that all three West African countries affected by the outbreak are now free of active transmission of the virus, which first appeared in 1976 in territories now corresponding to the Democratic Republic of Congo and South Sudan.
Recent research has found that Ebola can persist in semen for up to nine months, and scientists have found evidence that the virus can be transmitted via sexual intercourse.