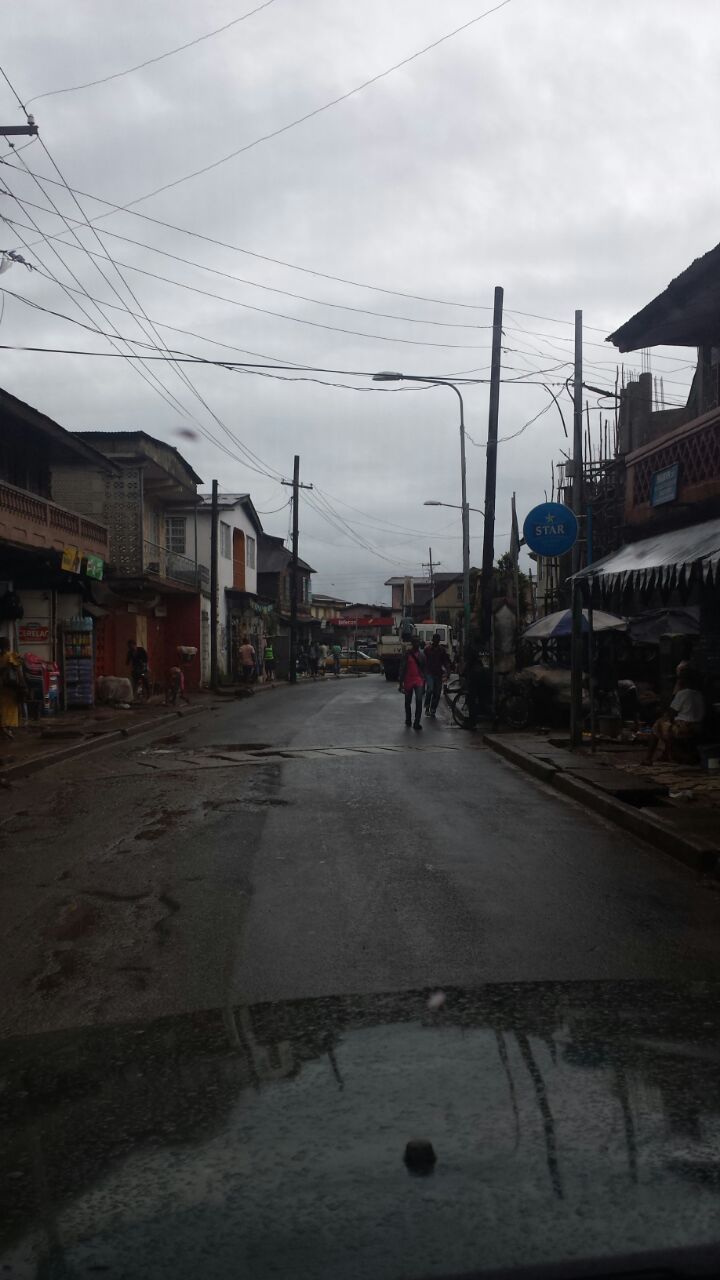 The devastating economic effects of the Ebola crisis in Sierra Leone are already being felt, and in the capital Freetown, the bustling, commercial center of the country, the outlook isn't good. "The effect on the economy has already started but it's going to get a lot worse," says Abdalla El-Ali, a businessman in Freetown.
"I've never seen the city like this," he told me. El-Ali is part owner at a coffee-shop in an upmarket area of Freetown. "Expats make up a lot of our business, and now, I hardly see any in town." He figures that business is about half of what it normally is. The patrons in the coffee shop are just as affected. Everyone is complaining that business hasn't just been slow, it's practically dead.
In Freetown, all banks limited their hours and are closing at 1 pm daily. The thousands of street side vendors, who sell everything from cigarettes and gum to vegetables, are required to close their shops by 6pm. Nightclubs have also been closed by decree, but even the market areas are emptying out. Lumley Beach, a popular spot for locals and expats, is 'completely dead'. Normally, the bars, casinos and nightclubs here are hopping till dawn on the weekends; public holidays bring thousands here.
There has been rumours of a city wide lockdown of Freetown, like what has happened in Kenema and Kailahun, but so far there has only been an increased military presence. To quarantine a city like Freetown, with a population of over 1 million, would present a much bigger challenge than a quarantine of Kenema, with just over 130,000. It's hard to know if the military checkpoints in Freetown are really keeping people safer. Early last week, two soldiers contracted Ebola while working at the checkpoints. One is receiving treatment and another has fled. He still hasn't been found.
In the early days of this crisis, it was mostly business as usual, even as the first few Ebola cases were confirmed in Freetown. What really set off the panic though, and this economic tailspin, was the cancellation of flights to and from Freetown by British Airways. "After that, it was like everything blew up," El-Ali said. There are still flights out, but they are three times the normal price, and everything is booked till the end of the August. Dollars are trading higher than ever, in the banks and on the black market, as people do their best to leave the country.
The majority of the city, though, won't have that luxury. "The poorer people in this city will feel this messy economy the hardest. They are the ones who are going to suffer the most in these next few weeks," El-Ali told me. As the price of food skyrockets in the capital, as it is doing in towns and villages across Sierra Leone, a whole new health emergency may be unfolding: hunger.
Chad McCordic is a Community Projects Manager with Minneapolis, Minnesota-based non-profit OneVillage Partners.