Ebola Frontline: Sensitization Process Will Be Key to Slowing Outbreak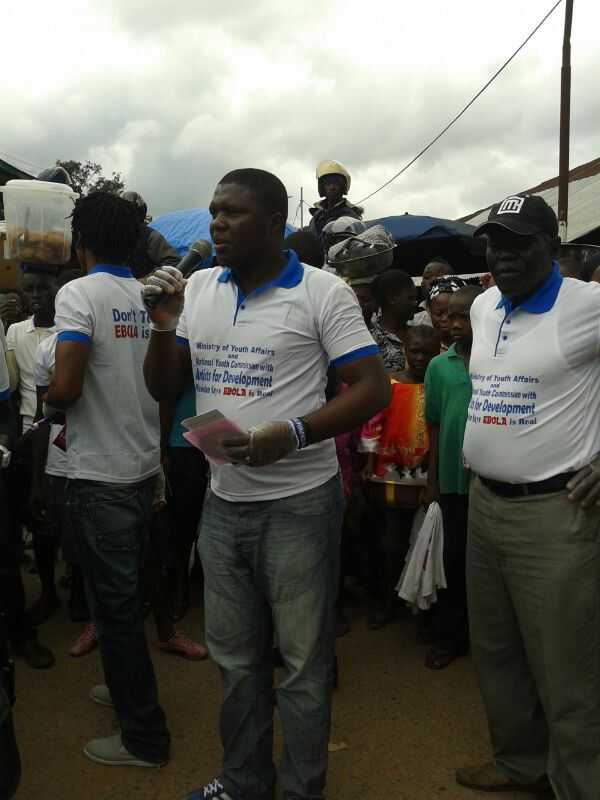 As tensions continue to flare in Monrovia, Liberia in the aftermath of the dangerous assault on a an Ebola treatment center there, the need for better education on the disease-causing virus is more apparent than ever. Ignorance fueled the attack on the treatment center—and the rapid spread of the virus. Slowing the outbreak will mean attacking that ignorance.
In Kenema, Sierra Leone, a group of musicians and local DJs called "Artists for Development" have started their own Ebola education campaign. With van loaded up with heavy speakers, they pull up to a busy area of town for impromptu performances and a quick quiz shows on Ebola symptoms and prevention. Winners get a CD and a t-shirt.
There are several radio hits across West Africa that educate and entertain on Ebola ("Ebola In Town" from Liberia is the most popular), but the most effective method of sensitization remains person to person, says Suafiatu Tunis. She is based in Freetown, Sierra Leone, but has been travelling across the country with her advocacy group "Community Response" educating on Ebola prevention.
She started sensitization work in her home village near the border of Liberia and Guinea in April, as the outbreak was in the early stages.
"What motivated me was my worry for my family living in my home village. We are all intertwined in this part of the world. Families in this part of the country are spread across the three countries," Tunis told me. "Some have called Ebola a 'Family Disease' in that it spreads easily among family members looking after the sick. So I started sensitizing my family first."
From there, she formed a group of concerned citizens back in Freetown to educate their neighbors. They received training from UNICEF and The Ministry of Health and Sanitation, and have been on the road since. Yesterday, she was on her way to Bonthe, in the far south, an area that had its first confirmed case of Ebola not too long ago.
"Our approach is to first get a feel for what they already know about Ebola, and build from there. We listen to them first."
Sierra Leone, to the outsider, can be a very secretive and traditional society. "We are trying to change mindsets and that's not easy to do, especially here," says Tunis. That's why they work alongside traditional healers and spiritual leaders to debunk "miracle cures," while drawing on their authority to lend credence to the sensitization message.
Tunis is optimistic, and believes the tide is changing. "People are beginning to know what to do." As we finished our conversation, she had one last sensitization message to share: "Please, we need to stop hyping this disease. We need help, not hype. Stigmatizing an entire nation for this disease is the wrong way to do this."
Chad McCordic is a Community Projects Manager with Minneapolis, Minnesota-based non-profit OneVillage Partners.