Ebola Frontline: Sierra Leone's Ebola Epicenter is On Lockdown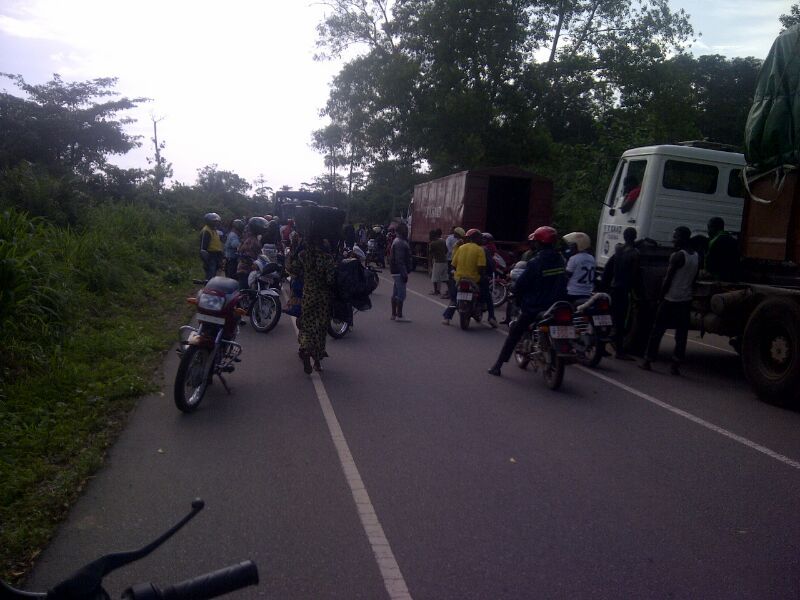 When President Ernest Bai Koroma announced a State of Emergency on July 30, many Sierra Leonians hoped that it would mean the government would finally get a handle on the unprecedented Ebola outbreak. However, no one knew until early this morning that for some, this state of emergency meant they were trapped in the epicentre of this epidemic.
On Monday, August 4, there was an enforced holiday meant for reflection and safety. Everyone was required to stay home. There was an eerie calm that descended on urban centers across the country. In Bo, the second largest city, the only people on the streets were the police.
All districts of Sierra Leone except one have recorded cases of Ebola, but the hardest hit are the districts of Kenema and Kailahun. Kenema is the third largest city in Sierra Leone, and the centre of the country's lucrative diamond trade, while Kailahun is a major regional hub. The first recorded case in Sierra Leone was confirmed in Kailahun, and to date, there have there have been 570 confirmed Ebola cases in these two districts alone. This is epicenter of Ebola in Sierra Leone, and as of this morning, the districts of Kenema and Kailahun, with a combined population of over 950,000, are effectively locked down. Blockades on the major highways are ensuring that no one leaves or enters.
"No one can leave Kenema," Abu Bakhar Shaw, a shop owner in downtown Kenema told me this morning. "No one knew we would be cut off like this." People were shocked to discover they couldn't get in or out of the city when they reached the checkpoint at the main highway. By midday at the checkpoint, there were lines 50 vehicles long on either side of the checkpoint. By mid-afternoon, there were perhaps a hundred. Shaw believes that the only ones being let through are aid workers and medical professionals.
And, of course, the military. Shaw has seen over 10 military transport vehicles arrive today. The police presence in town has been boosted as well, with cops being shipped in from the major cities of Bo and Freetown. Many in Kenema are questioning the necessity of so much military presence. After all, the Monday holiday was enforced without resistance.
No one knows how long this blockade will last exactly, but the ramifications are already being felt. The price of rice, an essential food in Sierra Leone, has already increased by 30 percent today alone. In the central market, the price of salt has doubled in the last 24 hours. Bakhar believes the situation in Kenema is about to get a lot worse, but he is hopeful.
"I hope that this action means the government will solve this Ebola crisis once and for all."
Chad McCordic is a Community Projects Manager with Minneapolis, Minnesota-based non-profit OneVillage Partners.