Ebola Outbreak 2018: WHO Preparing for 'Worst Case Scenario,' Know the Virus's Symptoms
On Friday, the World Health Organization announced it is preparing for "the worst case scenario" in the new Ebola outbreak in the Democratic Republic of Congo. This comes only three days after the outbreak was officially announced and a week after the first reported case.
In a press conference given in Geneva on Friday, Peter Salama, head of the WHO's emergency response, told reporters the international health organization is taking the newest outbreak of this Ebola virus very seriously.
"We are very concerned, and we are planning for all scenarios, including the worst case scenario," Salama told reporters, Medical Xpress reported.
Since April 4, there have been 32 suspected or confirmed cases including 18 deaths, Reuters reported.
The outbreak is contained to the Democratic Republic of the Congo so far. However, nine surrounding countries are on "high alert" for the virus, especially neighboring Republic of Congo and the Central African Republic. In addition to the Democratic Republic of the Congo, past Ebola outbreaks have occurred in Gabon, South Sudan, Ivory Coast, Uganda, Republic of Congo and South Africa. The Ebola outbreak in 2014 was the largest to date and affected multiple countries in West Africa including Liberia, Sierra Leone and Guinea.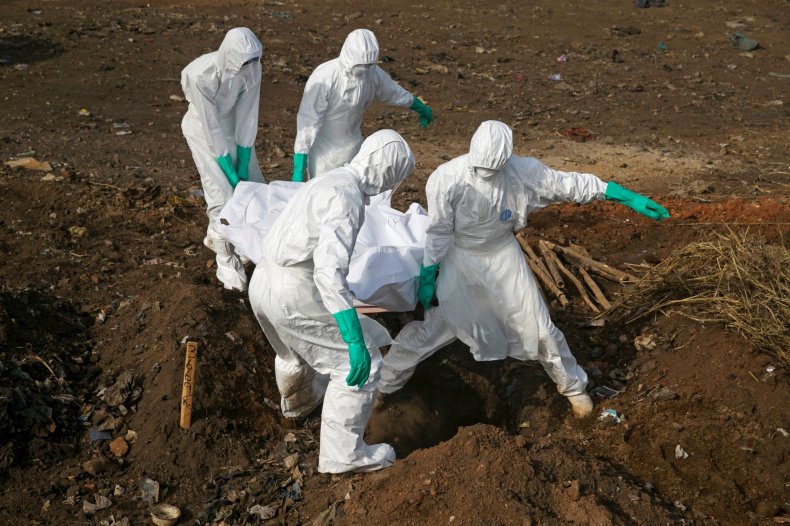 Officials are concerned about the virus reaching Mbandaka, the capital of Equateur province, Medical Xpress reported. The city is home to one million residents and only a few hours away from Bikoro, the area where the majority of cases have been reported.
Ebola Sypmtoms
According to the Centers for Disease Control and Prevention, Ebola, officially known as Ebola virus disease, is a rare condition caused by an infection with one of five known Ebola virus species.
Symptoms of Ebola include fever, severe headache, muscle pain, diarrhea, vomiting and unexplained bruising or bleeding. Infected individuals may also experiment abdominal pain, weakness and fatigue.
The virus spreads through direct contact with bodily fluids from an infected person or even a primate or fruit bat. The virus is also spread through sexual contact. The CDC reports that health care providers for Ebola patients are at highest risk. Family and friends who care for sick individuals are also at heightened risk for Ebola exposure.