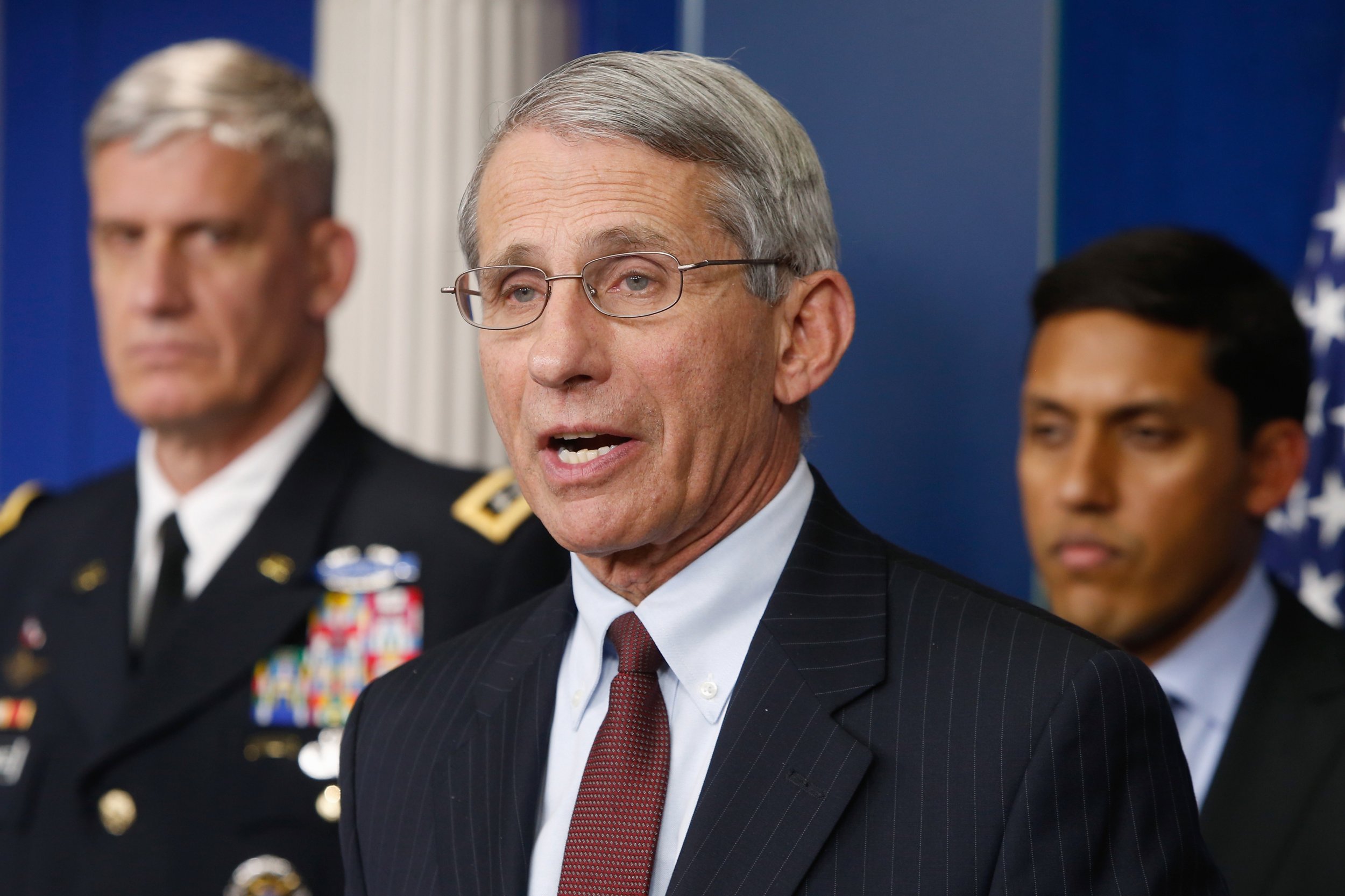 This past week, fears of the Ebola outbreak spreading to the United States reached a fever pitch.
Since news broke that a Dallas patient was the first person in the United States diagnosed with the Ebola virus last Tuesday, officials (and TV viewers) have been on high alert for another diagnosis. On Saturday, a plane was held for hours at Newark Liberty International Airport in Newark, New Jersey after a man vomited on a flight back from Brussels, The Wall Street Journal reported. The Washington Post confirmed Saturday that three patients admitted to several D.C.-area hospitals after exhibiting Ebola-like symptoms last week did not, in fact, have Ebola.
While the White House has tried to assure Americans that there will not be an Ebola outbreak in the United States anytime soon, the topic still dominated Sunday morning talk shows, where pundits and health officials went back and forth on the panic surrounding the outbreak.
NBC's Meet the Press featured extensive Ebola coverage, kicking off with an interview with Head of the Centers for Disease Control and Prevention, Dr. Tom Frieden, and was questioned on fears that the virus might spread stateside. While Freiden admitted that the fears were valid -- it is a deadly virus, after all -- he assured host Chuck Todd that Ebola would not spread to the United States.
"The bottom line here is we know how to stop it. It's not going to spread widely in the U.S. for two basic reasons. We can do infection control in hospitals and we can do public health interventions that stop it in its tracks," Frieden said.
During a later panel with various experts and correspondents, NBC's Joe Scarborough told Todd that the World Health Organization had proven "dismal" for "ignoring all of the warning signs, and said that African countries' governments had "failed miserably" throughout the Ebola epidemic.
Todd was also joined by Dan Pfeiffer, senior advisor to President Obama. In the segment, Todd and Pfeiffer discussed the White House's swift response to the public panic concerning the virus. "We have the best public health infrastructure and the best doctors in the world," Pfieffer assured Todd, though he didn't comment on the Obama administration's game plan for halting the spread of the disease to the United States.
Meanwhile on ABC's This Week, news anchor George Stephanopoulous welcomed the Mayor of Dallas, Mike Rawlings, and pressed him about other potential cases of Ebola arising from current patient Thomas Eric Duncan, who is currently being treated in the Texas city and whose condition is critical.
"Our focus is on his contacts and really the safety of Dallas," Rawlins said in the interview. "Dallas is safe and Dallas is calm, but this is very serious and we're taking it as such." The Mayor also said that the number of people that reportedly interacted with Duncan before he was diagnosed has been narrowed to just under 50, down from an initial estimate of 100.
Fox News's Chris Wallace fueled the flames by conflating unrelated issues. During the segment, Wallace asked Dr. Anthony Fauci, Director at the National Institute of Allergy and Infectious Diseases, what the chances were that "illegal immigrants are going to come over our porous southern border with Ebola, or the terrorists will purposely send someone here using Ebola as a bio-terror weapon?"
Dr. Fauci called the hypothetical scenario "far-fetched." "I wouldn't be worrying about illegal immigrants coming from southern borders when we have an issue right now with Ebola in West Africa," he said. "As far as terrorism, nature right now, Chris, is the worst bioterrorist."
When asked about barring incoming and outgoing flights to West African nations, Fauci expressed concerns that a measure that extreme would isolate the nations afflicted by the virus, cause civil unrest and make it impossible to get supplies in and out.
Concerns have been raised that the reaction to the outbreak will stigmatize and isolate those who come from the countries most affected.
Dr. Fauci also appeared on NBC's Meet the Press, and on CBS News on Sunday. In the CBS News segment, he assured viewers of his belief that the virus was contained in Texas.
Dr. Fauci and Dr. Frieden had prepared for the weekend onslaught. Speaking at the White House Friday, Dr. Fauci said he understood and respected why people were concerned but that people's fears that they may catch Ebola or that there would be an outbreak were unfounded.
"The evidence base tells us that that is not going to happen. And we have to say that a lot," Dr. Fauci said. "We have to say it today, and I'll have to say it tonight on TV. And Tom Frieden will say it tomorrow on TV, and we'll try as best as we can to continue to get the message out," he said.