Ebola Spread Poses a Security Threat, Obama Tells U.N.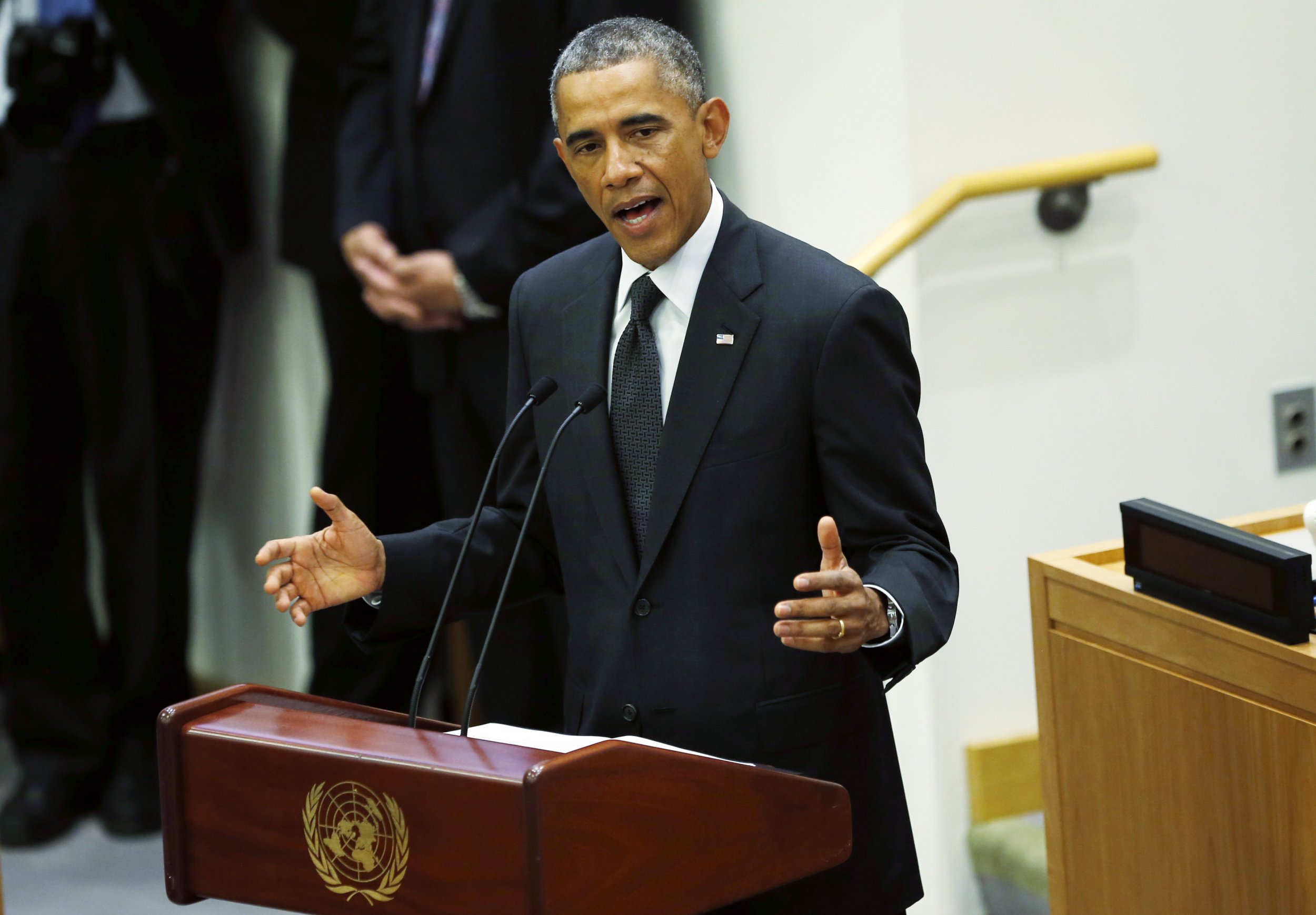 President Barack Obama urged world leaders to step up their nations' efforts in helping to contain the Ebola virus outbreak, warning that the spread of the disease could pose a global security threat.
"If this epidemic is not stopped, this disease could cause a humanitarian catastrophe across the region," Obama said in a speech Thursday at the United Nations. "In an era when regional crises can quickly become global threats, stopping Ebola is in the interests of the entire world."
Almost 3,000 people have died from the Ebola outbreak in West Africa, believed to be the deadliest in history, and more than 6,263 have been infected with the disease, according to the latest estimates by the World Health Organization (WHO). In particular, the situation in Sierra Leone is deteriorating, with a spike in newly confirmed cases over the past five weeks, according to the WHO.
The U.S. Agency for International Development said earlier this month it plans to pour more than $100 million into efforts to contain the epidemic, The Wall Street Journal reports, and Obama urged other nations, as well as businesses and foundations, to step up their contributions in fighting the outbreak.
"Right now everybody has the best intentions, but people are not putting in the resources that are necessary," Obama said.
"We know from experience that the response to an outbreak of this magnitude has to be fast and it has to be sustained It's a marathon, but you have to run it like a sprint," he said. "Everybody here has to do more."
In West Africa, between 550,000 and 1.4 million people could be infected with Ebola by January 2015, the U.S. Centers for Disease Control and Prevention said on Tuesday. The WHO said 20,000 are at risk of infection within six weeks, which is earlier than previous timelines for infection numbers.
U.N. Secretary-General Ban Ki-moon also called on more countries to help and said two-thirds of those who have been killed by Ebola are women, with as many as 200 people dying from the disease every day. The U.N. has mobilized the United Nations Mission for Ebola Emergency Response in Ghana, where workers will help prevent the spread of the disease.
Ban said the decision to restrict movement to and from affected countries is not helping.
"Many have tried to shut out the virus by closing their borders," he said. "But such an approach only makes the situation worse, isolating countries when they need help most."
Margaret Chan, director-general of the WHO, said in many areas there are no treatment beds left and patients are being turned away from health clinics. The international community should expect the epidemic to get worse before it gets better, she said.
"This is a fast-moving epidemic that got ahead of everybody at the start," said Chan.
Last week, Obama announced that 3,000 U.S. military forces would be sent to West Africa, where a military command has been set up in Liberia's capital city of Monrovia. The U.S. is working with Senegal to move more supplies into West Africa and is building treatment centers, Obama said on Thursday.
Also on Thursday, several countries and organizations announced their pledges to do more to fight the disease.
The World Bank Group announced it will double its financial pledge in the Ebola fight to $400 million, which will be divided between emergency response and longer-term assistance. South Korea pledged an additional $5 million, and Germany is pledging $25 million to the WHO and nongovernmental organizations.
Gerd Müller, German minister of economic cooperation and development, said that German armed forces are ready to be deployed to West Africa and that more than 2,000 volunteers in Germany have registered to join the fight against Ebola.
The African Union (AU) will send a team of experienced health care workers from Uganda and the Democratic Republic of the Congo, who have dealt with Ebola outbreaks before, to the three most affected countries in the coming days: Sierra Leone, Guinea and Liberia, said AU Commission chief Nkosazana Dlamini-Zuma.
Leaders from the three most affected nations addressed the U.N. meeting on Ebola. Liberian President Ellen Johnson Sirleaf said that "the world has taken some time to fully appreciate and adequately respond to the magnitude of our tragedy."
Obama will host more than 40 nations in Washington, D.C., on Friday for a meeting on global health security.