Ebola Survivors Share Stories, Health Tips, on New App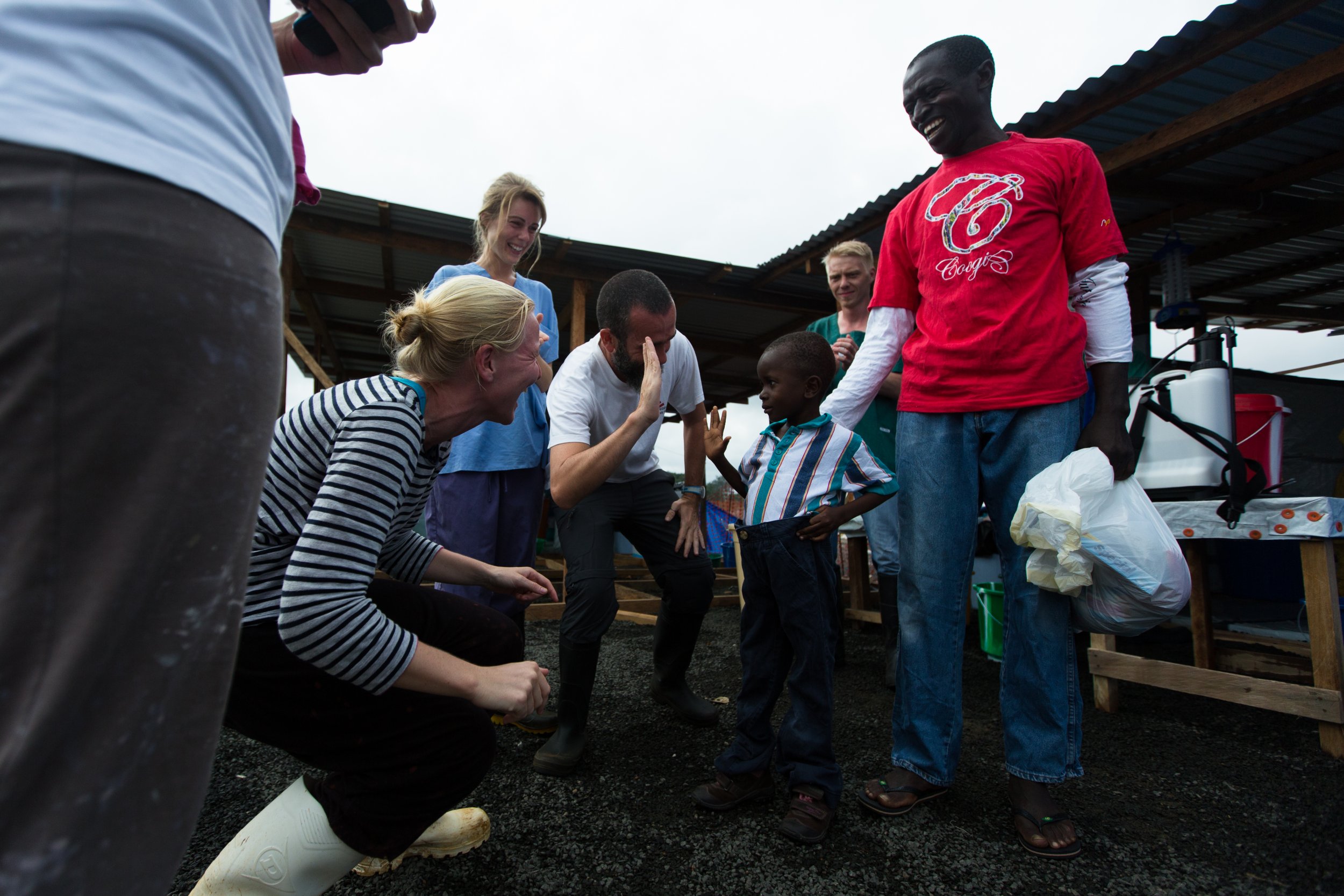 When Abdul Rahman Sanu started experiencing symptoms of Ebola, the Sierra Leonean nurse isolated himself from his family, including his newborn baby boy. He survived.
After vomiting repeatedly in her mother's home, Liberian survivor Decontee Davis was diagnosed with the Ebola virus. She entered an Ebola treatment unit and survived, although her fiancé did not.
These are some of the stories of Ebola survival being shared on a new app, part of a campaign tagged #ISurvivedEbola, that wants to change the face of the devastating outbreak, from rising death numbers and ominous hazmat-suited health care workers to survivors of the disease who are trying to return to normality.
The interactive app allows survivors to share their stories and trade health care advice with each other, fostering a sense of solidarity that's been difficult to find because of the stigma attached to Ebola infection and recovery. The campaign was launched in early December and the first message on the app was sent on Monday, according to Sean Southey, CEO of PCI Media Impact, the New York–based nongovernmetnal organization behind the campaign.
More than 20,700 people have been infected with Ebola in the three worst-affected countries of Sierra Leone, Guinea and Liberia as of Tuesday, according to data from World Health Organization (WHO). Since the outbreak began at the beginning of last year, 8,153 people have died from the disease.
"When the Ebola crisis hit…we believed that we had something to offer in tackling Ebola," said Southey, whose organization specializes in using storytelling and serial dramas.to highlight issues such as conservation and sexual health. "When we began to do our deep research, we realized there was one particular asset that was being underutilized, and that was the power of actual survivors."
When the Ebola outbreak emerged, PCI Media Impact already had West African staff on the ground in Liberia working with hip-hop artists and local celebrities on a violence against women program. As Ebola cases began to increase and worsen, Southey said his company sought out international staff to capture the stories visually, by audio and in print.
The app is currently only available on smartphones given to thirty Ebola survivors from Sierra Leone, Liberia and Guinea. Updates, audio and videos about their stories will be available to the public on the #ISurvivedEbola website and on Twitter, Facebook, Instagram and Vimeo. Six survivors from each country have shared their stories so far, with the remaining 24 to be rolled out over the next few months, said Southey.
Guinean Ebola survivor Fanta Oulen Camara sent in the first message French: "Yes, I survived Ebola, thanks to the help of the brave health care workers who treated me. And I've learned that together, we can defeat this virus and protect our families and communities."
The phones were provided by GlobalGiving, a fund-raising NGO, and the app was produced by FireID, a South African technology incubator.
Apps and tools for disaster preparation and aftermath are becoming increasingly available. In August, FEMA launched an app that has an interactive emergency checklist and allows users to add photos of disasters to a public map, while Facebook in October introduced Safety Check, a feature that allows people near the site of a natural disaster let friends and family know they're OK.
On the ISurvivedEbola app, survivors offer messages of hope and inspiration, health information, and advice on how to tackle prejudice.
Putting a face on an abstract concept is the best way to combat stigma, said Southey.
"In the press in the media, you hear of how many dead, how many have not survived, how many have been infected," said Southey. There is very little research on "how they've have survived, why they've survived and what they're doing with their lives," he said.
Newsweek contacted the United Nations Mission for Emergency Ebola Response (UNMEER) and WHO for survivor statistics, but did not hear back. So far 1,908 Ebola survivors have been discharged in Sierra Leone, according to the country's National Ebola Response Center.
Another key aspect of the campaign is a serial drama about Ebola, which Southey compares to The Archers, the long-running BBC radio drama about community life in a fictional English rural setting. The one-hour radio drama, Ebola Is Real, tells fictional stories based on real-life occurrences. The show will be divided into five episodes and played in 12 languages across the three countries, allowing them to reach rural communities.
A call-in show is held after each episode allowing listeners to ask questions about Ebola and speak to survivors.
"The fictional stories allow the audience, everyday people of West Africa, to connect with characters. They watch those characters survive," said Southey.
The #ISurvivedEbola campaign is funded by Vulcan Productions, part of the Paul G. Allen Family Foundation. Allen committed more than $100 million to Ebola response in July.
On Tuesday, a new Ebola vaccine trial began in Oxford, U.K., on 72 healthy volunteers aged 18 to 50, the BBC reports. The vaccine, developed by Janssen Pharmaceutical Companies of Johnson and Johnson, completely protected monkeys against Ebola when they were tested.