Ebrahim Raisi, Hard-line Judge, Wins Iran Presidency Amid Record-Low Turnout
Ebrahim Raisi, a hard-line conservative judge under U.S. sanctions, easily won Iran's presidential election on Saturday amid record-low voter turnout.
With about 90 percent of the votes counted, Raisi had received 17.8 million of the 28.6 million ballots cast. Raisi's political rivals, former Revolutionary Guard commander Mohsen Rezaei and moderate Abdolnasser Hemmati received about 3.3 million and 2.4 million votes respectively, Tehran Times reported.
Comparatively, some 41 million Iranians cast ballots in the previous 2017 presidential election. Incumbent President Hassan Rouhani, a moderate, received well over 23 million votes after those results were tallied.
Many Iranians saw Raisi as being hand-picked or coronated by the Persian Gulf nation's Supreme Leader Ayatollah Ali Khamenei. A panel under the supreme leader's watch disqualified several of Raisi's moderate challengers.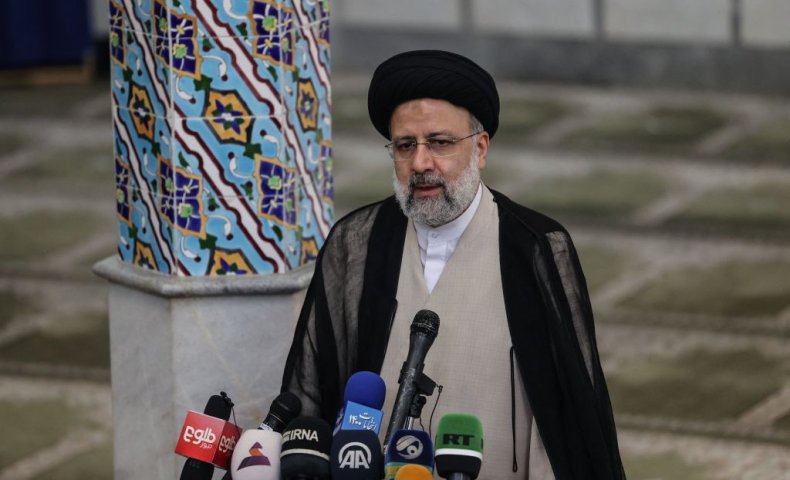 "The winner of yesterday's elections is the Iranian nation. They have again stood up to the propaganda of the enemy's mercenary media and the urgings of the simple-minded and the ill-wishers. They have displayed their presence in the heart of the country's political arena," Khamenei said on Saturday, Iran's Tasnim News Agency reported.
The new Iranian president-elect will be the nation's first head of government to already be under U.S. sanctions when taking office, according to the Associated Press. Raisi was sanctioned for his involvement in the mass execution of political prisoners in the late 1980s. Additionally, he was sanctioned in his role as chief justice of Iran.
Raisi, who will assume office on August 3, comes to power as President Joe Biden aims to return the U.S. and Iran to an international nuclear agreement. Although tensions have been high between Tehran and Washington for decades, relations improved somewhat under former President Barack Obama and Iranian President Hassan Rouhani.
With the European Union, the United Kingdom, France, Germany, Russia and China, the Obama and Rouhani administrations agreed to the 2015 Joint Comprehensive Plan of Action—known commonly as the Iran nuclear deal. That accord offered Iran sanctions relief and economic investment in exchange for curbing its nuclear program. Although Iran complied with the treaty, former President Donald Trump withdrew from the agreement in 2018 and reimplemented financial sanctions.
Iran continued to comply with the international pact for a year, working with European nations as well as Russia and China in a bid to preserved deal. But Tehran began walking back its commitments in 2019 and has disregarded the limits on uranium enrichment. Whether the U.S. and Iran can again reach an accord remains to be seen.
A spokesperson for the State Department told Newsweek that Iranians were not provided the opportunity to have a free and fair election. But the official spoke optimistically about the ongoing talks regarding a nuclear deal.
They said that policy toward Iran is designed to advance U.S. interests no matter who is in power.  The spokesperson also explained that discussions with allies and partners would continue, and that the government would like to build on the progress achieved during recent talks in Austria.
Updated 4:29 PM ET, with comments from a State Department spokesperson.