Echo Fox Investor Who Used Racial Slurs Going To "Hold Them Hostage" To Resign Says Former Business Partner
Echo Fox is a professional esports organization whose founders are currently embroiled in a complicated controversy involving racism, leaked text messages and an uneasy future. Started in 2015 by actor and former NBA player Rick Fox under his Vision Venture Partners firm, the org quickly grew into a major player in the scenes around League of Legends, Super Smash Bros and Call of Duty . Investors from the New York Yankees, the Walt Disney family and the St. Louis Cardinals flooded the organization with millions in capital, raising $38 million in 2018.
Behind the scenes, things started to tumble out of control when one of the largest controversies the esports world has ever seen came to light earlier this year.
On April 25, Dexerto published a story claiming that an Echo Fox shareholder used racial epithets towards Rick Fox and former CEO of Echo Fox Jace Hall, and that Rick Fox would be stepping down as a result. Fox published a letter to the company writing that he "will not support or be associated with such behaviour and attitudes displayed at the shareholder level." Riot Games, the company that publishes League of Legends and runs the North American LCS (which includes an Echo Fox team) said the organization "has to take appropriate corrective action in 60 days."
The shareholder's name was originally withheld from the Dexerto story, but soon revealed to be Amit Raizada. Raizada is a shareholder in Vision Ventures who had gathered a large fortune in Kansas City by investing in pay-day loan companies and real estate. Raizada has a complicated past, with multiple lawsuits being leveraged against him by past business partners. Michael Gortenburg is a real estate manager who worked alongside Raizada for six years in Kansas City at Spectrum Business Ventures.
In 2013, the pair called off their relationship after Gortenberg claims that Raizada had been taking money from the company to use for his own personal benefit. Among other accusations, including money laundering and embezzlement, Guttenberg claimed that Raizada had spent "six and a half million dollars on clubbing" and that he would spend "$400,000 on one weekend in Vegas."
"He's always been a bit of a fractured person, but he didn't start out doing out these awful things," Gortenberg told Newsweek. "He always spins things and lies for his betterment, in my opinion."
Gortenberg is currently on his fourth lawsuit against Raizada, claiming that he had "stolen over a million dollars" from him personally. In 2017, a civil case filed by an entity of Amit's and counter claimed by Gortenberg and another business partner Scott Asner claimed that Raizada had made loans to himself and liquidated various accounts. According to The Pitch Kansas City, Raizada testified "under oath that spending $100,000 or $200,000 in an evening at a club entertaining was 'normal and ordinary business.'" Raizada's lawyers told The Pitch that they "surprised and disappointed by the jury's verdict."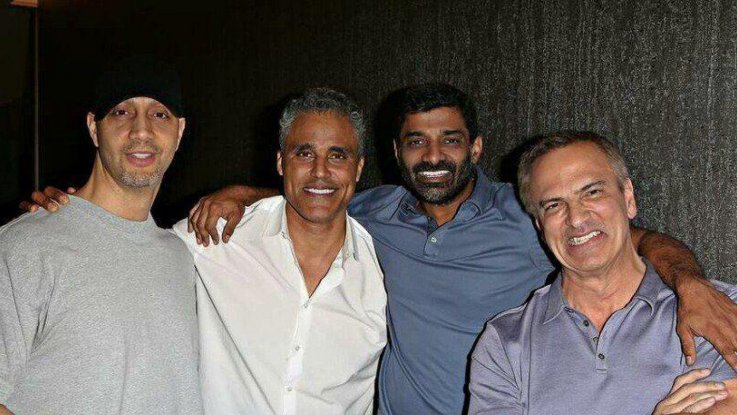 When Gortenberg found out that Raizada was investing in esports with Rick Fox, he was shocked. "I'm thinking to myself why didn't anyone do a deep google search on this guy," Gortenburg said. Gortenberg claimed that Raizada had hired a PR firm to help bury the lawsuits and controversy putting those stories "on the fourth or eighth page of Google."
(Since the Echo Fox allegations have started, multiple press releases have been published showing a positive side to Raizada's time in esports. On May 1, AccessWire paid the Associated Press to publish "Amit Raizada's Focus On ESports Is Paying Off" which does not mention any of the allegations from Rick Fox or Jace Hall. On May 2, GlobeNewsWire published "How Amit Raizada Has Shown The Entrepreneurial Spirit" which also mentions nothing of the controversy.)
Though he has not spoken to Raizada in six years, Gortenberg believes that what he said to Hall is similar to what "he used to say to me seven years ago. This is repeating itself."
In response to the Hall allegations, Raizada admitted to Dexerto that "in a heated and contentious email exchange with Jace Hall several weeks ago, I lost my temper and used a racial epithet directed personally at him." Raizada did deny saying anything to Rick Fox. According to Gortenberg "it wasn't a one time thing, I heard him use the most racial, anti-Semitic, homophobic slurs, they were awful stuff. This doesn't surprise me at all."
When asked if he believes Raizada will willingly step down from Echo Fox, Gortenberg is unsure. "I think he will hold them hostage for a lot of money, he will threaten him because that's what he does," Gortenberg said. "He tries to lever to use against you. It depends on if Rick Fox will find it palatable enough to pay for what can be viewed as blood money to get rid of him. Do I think he will step down for no consideration? I've never seen Amit do that in the 8 or 9 years I knew him, I can't believe he'd start now."
Echo Fox provided this statement to Newsweek:
"We are working with the highest level of urgency to remove the investor from the Echo Fox organization. Our internal timeline has always been shorter than the one announced yesterday by Riot Games, with whom we have been in close communication. Diversity has been a hallmark and point of pride for Echo Fox since our inception and we share Riot's desire to erase intolerance from esports. This is a company made up of amazing staff, talented players, dedicated fans and focused ownership. We will move through these challenges and be stronger for it."
Raizada did not respond to Newsweek by publication time.
Echo Fox Investor Who Used Racial Slurs Going To "Hold Them Hostage" To Resign Says Former Business Partner | Gaming