'Mission Accomplished': Echoing Bush, Trump Declares Victory Following Syria Missile Strikes
President Donald Trump declared "mission accomplished" in a tweet Saturday following airstrikes against the regime of Syrian President Bashar al-Assad.
But critics were quick to point the phrase echoed George W. Bush's premature "mission accomplished" declaration after the 2003 U.S.-led invasion of Iraq.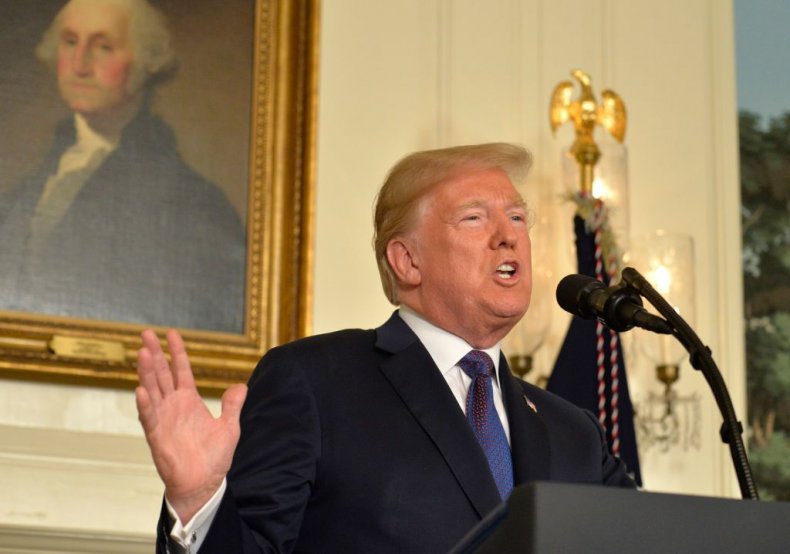 "A perfectly executed strike last night," Trump tweeted Saturday morning. "Thank you to France and the United Kingdom for their wisdom and the power of their fine military. Could not have had a better result. Mission accomplished!"
Newsweek subscription offers >
Pentagon officials said a research center and weapons storage strikes were hit in the missile strikes, in which the U.S. was backed by the U.K. and French military, in retaliation for an alleged chemical weapons attack against civilians in the Syrian town of Douma a week ago.
However critics were quick point out Trump's poor use of words, with the phrase "Mission Accomplished" famously displayed on a banner behind President Bush in an address from the aircraft carrier USS Abraham Lincoln in May 2003 when he prematurely declared an end to hostilities in Iraq.
Critics have warned that launching military strikes against Assad risks embroiling the U.S. in Syria's brutal six-year civil war, in which the Syrian regime and its Russian backers are fighting myriad rebel groups and their international sponsors.
Ahead of Friday night's bombings, Russia warned of potential "consequences" if western powers intervened against the Assad regime in Syria.
Senate Minority Leader Chuck Schumer on Friday said that "A pinpointed, limited action to punish and hopefully deter Assad from doing this again is appropriate, but the administration has to be careful about not getting us into a greater and more involved war in Syria."
Defence Secretary Jim Mattis Friday said that the strikes were limited in scope, and the administration was not planning additional attacks.
'Mission Accomplished': Echoing Bush, Trump Declares Victory Following Syria Missile Strikes | U.S.