E-Cigarette Smokers Need More Breaks At Work and Separate 'Vaping' Rooms, Health Watchdog Says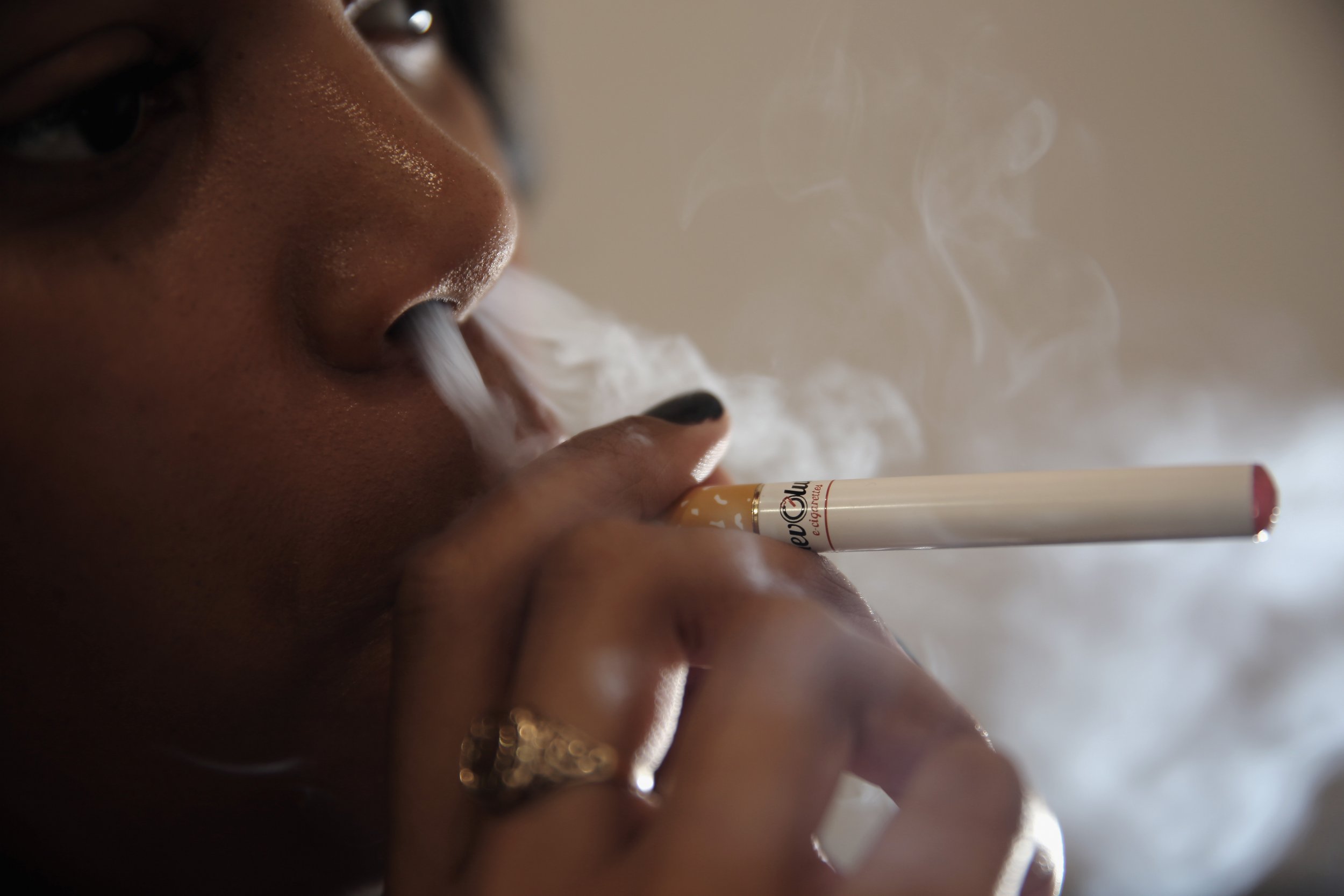 Public Health England (PHE) has urged employers across the U.K. to designate "vaping" rooms for e-cigarette users, so that they no longer have to go outdoors with traditional tobacco smokers.
Vaping outdoors, as employees who smoke e-cigarettes currently do, "undermine[s] their ability to quit smoking," the government health body said. Companies have also been told to give members of staff who vape extra breaks.
An estimated 2.8 million people in the U.K. smoke e-cigarettes; about half of them have completely given up tobacco as a result. According to a PHE report from August 2015, e-cigarettes are 95 percent less harmful than normal cigarettes, which contain higher nicotine levels, tar and other dangerous chemicals.
"Vaping provides a generally lower blood nicotine level and takes longer to reach a desired level, requiring frequent interim top-ups," the PHE said in the guidelines for employers. "This difference should be taken into account, particularly when developing policies for workplaces."
According to Action on Smoking and Health (ASH), a public health charity, smoking is the leading cause of preventable death and disease in the U.K. About half of all lifelong smokers will die prematurely, losing about 10 years of life on average. In England alone, there are an estimated 8 million conventional smokers, according to NHS figures.
"The evidence is clear that vaping is much less harmful than smoking and that e-cigarettes are helping many smokers to quit. This new framework will encourage organizations to consider both the benefits and the risks when developing their own policies on e-cigarettes," said professor Kevin Fenton, national director of health and wellbeing at PHE. "Different approaches will be appropriate in different places, but policies should take account of the evidence and clearly distinguish vaping from smoking."
Greg Delaney, of the Ecig Review Site, said that it is important to ensure that e-cigarette smokers are not treated in the same way as normal smokers: "Grouping e-cigarette users with real cigarette smokers confuses the message that e-cigarettes are usually a step towards quitting completely, rather than an alternative to smoking real cigarettes. Instead of making e-cigarette smokers outcasts in the workplace, employers should provide appropriate help and support."
Cancer Research U.K., a leading cancer research and awareness charity applauded the new PHE guidelines. "E-cigarettes are still a relatively new product, so it's understandable that many people and businesses may not know how to deal with them," said George Butterworth, Cancer Research U.K.'s tobacco policy manager, according to The Times.
"The evidence so far shows e-cigarettes are much safer than tobacco and they have the potential to help people give up a deadly addiction," he continued. "It's important the benefit of using them are maximized while reducing any negative impact, and organizations need independent advice from Public Health England to set out their own policies."