Solar Eclipse Map: Here's the Path to Watch in Wyoming, Illinois, Tennessee, Oregon and Across the United States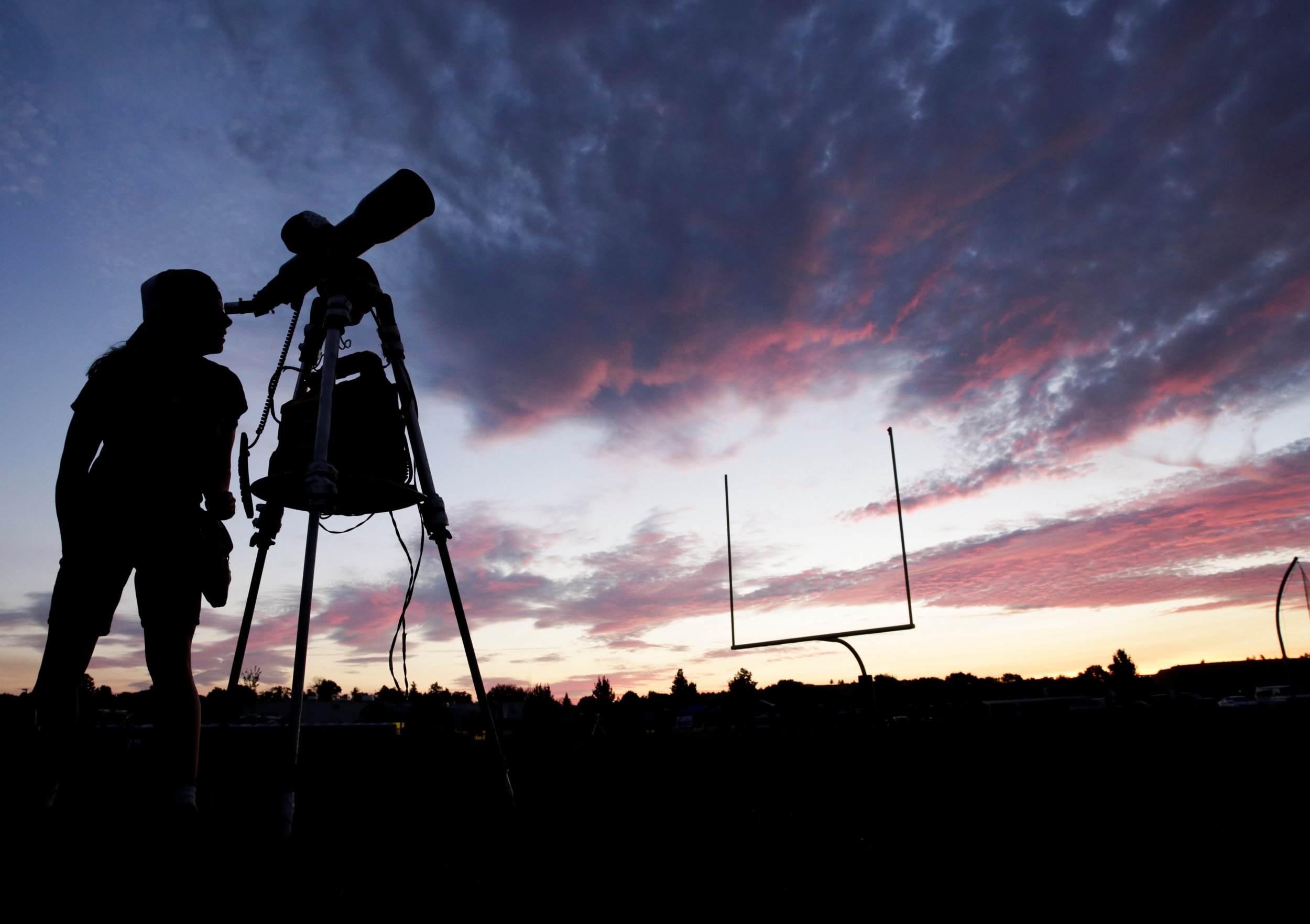 What is being hailed as the Great American Eclipse is coming Monday to the entire United States, though sky-gazers in only 10 states—Oregon, Idaho, Wyoming, Nebraska, Missouri, Kentucky, Tennessee, Georgia, North Carolina and South Carolina—will get full views of the country's first total eclipse in decades.
If you want to see the full solar eclipse, here is its path with a map illustrated by NASA and timings provided by Space.com. Only viewers in the 10 states, along a stretch of land not much wider than 70 miles, will be able to see the total eclipse, though a handful of other states will see the moon partially cover the sun.
The total eclipse begins above Lincoln Beach, Oregon, at 10:16 a.m. (PST), before passing eastward, toward Idaho. In Idaho Falls, solar spectators will get their first glimpse of the bright spectacle of cosmic geometry at around 10:15 a.m. (MDT), with the total eclipse beginning more than an hour later, at 11:33 a.m. After that, it is Wyoming's turn. Anyone gathered in Casper will catch first sight of Phoebean proceedings at 10:22 a.m. (MDT), with the total eclipse at 11:42.
The eclipse will move into the Midwest at 11:37 a.m. (CDT), beginning with Nebraska. It will reach totality above Lincoln at around 1:04 p.m. While the eclipse is in full swing there, the next best place to see it is in nearby Missouri, where Jefferson City residents will be able to view it beginning around 11:46 (CDT) and, along with people in Lincoln, will see the total eclipse at 1:13 p.m.
In Illinois, the eclipse will begin in Carbondale at 11:52 a.m. (CDT) and reach totality at 1:20 p.m. Kentucky's Paducah is next in line, with the eclipse beginning at 11:54 a.m. (CDT) before reaching totality at 1:22 p.m.
Continuing south, the eclipse will reach Nashville, Tennessee, at 11:58 a.m. (CDT) and become total at 1:27 p.m. The East Coast will catch its first sight of the eclipse in Clayton, Georgia, at 1:06 p.m. (EDT), and the first total eclipse will be at 2:35 p.m. It reaches its final destination, Columbia, South Carolina, in the early afternoon, around 1:03 p.m. (EDT), with the total eclipse at 2:41 p.m.