Psychologists Warn Parents, Climate Change Alarmists Against Causing 'Eco-Anxiety' in Children
Psychologists warned parents and guardians about being climate change alarmists, noting an increasing number of children who are being treated for "eco-anxiety."
Researchers at the University of Bath and members of the Climate Psychology Alliance (CPA) in the United Kingdom say children are commonly being subjected to a barrage of concerns about the future of the planet and "environmental doom." Psychologists speaking with The Telegraph this week said a rising number of kids and young adults are being treated with psychiatric drugs in order to reduce the emotional stress and exhaustion caused by "eco-anxiety," or, a fervent fear that humans will go extinct as a result of their own pollution and damage to the environment.
But CPA members said they don't want the rising "eco-anxiety" social phenomenon in children to be classified as a mental illness because it is a "rational" fear, unlike the causes behind most standard anxiety issues.
Caroline Hickman, a University of Bath teaching fellow and CPA executive, told The Telegraph Sunday, "The symptoms are the same [as clinical anxiety], the feelings are the same, but the cause is different. The fear is of environmental doom—that we're all going to die."
Hickman added that parents, unlike global political leaders, should discuss global warming and the effects of man-made climate change with their children, but she warned against portraying the issues as though they are dooming mankind. Hickman cautioned that when children and young adults are told climate change will end humans, kids approach mental health experts asking questions such as, "what's the point in going to university", or "what's the point of doing my exams?"
"Parents need to find some words to talk about it that is age-appropriate and not terrifying," she continued. "You need to separate what is fact from what is unknown: tell them some species are going extinct and some humans are being harmed, but don't say we're all going to die, because that isn't true."
Psychoanalytic psychotherapist and Climate Psychology Alliance co-founder Adrian Tair has appeared in several videos informing educators, parents and others on "facing difficult truths about climate change and ecological crisis." The CPA offers a four-stage recommendation on how parents should address climate change concerns with the children. The first step involves introducing known facts about the issue and asking for their response before scaring them with any acknowledgement that human extinction is the ultimate outcome. The final step is providing children with day-to-day, tangible steps to cutting back on greenhouse gases and pollution. The CPA suggests discussion of reducing non-recyclable wastes, wiser choices in food and cutting energy consumption around the house.
In 2017, the American Psychological Association issued a report analyzing "climate grief" and there is a growing body of research into how the tangible effects of climate change combine with increased global calls to action are effecting the humans' sense of humanity and self. The increasing visibility of climate change effects, the researchers wrote, is producing feelings of depression, anxiety and helplessness in the face of potential extinction.
Much of the cited research seeks to "mitigate the toll of emotional exhaustion" on those concerned with climate change.
A June 2018 study published by Australian and Canadian researchers in the International Journal of Mental Health Systems noted the "often-unseen" impacts of climate change, particularly its psychological consequences.
The study notes that in 2015, the World Health Organization (WHO) "set forth the framework for building climate resilient health systems" and cited an added emphasis on "the global call to action to reduce climate change" is having psychological impacts on children and adults worldwide. A CBS News poll released earlier this week found more Americans trust their "own observations" on climate change than that of scientific research or meteorologists. However, a majority, 56 percent, said they want action "right now" to curb its effects.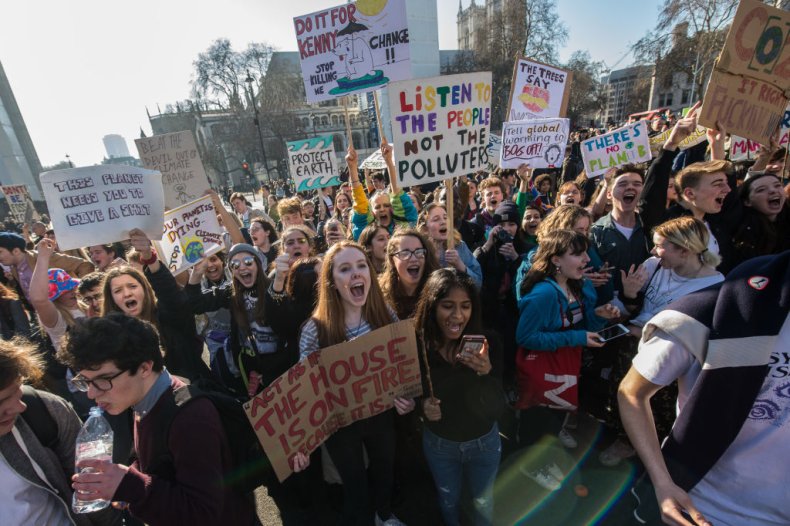 Newsweek's requests Tuesday for additional information from the Climate Psychology Alliance on parents discussing climate change with their children or other young adults were not immediately returned.