In Economic Address, Hillary Clinton Threads the Needle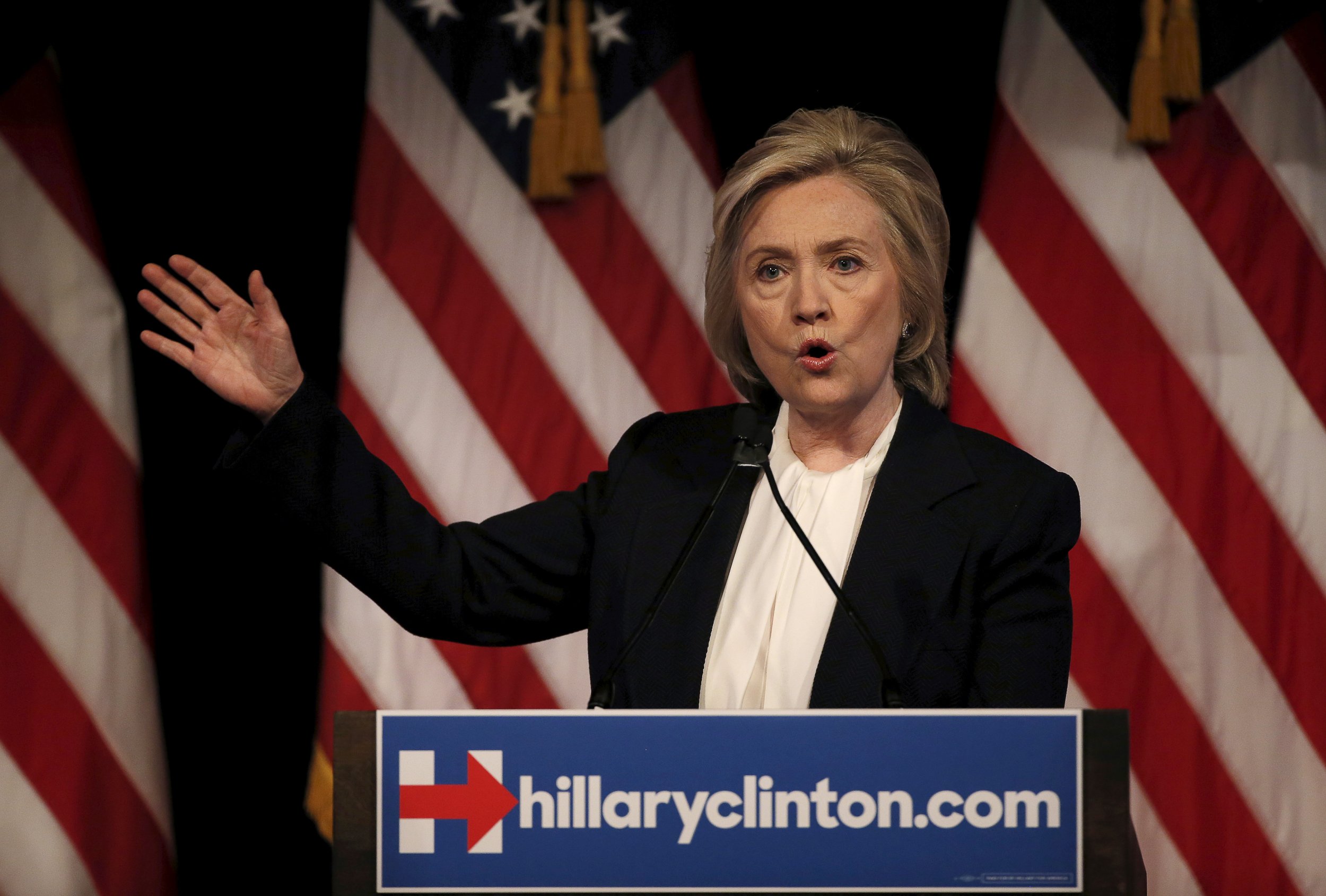 Vowing to fight for "hard-working families" instead of "successful CEOs and money managers," Hillary Clinton delivered the first major economic address of her campaign Monday, offering a glimpse at policies she plans to flesh out in coming weeks and hoping that her agenda will turn back any threat posed by Senator Bernie Sanders of Vermont.
The venue for the speech was no accident. The New School in Manhattan has been a citadel of progressive thought since the early 20th century. The talk was the first of several policy addresses that the Democratic front-runner plans to deliver in coming weeks, according to her campaign.
Clinton focused on jobs, growth and income inequality. The former New York senator began by blasting "trickle-down economics"—the term Democrats have used for Republican economic policies since Ronald Reagan was in the White House.
"For 35 years, Republicans have argued that if we give more wealth to those at the top, by cutting their taxes and letting big corporations write their own rules, it will trickle down. It will trickle down to everyone else," she said, decrying the high deficits and untoward concentrations of wealth that have been incurred during Republican turns in the White House.
Clinton offered a peek at economic policies that she plans to detail in coming weeks, including tackling the economic threat posed by loose regulation of the so-called shadow banking system, which includes hedge funds and high-frequency traders. She also advocated increased profit-sharing at corporations that would allow workers to benefit from record-high profits. The former secretary of state also took aim at tax rates on capital gains, urging a distinction between short-term and long-term gains and vowing to work for tax reform that encourages long-term investments and diminishes speculation.
While Clinton is feeling pressure from Sanders, the independent candidate who is challenging her for the Democratic nomination, she took shots at Republicans, including former Florida Governor Jeb Bush. "You may have heard Governor Bush say last week that Americans just need to work longer hours. Well, he must not have met very many American workers," Clinton said.
(At a campaign event in New Hampshire last week, Bush made comments suggesting that in order to meet his ambitious goal of 4 percent annual growth, Americans would need to put in longer hours. The Republican front-runner's campaign clarified his remark, saying that it was aimed at underemployed Americans who are seeking more work and can't find it.)
Still, Clinton wasn't accepting any qualification of Bush's remarks. American workers, Clinton said, "don't need a lecture—they need a raise." She also took aim at Wisconsin Governor Scott Walker on the day of his formal entry into the presidential race, chiding his successful efforts to limit the bargaining power of public employee unions.
Clinton also stressed the role women have to play in growing the economy. "The United States used to rank seventh out of 24 advanced countries in women's labor force participation. By 2013, we had dropped to 19th. That represents a lot of unused potential for our economy and for American families," she said. (Sanders rarely makes gender distinctions when he makes his economic pitch.)
Paid family leave, earned sick days and child care are "essential to our competitiveness," she added.
The closest Clinton came to disagreeing with Sanders, a self-proclaimed democratic socialist, was when she described her policies as "clear-eyed capitalism."
Sanders responded to Clinton's speech by reiterating his proposals, including investing $1 trillion in infrastructure, raising the federal minimum wage to $15 and breaking up the largest banks, a step Clinton avoided proposing even as she allowed that financial institutions that are "too big to fail" still represent a threat to the economy and promised to appoint tough regulators.